How to Make Cream Ale at Home
Homemade recipes have a unique freshness and taste. Today, I bring forward the recipe for a cream ale so you can give it a try at your home.
As the name suggests, Cream Ale does not have cream as its ingredient. It is a light beer that can be consumed repeatedly. It is an American-style lager with a touch of corn in it.
To make cream ale, you need to get hold of the grains and mill them. Prepare a mixture of calcium chloride, water and milled grains and boil it. Moist the grass to get a wort of about 6.5 gallons and boil for an hour. Ferment the beer and allow it to reach a temperature of about 68 °F. Bottle it up and let it carbonate.
Let's give it a try at home with this recipe below. But there are many other drinks that we've covered in our blog. You should definitely check them as well.
1. Red Death Cocktail– Red Death Drink! It may sound unpleasant to you but this drink is a winner with its sweetness. It is just a tricky name given to this drink because of the drink's beautiful red color.
2. 5 Fruit Infused Cocktails– Fruits are the perfect complement to liquor as they add a fresh punch of flavors to them. Discover five exciting fruit-infused cocktail recipes that will delight your senses.
3. Mind Eraser– It is a cocktail that consists of layers of three different ingredients. This cocktail got its name because you can gulp this drink so fast. By the time you want to slow down, you already must be a bit tipsy.
4. Moose Milk– Moose Milk is a creamy alcoholic beverage that can be served both ways, either warm or cold. The best part about this cocktail is that it is made with 5 main ingredients.
Ingredients for Cream Ale
| Ingredients | Amount |
| --- | --- |
| 2 Row Malt | 6lbs/2.7kg |
| Flaked Corn | 2lbs/0.9kg |
| Flaked Rice | 1lb/0.45kg |
| Crystal Malt | 4oz/113g |
| Servomyces | 1 capsule |
| Calcium Chloride | 5.5g |
| Corn Sugar | ¾ cup  |
| White Labs WLP080 Yeast | Cream Ale Yeast Blend |
The ingredients for making the beer will be available at a homebrew store. If not available nearby your place, then you can even opt for the online supplier. I prefer to buy them in bulk and then measure and use them. Till then, take a look at the hop schedule.
Hop Schedule
| Ingredients | Amount |
| --- | --- |
| 3.5AAU Hallertau Magnum hops (0.25 oz. 7 g at 14% alpha acids) | 60 minutes |
| 1.9AAU Saaz hops (0.5 oz./14 g at 3.75% alpha acids) | 10 minutes |
Let's take a look at the steps involved in the beer making process.
Cream Ale Recipe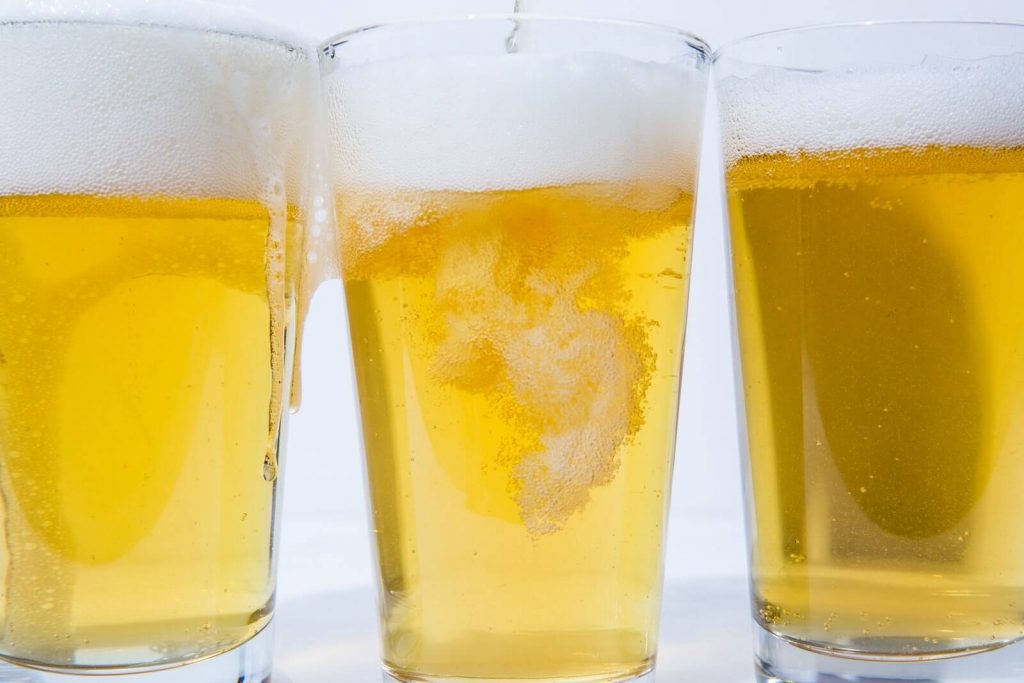 Take the grains and mill them. Mix calcium chloride and strike with 13.1 liters of water with a temperature of 164 °F (73 °C). Make a mash with this at a temperature of 150 °F (66 °C). Hold on to this temperature for 60 minutes.
After boiling add to this mash to reach the temperature of 168 °F (76 °C). Hold onto this temperature for 5 minutes and then start with vorlauf. 
Moist the grains with enough water to get a wort of 6.5 gallons (24.6 L). Boil it for 60 minutes and add hops as per the given hop schedule.
After the boil, whirlpool the mash for 5 minutes and settle it for 5 minutes. Rest the wort to chill to reach the temperature of 65 °F (18 °C) and pitch in the yeast.
While fermentation, allow the beer to rise to the temperature of 68 °F (20 °C). Hold this temperature for ten days or till the fermentation is done, whatever is the later one. 
Bottle up the beer and let it get carbonated to 2.5 volumes.
Content Information in Cream Ale
| | |
| --- | --- |
| SRM | 5 |
| OG | 1.045 |
| FG | 1.008 |
| IBU | 15 |
| ABV | 4.7% |
How to Make Cream Ale at Home | Video
To help you out, I have uploaded the video of the recipe. Watch it for better clarity of the process.
After trying the recipe, do share your reviews in the comment section. And for those who are having a query related to the recipe, feel free to ask your questions in the comment section. I will get back to you with the best possible solution.