How to Make Crab Bisque at Home
Crab Bisque is creamy in texture unlike the crab soup. Today I will be sharing with you the recipe of making Crab Bisque at home.
I am a chicken lover but surrounded by people who love seafood more. Having a bowl of chicken soup is something I enjoy the utmost. Then I was introduced to Crab bisque by one of my friends,I not only liked it but replaced my chicken soup with it. But I wondered, aren't soup and bisque are the same. You will know about this soon. And making crab bisque at home will be an interesting experience.
To make it at home, sauté onions and celery in butter and add salt, pepper and old bay seasoning. Stir in garlic and tomato paste and cook it. Sprinkle some flour and cook the flour. Pour seafood stock, bayleaf and wine in the mixture and cook till it gets the flavor. Remove the bay leaf and blend the mixture. Add some cream and crab meat and cook for few minutes. Garnish with crab meat and serve.
You might think this is all you need to know. But you will know more details of the recipe ahead. You will love this creamy soup for sure. So make sure you try this at home. It will give you a restaurant style soup at home. Also, there are other recipes that you can have as starters, let's check them out.
1. Mushroom Bisque This is one of my favorite soups of all time. It is so easy. The secret to this deep, rich soup is a long slow caramelization, the key to unlocking the mushroom's magic. This is just pure essence of mushroom.
2. Red Pepper-Pistachio Bisque– This creamy, paprika-laced red bell pepper bisque, along with a parsley-pistachio pistou for the topping; makes you the lavish combination.
3. Aubergine Soup This recipe got its origin and roots from the European continent and got popular throughout the world. This recipe is both healthy and tastes delicious.
4. Black Soup This soup is actually very good for one's health; it contains some leaves like scent, uziza and bitter leaves which are having good health benefits. These leaves are good for the stomach and also relieve heartburn.
Ingredients for Crab Bisque
3 tbsp Butter
1 medium Onion (finely chopped)
2 stalks Celery (finely chopped)
Kosher Salt
Freshly Ground Black Pepper
1 tsp. Old Bay Seasoning
2 cloves Garlic (minced)
2 tbsp. Tomato Paste
3 tbsp. Flour
4 cup Fish Stock (or low-sodium vegetable broth)
1 cup. Dry White Wine
1 Bay Leaf
1/2 cup Heavy Cream
1 lb. Lump Crab Meat
Freshly Chopped Parsley (for garnish)
The ingredients you need for this bisque recipe are readily accessible at any supermarket. Just make a list of what you already have and what you want from the supermarket. Also take a look at the time required to make this dish.
How Much Time It Will Take To Prepare Crab Bisque?
| Preparation Time | Cooking Time | Total Time |
| --- | --- | --- |
| 10 minutes | 45 minutes | 55 minutes |
Making this creamy bisque is an easy task. You will get it ready in less than an hour. Let's see what steps you need to follow to cook it up.
Steps to Prepare Crab Bisque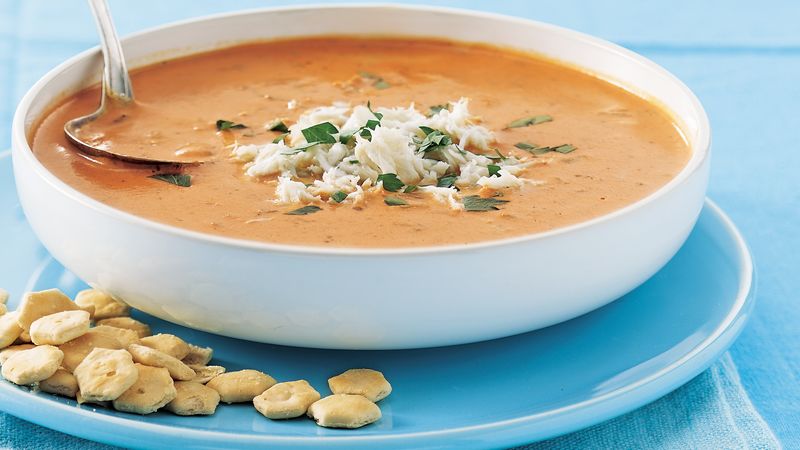 Take a large heavy pot. Melt butter in it over medium flame. Add onions and celery. Cook them for 5 minutes or until they get soft. Season it with salt, pepper and old bay. Add some garlic and tomato puree in it. Cook this mixture till the garlic becomes fragrant. Sprinkle some flour and cook it for a minute so that it gets absorbed.
Pour wine and seafood stock in the mixture with a bay leaf. Reduce the flame to a minimum and cook till the liquid gets reduced and becomes flavorful. This may take 30 minutes. Do stir occasionally. 
Remove the soup from the flame. Take the bay leaf out of the soup and blend it to make a smooth paste. Place the soup on medium-low flame again. Add heavy cream and half of the crab meat. Cook for 5 minutes to warm up the additions.
Serve hot soup in bowls.
Garnish the soup with remaining crab meat and parsley. 
The best part of this crab soup is that you can make prior preparations for it. You can prepare the base of the soup 3 days prior. But make sure you add crab meat at the time of serving only, not before that.
Nutritional Breakdown of Crab Bisque
We all know that seafood is nutritious, so let's see what nutrition values does the Crab Bisque have.
| | |
| --- | --- |
| Calories | 310 |
| Protein | 4.1g |
| Carbohydrates | 11.1g |
| Fat | 28.1g |
| Cholesterol | 95mg |
| Sodium | 670mg |
How to Make Crab Bisque at Home | Video
In any case, you are not clear of any step involved in this recipe, I have uploaded the video. Do watch the video once to know about every detail.
Try this recipe and share your reviews in the comment section below. I will be happy to know how much you liked the bisque recipe. Not just this, you are free to share any suggestion or a recipe you would love to know more about. I will be happy helping you. Now, grab your bowl and enjoy the warmth of the soup.