How to Make Cowboy Soup at Home
Note- This post may contain affiliate links, we earn from qualifying purchases made on our website. If you make a purchase through links from this website, we may get a small share of the sale from Amazon and other similar affiliate programs.
Cowboys were very famous in the Western United States. They worked on cattle drives and took care of horses. This work is very tough or I would say hungry work. So to keep them energized, this beef soup was given to them and due to this reason, the soup is known as "Cowboy soup."
This name makes kids curious about the dish and they have it without thinking about the beef. This soup is rich in nutrients and it can provide energy to work for the whole day, so we can say that "necessity is the mother of invention," and in this way, this soup came into existence.
This soup is a perfect choice that will be liked by all the kids. This is one of the best delicacies which can be a fantastic snack for you and your kids' winter evening. This cowboy soup is very healthy as well as very yummy! Beef is the main ingredient and as you all know that beef is rich in protein, leading to the growth of muscles and supporting mass muscle growth.
This simple and easy soup can fulfill your iron requirement, vitamins like niacin, riboflavin, vitamin B6 and B12. This will give you energy and helps in reducing tiredness and fatigue. Also, there are other recipes that you can have as starters, let's check them out.
1. Matzo Ball Soup– Matzo ball soup is a delicious soup filled with the goodness of vegetables. It is different from the regular chicken soup because of the Matzo balls in it. It is also easy to make and has a unique flavor.
2. Black Soup– This soup is actually very good for one's health; it contains some leaves like scent, uziza and bitter leaves which are having good health benefits. These leaves are good for the stomach and also relieve heartburn.
3. Hot Dog Soup– This soup recipe is full of healthy veggies that anyone can make at their home using these 7 easy ingredients.
4. Mulligatawny Soup– The word mulligatawny in Tamil means chili, pepper and water. This together makes it a recipe which we commonly know as soup.
Ingredients for Cowboy Soup
| Ingredients | Amount |
| --- | --- |
| Ground Beef | 1lb. |
| Green Beans Cut | 1 cup |
| Sweet Corn | 1 cup |
| Tomatoes | 1 cup |
| Gold Potatoes | 4 |
| Tomato Soup | 1 can |
| Pepper | 1 tsp |
| Salt | 1 pinch |
| Sugar | 2 tsp |
| Mixed Veggies | 1 can |
The main ingredients that are required make this soup are mentioned above. Now let's check how much time do you need to invest in making this soup.
How Much Time Will It Take?
| Preparation Time | Cooking Time | Total Time |
| --- | --- | --- |
| 15 minutes | 2 hours 30 minutes | 2 hours 45 minutes |
Now we have all the ingredients and we know about the time it will take to make this yummy soup. So without wasting more time, let's dive into the directions of this soup.
Cowboy Soup Recipe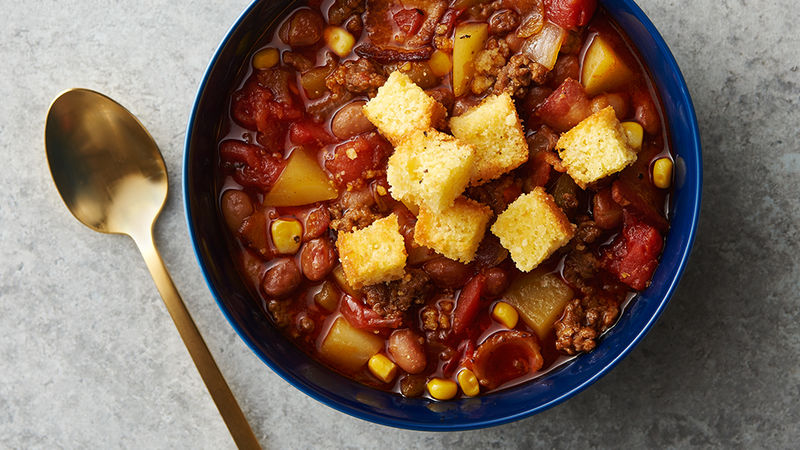 Cut the potatoes into small cubes.
Drain the ground beef.
Put the beef in the cooker and place it on large slow heat.
Now add tomato soup, veggies and diced tomatoes to the cooker.
Add salt and pepper to taste.
Add some sugar and mix them together and cook on low flame for 2 hours and 30 minutes in a slow cooker.
With this, the recipe of cowboy soup is done. Serve this soup to your family and everyone will definitely love it.
Nutritional Breakdown of Cowboy Soup
Now let's move onto the nutritional breakdown of the nutrients present in the cowboy soup.
| | |
| --- | --- |
| Carbs | 43.8g |
| Fat | 8g |
| Protein | 24.6g |
| Calories | 370 |
How to Make Cowboy Soup at Home | Video
We have added this video for your better understanding. You can refer to this video if you have any regarding this recipe.
Try this cowboy soup at home and give us your valuable feedback in the comment section. If you liked this recipe, please share it with your friends and family as well.