How to Make Cottage Fries at Home
As I was surfing the internet for some easy recipes, I found one. This recipe will surely be your comfort food. And without any doubt, it will be loved by you all. You must be wondering how sure I am about your liking for this recipe. Well, then my questions will be, who does not like potatoes? Now your smile says it all. Potato is one such vegetable which is loved by everyone, no matter the age. I am fond of them too.
Potatoes are loved in every form. The most famous form is Fries. This is why I am sharing today the recipe of cottage fries. Cottage fries are seasoned roasted potatoes. This is also a healthy option for fries as it is not fried but baked. So when any health-conscious person craves the fries, then serve them with the cottage fries. And they will indulge in it more often.
Even when you are confused about preparing for dinner, opt for this recipe and it will be ready in just minutes. If you have kids at home, then 'mommy' you will get lucky with this recipe as your kid will love them and may demand this frequently.
You must be waiting for the recipe now. Also, there are other recipes that you can have as starters, let's check them out.
1. Mac and Cheese Bites– Hearing of Mac and Cheese makes everyone drool. The recipe today is not of the basic mac and cheese we eat in a plate. It is of Mac and cheese that you can finish in just two bites.
2. Keto Air Fryer Onion Rings– This keto air fryer onion rings recipe is so crispy, with 8 ingredients! Learning how to make onion rings in the air fryer is the key to keto onion rings that are just as crispy as real ones.
3. Waffle House Waffles– Waffle House is one of the most famous waffles serving chains in America and their waffles are so popular that I can eat them every morning.
4. Punjabi Paneer Pakora– Paneer pakora are a quick evening snack that has a lovely crispy texture with a moist, soft paneer from within.
Ingredients for Cottage Fries
| Ingredients | Amount |
| --- | --- |
| Potatoes | 4 sliced in3/8 inch rounds |
| Salt and Black Pepper | To taste |
| Cayenne Pepper | 1 pinch |
| Herbes de Provence | 1 pinch |
| Olive Oil | 2 tablespoons |
There are times when your kitchen is not stocked up. And all you have are potatoes at home. So no worry, this recipe will be a savior for the situation. These ingredients are our daily usage items and this makes them easy to find in our kitchen itself. So grab them from your kitchen and get started.
How Much Time Will It Take?
| Preparation Time | Cooking Time | Total Time |
| --- | --- | --- |
| 10 minutes | 30 Minutes | 40 Minutes |
This recipe is easy to prepare and does not involve much time. So you can prepare it without any prior preparation. It is a good recipe when your guests visit you. This can be made in less than an hour. So let follow the instructions.
Cottage Fries Recipe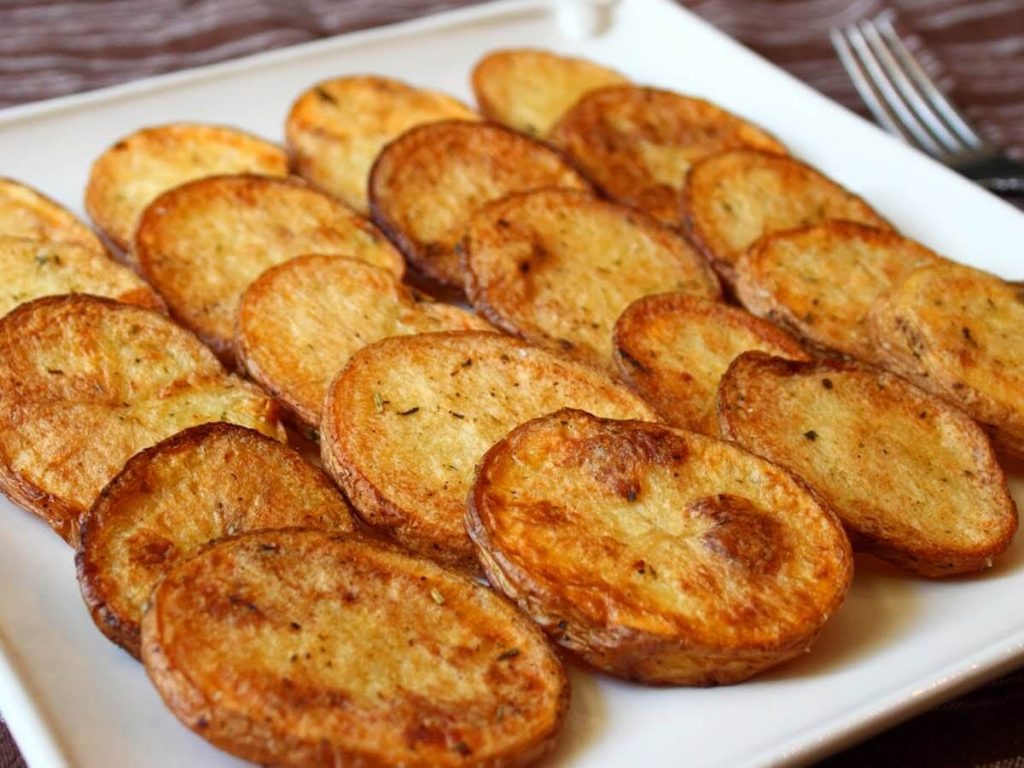 Set your oven on preheat to 425 degrees F (220 degrees C).
On a baking sheet, place parchment paper or silicone baking mat.
In a bowl, add potatoes, black pepper, salt, cayenne pepper and herbes de provence
Coat all the potatoes by drizzling some oil over them and mix well.
Transfer the potatoes to the baking sheet and bake for 15 minutes.
After this, remove them from the oven, flip each of them and put it back in the oven for 15 minutes. Cook until they turn brown with crisp on the edges. Do not overcook as they need o to be soft in the center.
Serve hot.
You can also use some Italian spices to season the potatoes like oregano, basil, garlic and thyme. If you are serving this as a main course, you can pair it with a dip or sauce. Try Red Pepper Coulis. With them and see how amazing they taste. And if you are serving them as a side dish, they will pair well with the Tuna Salad Sandwich.
Nutritional Breakdown of Cottage Fries
If you are a fitness freak, then it is necessary for you to check the nutritional breakdown of the cottage fries that I've mentioned below.
| | |
| --- | --- |
| Calories | 187 |
| Protein | 3.4g |
| Carbohydrates | 29g |
| Fat | 6.9g |
| Cholesterol | 0mg |
| Sodium | 332.1mg |
How to Make Cottage Fries at Home | Video
You can even top these cottage fries with some cheese, green onions and bacon to make it loaded. If you'll have any trouble while making the dish? Don't worry if you are unclear about some steps. I have uploaded the video of the steps involved in this recipe, so watch it and cook it.
After trying the Cottage Fries recipe, do share your reviews in the comment section. And for those who are having a query related to the recipe, feel free to ask your questions in the comment section. I will revert you with the best possible solution. Enjoy your meal.