How To Make Corn Pone At Home
The name of today's recipe is corn pone. Corn pone is basically cornmeal that originated from Southern US and the midland US. Many people also refer to corn pone as cornbread.
Corn pone is made without milk and eggs. It can be baked or fried. The ingredients are simple and easily available. It is easy to make corn pones at home and it takes less than an hour to make them.
To make corn pone, put oil in a skillet and place it in the oven. Mix cornmeal, buttermilk, and salt in a bowl. Pour this into the preheated skillet. Bake it for 35 minutes in the oven. When the edges of the corn pone turn brown, take it out of the oven. Your corn pone is ready to serve.
Out of cornmeal? Here is a list of cornmeal substitutes for you. This is just a snippet of the recipe. Find the complete recipe below. You can also find other interesting bread recipes below.
1. Panettone Bread– Panettone is an Italian type of sweet bread originally from Milan, usually prepared and enjoyed for Christmas and New Year in Western, Southern, and Southeastern Europe.
2. Rustic Italian Bread– Rustic Italian bread is a crispy and delicious round bread. It is made with four simple ingredients and get ready in less than an hour. It is has a crispy outside and a spongy inside.
3. Rosca de Reyes– Rosca means 'wreath' and Reyes means 'king.' So, Rosca de Reyes means 'King's Wreath' when translated. That is why the bread is shaped like a wreath.
4. Cornmeal Hamburger Buns– These cornmeal hamburger buns are better than your normal burger buns as it has a very special connection with the spicy taste.
Ingredients for Corn Pone
| Ingredients | Amount |
| --- | --- |
| Canola Oil | 1/4 cup |
| White Cornmeal | 1/2 cup |
| Salt | 1/2 teaspoon |
| Buttermilk | 1/3 cup |
How Much Time It Will Take?
| Preparation Time | Cooking Time | Total Time |
| --- | --- | --- |
| 20 Minutes | 25 Minutes | 45 Minutes |
Corn Pone Recipe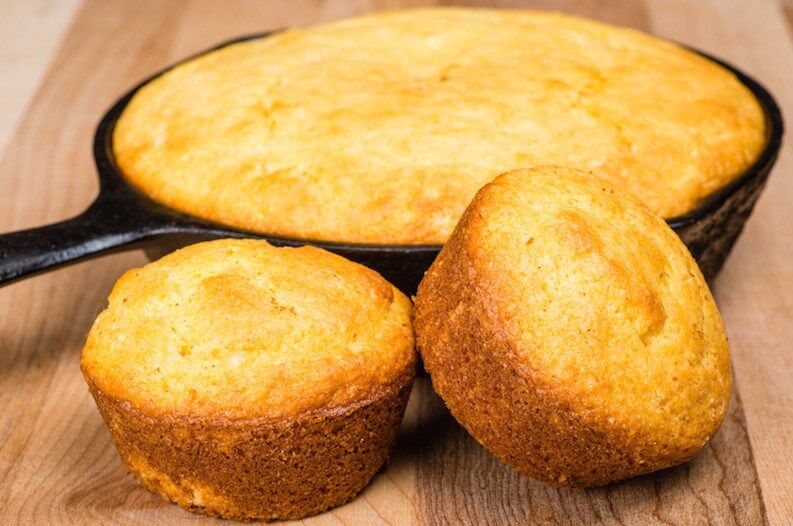 Preheat the oven to 375oF.
Add oil to a skillet and place it in the oven.
In a bowl, mix cornmeal, buttermilk, and salt.
Put this batter in the heated skillet and place it in the oven.
Bake it for 35 minutes until the edges start to become brown.
Loosen the corn pone from the skillet and remove it from the oven.
Nutritional Breakdown of Cone Pone
| | |
| --- | --- |
| Carbohydrates | 19.6 g |
| Fat | 9.4 g |
| Cholesterol | 48.1 mg |
| Calories | 179 kcal |
| Sodium | 504.4 mg |
How to Make Corn Pone at Home | Video