How to make Coquito at Home
When I was a kid, I tried a lot of drinks and shakes but trust me this Coquito is something which you won't be able to deny. I saw this drink at my school fest where we were having a lot of varieties on the menu.
I and my friend went to that particular stall and tried this Coquito drink which made us feel amazing. While coming back home, I was thinking about what ingredients they use in that drink, and is it difficult to make this Coquito drink at home?
The next day, I saw that lady who was serving this drink in our fest. I quickly approached her and asked her a lot of questions regarding the drink. Luckily, She gave me the answers to all my questions and she gave me the Coquito recipe also.
So, I thought why not share this recipe with all of you. Today, I will be sharing this Coquito recipe will all the ingredients, directions, and benefits also. Let's see how many ingredients are used to make this Coquito drink at home.
But there are many other drinks that we've covered in our blog. You should definitely check them as well.
1. Alexander Cocktail– This drink is quite popular in the American region and people usually love to have it. Yes, the famous Alexander Cocktail that you may have tasted in some bars or even parties. But have you ever made it at your home? Well, if not, then this is the right time to do so.
2. Apple Brandy– Apple brandy is one of the healthiest drink among the variety of liquors. This Homemade Apple Brandy has all sorts of adult holiday comfort in a bottle. Spice up your liquor cabinet with this fun and tasty apple drink.
3. German Pilsner– A flavorful and crisp German Pilsner recipe is what I will be sharing with you today. Beer is made of just four ingredients, namely water, malt, hop and yeast. German Pilsner is pale in color with a malty sweetness.
4. Bacardi Coquito– It is the Spanish word Coquito which means "Little Coconut" and Bacardi Coquito is Gluten-Free made from natural flavors.
Ingredients for Coquito
| | |
| --- | --- |
| Ingredients | Amount |
| Sweetened condensed milk | One 14-ounce Can |
| Cream of coconut | One 15-ounce Can |
| Evaporated milk | One 12-ounce Can |
| Unsweetened Coconut milk beverage | 1 Cup |
| White rum | 1/2 Cup |
| Pure vanilla extract | 1 tsp |
| Ground cinnamon | 1/2 tsp |
| Freshly grated nutmeg (plus more for serving) | 1/4 tsp |
| Cinnamon sticks | serving |
This is the list of all the ingredients used in this Coquito recipe. This recipe will not be going to take much of your time.
How much time it will take?
| | | | |
| --- | --- | --- | --- |
| Preparation time | Chilling time | Total time | Servings |
| 10 minutes | 1 hour | 1 hr 10 min | 6-8 |
I know you are curious right now to know about the Complete steps of this Coquito recipe. The steps mentioned below will help you to make this recipe.
Coquito Recipe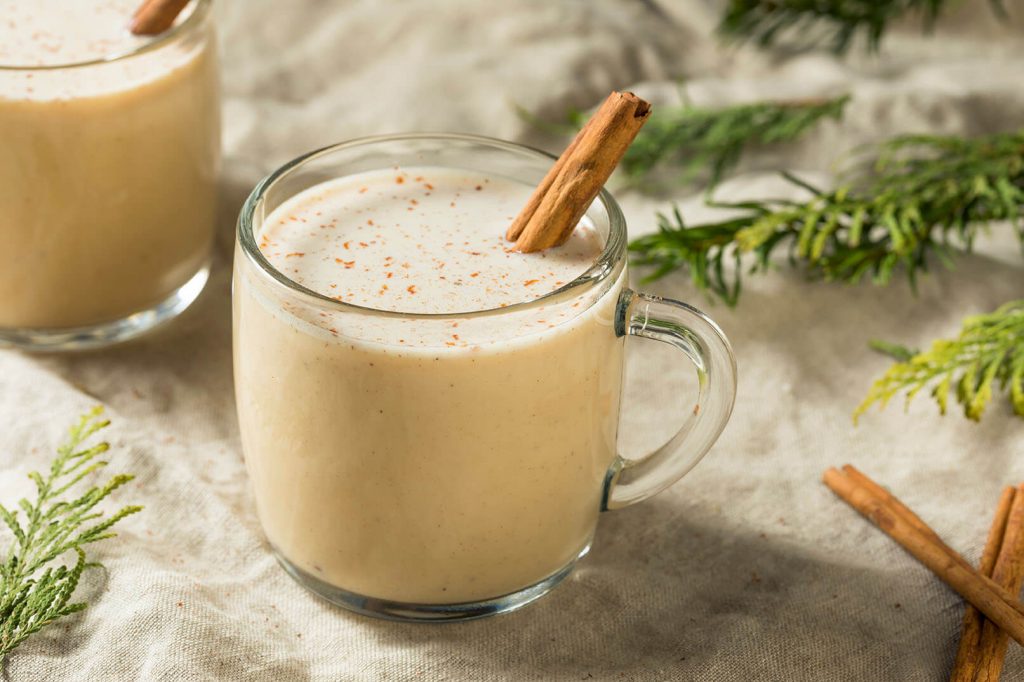 Take a blender and add condensed milk, cream of coconut, unsweetened coconut milk beverage, vanilla, nutmeg, rum, and cinnamon in a blender and blend it until it gets smooth.
Pour the whole mixture to a large pitcher and refrigerate it until very cold (1 hour).
Mix the coquito and pour it into glasses.
You can add more nutmeg for garnishing and add a cinnamon stick to make it looks good. Now, your Coquito recipe is ready to serve.
Nutritional Facts of Coquito
While consuming something creamy, we have a lot of questions in our mind. This breakdown of nutrients in the table below will give you all your answers.
| | |
| --- | --- |
| Calories | 218 |
| Fat | 12 g |
| Carbohydrates | 16 g |
| Cholesterol | 1 g |
| Sodium | 7 mg |
| Sugar | 12 g |
| Protein | 2 g |
How to make Coquito at Home | Video
This video of the Coquito recipe will make your task easier because trying something while watching makes things easier.
I hope your family will love this creamy drink when you will make it. Try this Coquito recipe at home and do share your amazing experience with us in the comments below. Stay tuned for more recipes like this.