How To Make Contest Winning Barbecued Pork Chops At Home
Note- This post may contain affiliate links, we earn from qualifying purchases made on our website. If you make a purchase through links from this website, we may get a small share of the sale from Amazon and other similar affiliate programs.
The amazing recipe I will be sharing with you today can make you win any food contest. The recipe is for Barbecued Pork Chops. You can rely on this recipe if you have eyes on the prize in a contest.
The Barbecued Pork Chops are not only delicious but are also spectacular when combined with a beautiful glaze. The flavors these chops have are a perfect combination of sweetness and saltiness. Not only this, but the sauce can also be worked with chicken breasts. 
Making barbecued pork chops starts with the preparation of a sauce. Mix barbecue sauce, steak sauce, unsweetened apple juice and honey. Season pork chops with salt and pepper. Grill the chops by covering them at 145 degrees. Apply the sauce on the chops after every 5 minutes on each side.
This is not all you need to know. A detailed version of the recipe is given below. A detailed list of ingredients is mentioned in the recipe. But here are some other amazing recipes that you should definitely try.
1. Smoked Turkey Breast– Turkey is something that everyone. And what more can you ask for if you are getting smoked turkey breast. But it would be best if you brined the turkey because this crucial step will make the turkey moist and flavorful.
2. Chipped Ham Barbecues– This easy ham barbecue recipe is a classic Pittsburgh dish made by home cooks for picnics, everyday dinners, and group functions. A tangy delicious treat that can be kept warm in a slow cooker for hours making this an easy option for parties or busy moms.
3. Chef John's Prime Rib– Chef John is an American Chef who publishes cooking videos on his blog and Youtube channel named Food Wishes. Chef John's formula is a formula to cook the ribs with a perfect pink with medium-rare shade.
4. Top Round Roast Beef– This top round roast beef is very flavourful and delicious compared to other beef dishes because this recipe is prepared from the upper thigh of the cow's hindquarters that is the most flavourful part of the whole cow.
Ingredients For Barbecued Pork Chops
1/3 cup hickory smoke-flavored barbecue sauce
1/3 cup A.1. steak sauce
1/3 cup sherry or unsweetened apple juice
2 tablespoons honey
6 bone-in pork loin chops (3/4 inch thick, 8 ounces each)
3/4 teaspoon salt
1/2 teaspoon pepper
The ingredients for this recipe are really simple to find. You will probably get the most of them from your pantry itself. If not, there is no need for you to stress out. You can get them all from your nearest grocery store. Till you make the list, let me tell you the preparation time for this recipe.
How Much Time Will It Take To Make Barbecued Pork Chops At Home?
| Preparation Time | Cooking time | Total time |
| --- | --- | --- |
| 10 Minutes | 10 Minutes | 20 Minutes |
You might think cooking this recipe will take a lot of time as cooking meat is a lengthy process. But to surprise you, it will take only 20 minutes to prepare this recipe. Check out how it is done. 
Steps To Make Barbecued Pork Chops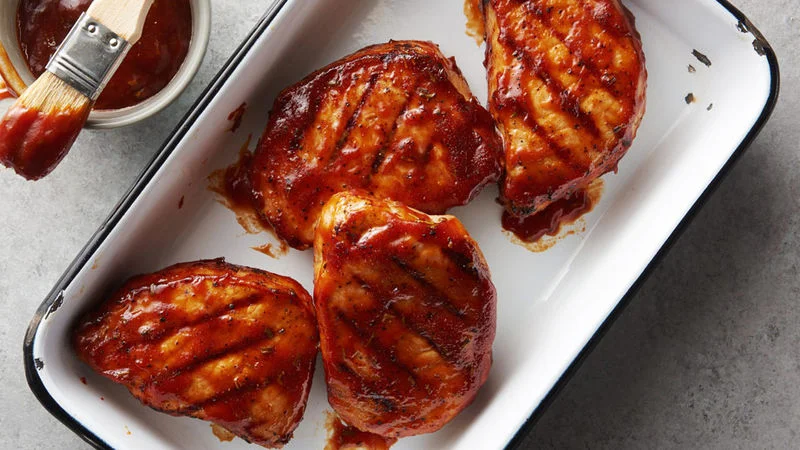 In a medium bowl, mix barbecue sauce, steak sauce, unsweetened apple juice and honey. 1/3 cup of this sauce has to be reserved for serving with chops.
Take pork chops and sprinkle salt and pepper over them. Place these chops over the rack of an oiled grill on a medium flame. Grill the chops by covering them till the thermometer reads 145 degrees. This might take 4-5 minutes per side. Brush the remaining sauce while flipping the chops. Let the chops stand for 5 minutes after they are made.
Serve hot with the reserved sauce.
Garnish with chopped parsley. 
Nutritional Breakdown of  Barbecued Pork Chops
Take look at the nutrition value of the Barbecue Pork Chops.
| | |
| --- | --- |
| Calories | 299 |
| Protein | 35 g |
| Carbohydrates | 16 g |
| Fat | 10 g |
| Cholesterol | 98 mg |
| Sodium | 771 mg |
How To Make Contest Winning Barbecued Pork Chops At Home | Video
Try this recipe and let me know about your reviews in the comment section below. I have also uploaded a video with similar recipe for the detailed steps. Watch it in case you have any confusion. 
If you have any query, then do not hesitate to ask me in comment section. Your suggestions are also welcomed. Now, grab a chop and enjoy it's flavors. Have a good day!