How To Make Coconut Curry Noodle Bowl At Home
Coconut curry bowl noodle is a perfect summer meal. These coconut curry noodles are healthy, flavorful, and saucy. This recipe is a perfect summer meal for all noodle lovers.
I tried these curry noodles for the first time at one of our local restaurants. I've been in love with these noodles ever since. So, I thought, why not try to make these curry noodles at home.
To make a coconut curry noodle bowl, heat oil in a pan. Add garlic, curry paste, and ginger to it and cook for some time. Add coconut milk, vegetable broth, and soy sauce to it. Add the noodles to the pan and cook for about 6 minutes. Then, add the bean sprouts. Pour the soup and noodles into a bowl and squeeze a lime over it. Top with cilantro and sriracha.
Thai red curry paste is also a substitute for yellow curry paste. Want to know the other yellow curry substitutes? Here is a list of yellow curry substitutes for you.
This was just an overview of the recipe. Find the complete recipe below. There are many other recipes that you can make with rice, I highly recommend you to check them as well.
1. Black-eyed Peas and Rice– This recipe is a healthy bowl of rice meal. Using different vegetables makes this dish delicious and colorful. You need to do overnight preparation for this recipe. But don't be worried as it is a simple and easy recipe.
2. Carrot Rice– This recipe is a delicious and healthy recipe. It is made from sauteed vegetables, rice and spices. It is flavorful and aromatic. It is also really simple to make.
3. Buttered Noodles– These noodles are really delicious. They are made with noodles, butter, and cheese. This recipe is really easy to make and uses simple ingredients.
4. Pho Rice Noodles– Pho rice noodles consist of a delicious broth, chewy noodles, and tender sirloin. It has a variety of strong, flavorful and aromatic spices.
Ingredients for Coconut Curry Noodle Bowl
| | |
| --- | --- |
| Ingredients | Amount |
| Avocado Oil | 1 tablespoon |
| Garlic | 4 cloves |
| Thai Red Curry Paste | 3 tablespoons |
| Ginger (freshly grated) | 2 teaspoons |
| Vegetable Broth | 4 cups |
| Coconut Milk | 1 14oz can |
| Soy Sauce or Tamari | 2 teaspoons |
| Rice Noodles | 8 oz |
| Bean Sprouts | 2 cups |
| Lime Wedges | 4 |
| Fresh Cilantro | 1 (handful) |
| Sriracha or Hot Sauce | Optional |
How much time it will take?
| | | | |
| --- | --- | --- | --- |
| Prep time | Cook time | Total time | Servings |
| 5 Minutes | 10 Minutes | 15 Minutes | 4 |
Coconut Curry Noodle Bowl Recipe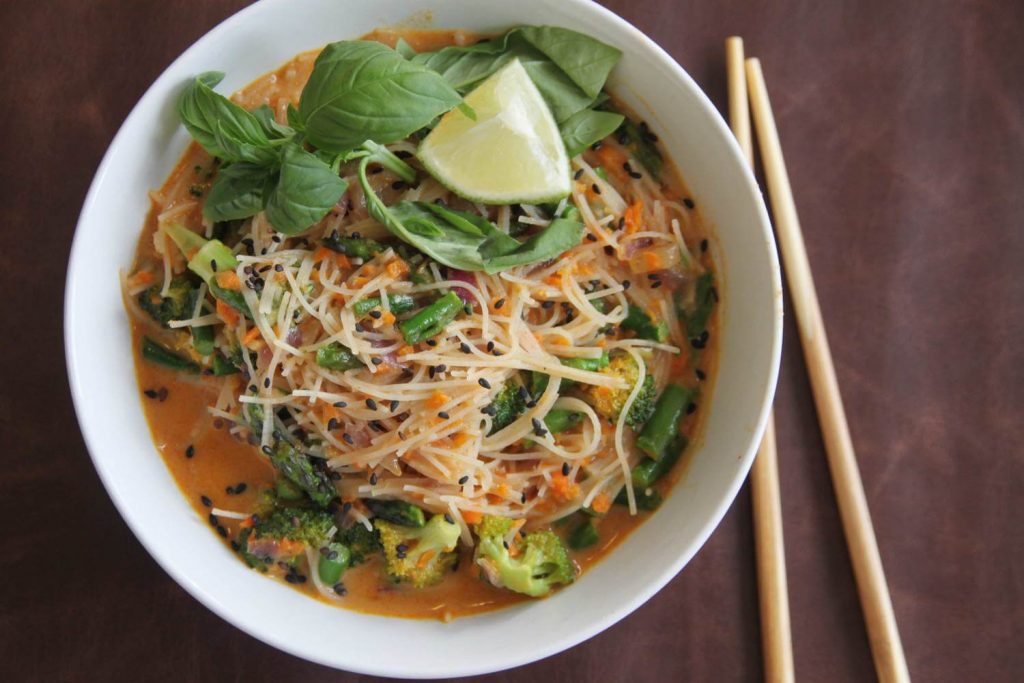 Heat oil in a saucepan for a maximum of 30 seconds.
Add garlic and curry paste to the saucepan and cook it for 3 minutes. After that, add ginger and cook it for hardly 1 minute.
Add coconut milk, vegetable broth, and soy sauce to it. Cook until it boils.
Now, add noodles and cook them for about 6 minutes.
In the end, add bean sprouts to the pan.
Turn off the flame and divide it equally into bowls. Then, squeeze lime over the noodles.
Top with cilantro and sriracha or hot sauce. Your coconut curry noodle soup is ready!
Nutritional Facts of Coconut Curry Noodle Bowl
| | |
| --- | --- |
| Calories | 208 |
| Fat | 5 mg |
| Cholesterol | 143 mg |
| Sodium | 1650 mg |
| Potassium | 701 mg |
| Carbohydrates | 5 g |
| Protein | 33 g |
| Calcium | 75 mg |
| Iron | 1.4 mg |
How to make Coconut Curry Noodle Bowl at Home | Video