How To Make Coconut Black Rice At Home
Note- This post may contain affiliate links, we earn from qualifying purchases made on our website. If you make a purchase through links from this website, we may get a small share of the sale from Amazon and other similar affiliate programs.
 Have you ever heard of black rice? Some of you might know this. The recipe I am going to share with you today is of Coconut Black Rice.
The moment I read black rice with coconut milk, I was confused of what actually they are. While trying to fetch the related information, I found out it is a traditional Thai dessert also known as kao neow dahm. This pudding is all about coconut and it is gluten-free and dairy-free as well. All the coconut fiends will definitely love this pudding. Wondering if you will get the black rice easily?
To make coconut black rice, boil the rice in water and salt. Add coconut milk and sugar in the boiled rice and boil them again. Cook until you get the desired thickness. Remove from heat and bring it down to room temperature. Serve warm.
You can serve this pudding to your guests. It makes a perfect breakfast as well. I just can't wait to indulge in this pudding bowl. But before we jump onto the recipe, let's check out some other desserts that you might like.
1. Vanilla Yogurt– Yogurt is said to have positive effects on our immune, cardiovascular systems as well as boosting our metabolism. Yogurt with the flavour of vanilla in it makes it an incredible dish. Homemade Vanilla Yogurt is just irresistible.
2. Tomato Pudding– Most people think that pudding is always made up of vanilla, chocolate or butterscotch. But this tomato pudding is going to surprise you. This crispy, crimson, and fragrant pudding is a treat straight from the oven.
3. Texas Gold Bars– Texas Gold bars are so addictive as they are a combination of cake and cookies. It is a perfect dessert that is simple and unique. You can also make it at your home by following this simple recipe.
4. Zafrani Sooji Halwa– Zafrani Sooji Halwa can become an all-time taste, especially on rainy days, while conducting auspicious occasions like pooja and also savored in family gatherings while chatting after food.
Ingredients For Coconut Black Rice
1 Cup Black Rice
1/2 Cup Sugar
1 (13 1/2- to 15-oz) Can Unsweetened Coconut Milk
Note– The black rice used in making this dessert has a nutty taste and sticky texture.
You will get access to the ingredients very easily. You can get them at your nearest grocery store. Let's see the preparation time of this recipe.
How Much Time It Will Take To Prepare Coconut Black Rice?
| Preparation Time | Cooking Time | Total Time |
| --- | --- | --- |
| 5 minutes | 1 hour 15 minutes | 1 hour 20 minutes  |
This recipe is a little time consuming. But do not worry, the outcome of all your efforts will be delightful. This will be worth all your patience. Check out the instruction you need to follow.
Steps To Prepare Coconut Black Rice Pudding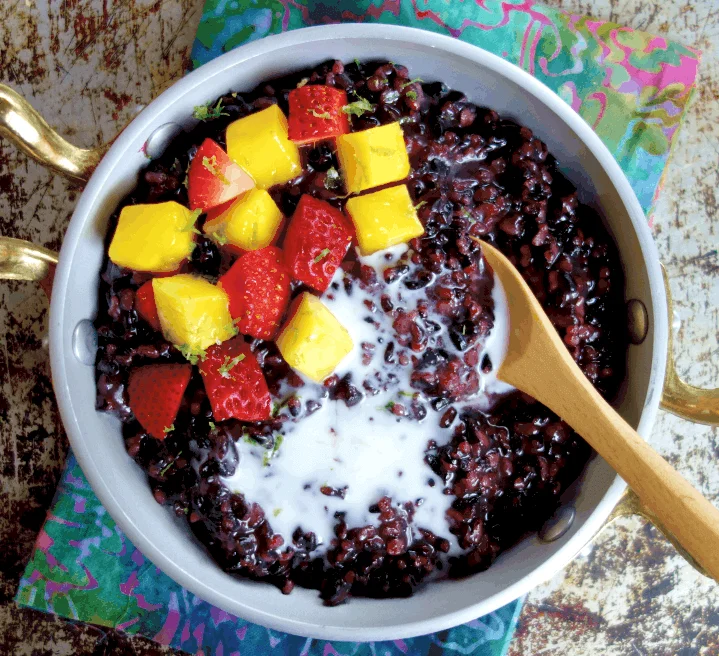 Take a saucepan and add rice, 3 cups of water with ¼ teaspoon of salt. Bring them to boil on high flame. After a boil, reduce the flame to low and cover with the lid. Cook for 45 minutes.
Add sugar, salt and coconut milk to the rice. Bring it to boil again over a high flame. Again reduce the flame after a boil and uncover it. Stir them occasionally and cook for 30 minutes. Cook till the mixture becomes thick.
Remove from heat and cool it down to room temperature or warm temperature. 
Drizzle remaining coconut milk over the pudding when serving in individual bowls.
Note- You can store this rice pudding for 5 days. You can garnish it with coconut flakes.
If you are having this as your breakfast, use less sugar for the pudding. You can even make it sugar-free. You can also add nuts to this pudding.
Nutritional Breakdown Of Coconut Black Rice
We all know that rice is great source of carbohydrates for our body. That is why I've added the nutritional breakdown of these black rice with coconut milk.
| | |
| --- | --- |
| Calories | 382.6 |
| Protein | 7.3g |
| Carbohydrates | 37.2g |
| Fat | 25.6g |
| Cholesterol | 0mg |
| Sodium | 14.7mg |
Try this recipe of black coconut rice at home and share your reviews and experience while making the recipe. I will be glad to know your reviews. Also, I would like to hear your suggestions regarding any recipe. Let me know if you like to know about the certain recipe. I will be delighted to help you. Bon Appetite!