How To Make Clafoutis At Home
Clafoutis is a classic French dessert. In this post, let's see how you can make it at your home.
The dessert is a soft, fluffy and creamy dessert. The recipe includes a few basic ingredients and you're good to go. The French delight is a perfect mix of blends of cherries and milk. The texture is soft and full of cream from the inside, with its edges slightly brown to give you that smoky essence.
To make clafoutis, prepare a batter of bowl, add milk, sugar, eggs and vanilla. Now, add the flour, salt and zest. Then, top the batter with cherries and bake for 40 minutes in a preheated oven. Dust with some powdered sugar and serve.
Now, let's see the detailed recipe. Also, check out some of the similar recipes.
1. Swiss Chocolate Square– This recipe is a thin layer of cake with a fantastic creamy frosting on top, which is cut into small squares. The frosting is really what's worth it and makes it super delicious.
2. Velveeta Fudge– It is a candy that has a texture of chocolate flavor. It is smooth and creamy like Barfi (Indian Sweet), or you can call it "Chocolate Barfi" also. You should definitely try it at your home.
3. Vanilla Custard– A silky smooth and luxurious real vanilla custard that can be served hot or cold, alone or with tons of desserts. Plus, this homemade custard recipe requires just five ingredients and a simple process.
4. Candied Kumquat– This kumquat recipe is quite easy to make and is the best version of this fruit that you will ever have. Having a sweet and tart taste makes it more delicious and satisfying. The best part is, your kids are going to love these candies.
Ingredients for Clafoutis
| Ingredients | Quantity |
| --- | --- |
| Unsalted Butter  | 1 teaspoon |
| Cherries | 12 ounces  |
| Whole Milk  | 1 cup |
| Granulated Sugar  | ½ cup |
| Vanilla Extract  | 1 teaspoon |
| All-Purpose Flour | ½ teaspoon |
| Fine Salt  | 1 teaspoon |
| Powdered Sugar  | For Garnishing |
Well, the ingredients are in front of you. Make a list and shop them out. You will easily find them at any nearby local store.
How Much Time Will it Take?
| Preparation Time | Cooking Time | Total Time |
| --- | --- | --- |
| 10 Minutes  | 40 Minutes  | 50 Minutes |
The timings show that this Clafoutis will not take much of your precious time. It's a matter of only 50 minutes and then you can have this dessert ready on your dining table.
After hearing so much about this Clafoutis dessert, the time has come now, where I will tell you how to bake this delicious masterpiece at home. Get ready to witness a dish that you will not find anywhere else but only in your kitchen after you make it on your own.
Clafoutis Recipe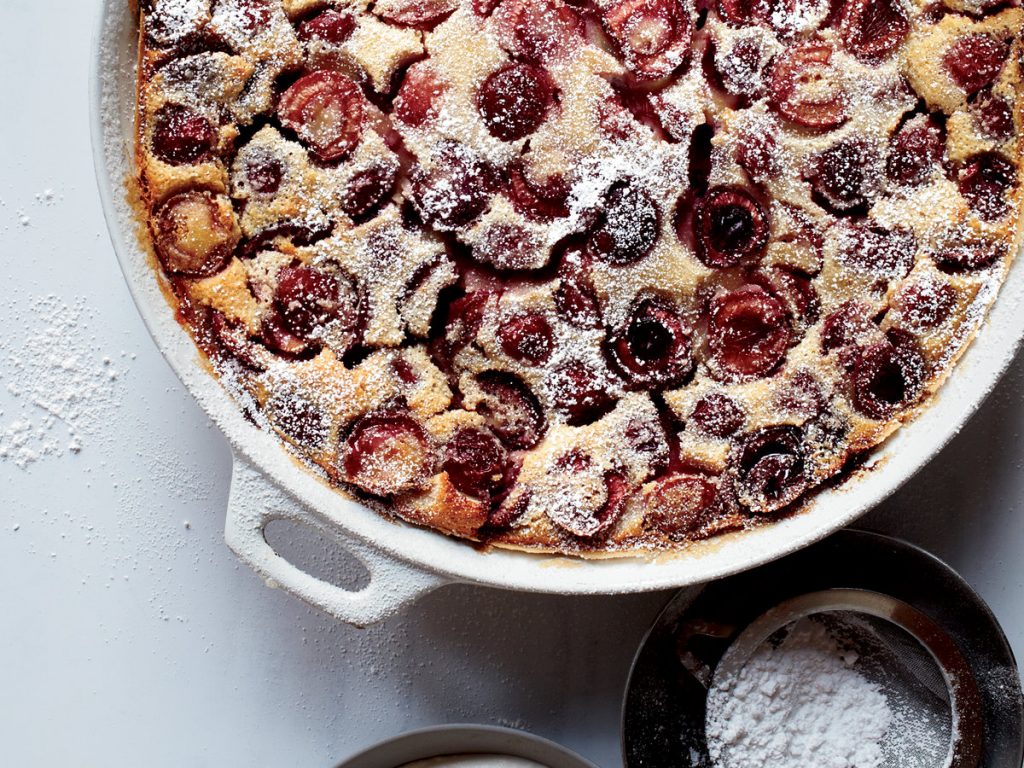 First, you have to preheat your oven to about 400 F. Grease your cast-iron skillet with some butter and keep it aside.
Now in a food processor or a big mixing bowl, add milk, sugar, eggs and vanilla and whisk it until a smooth batter is formed. It will take about 20 seconds in a food processor and more if doing with a hand or whisker.
Now add flour, salt and zest to this batter and mix it until it gets thoroughly mixed up. 
Bring the pan in which you want to bake it and pour this batter into it.
To top with cherries, clean them, remove their stems and pit them. You can cut them into two halves if you want. Spread them over the batter evenly.
Now put this skillet into the oven and bake it for about 40 minutes. Watch the edges until they turn golden brown in color.
Take it out of the oven and let it cool. Dust with some powdered sugar and ready to serve.
Serve this delicious clafoutis dessert along with some tea or coffee or any other beverage that you like and enjoy the sweet taste of this baked bread with the goodness of cherries on the top.
Nutritional Breakdown of Clafoutis
The nutritional facts of this recipe are down below in the table. This will be helpful to maintain and keep an eye on your diet plan.
| | |
| --- | --- |
| Calories  | 215 |
| Fats  | 5.8 gm. |
| Carbohydrates  | 35.2 gm. |
| Fiber  | 1.4 gm. |
| Sugars  | 25.6 gm. |
| Protein  | 6.1 gm. |
How to Make Clafoutis at Home | Video
Here is a video of this Clafoutis recipe that you should watch to know the full details.
Can't wait to begin with the recipe? Try it and share your reviews in the comment section. Just in case you have any queries related to the recipe, you can ask your questions in the comment section too. If you liked this recipe, do share it with your family and friends. Bon Appetite!