How to Make Cinnamon Schnapps at Home
What do you think is special about winters? Well, I guess winters are known for the holidays, fun, festivals, and yes the cold atmosphere and that chill breeze that flows around. The winters are my favorite season as I get to make many different recipes and food items.
But today I am going to share a very smooth recipe which you all will like. This recipe contains alcohol so; I think you should probably keep it away from your little ones.
Now, telling about the recipe or the drink which I am going to make. Let me tell you it is already a famous drink in the U.S and some north European countries. This recipe is called cinnamon schnapps.
This is the drink which my father used to have in the winter, just to make him warm and comfortable. Even in the parties, my dad used to have this drink as it is having some ingredients which are good for your health too.
Today my dad was just ordering this drink online and I asked him if I can make this at home. So, I searched the internet and read some books then I came to know about how to make this drink at home. And the results were quite amazing. My dad was really impressed with that homemade Cinnamon drink.
I thought as I have made is successfully at home, so can you guys. So, here I am with this Cinnamon Schnapps recipe which will make you energetic and keep warm at the same time. Let's start making it.
1. Peach Schnapps– This Schnapps will make your hot summer day cool and you are going to fall in love with this drink. This is a perfect cool drink for all the party lovers. Beat this summer by learning how to make Peach Schnapps at home.
2. Chocolate Cake Shot– The combination of liqueur, lemon and white sugar with chocolaty taste is an incredible cocktail. It is a novelty shooter which would fill you with energy and enthusiasm.
3. Black Manhattan– This drink got its name after it was invented by a bartender known as Black in the city of Manhattan in the late '80s. This drink is a fusion of various other famous types of alcoholic brands that makes it a perfect blend for any occasion or gathering.
4. Dark and Stormy Cocktail– This drink is from Bermuda and is quite famous in the cocktail world. The flavor and taste it has is unique and tickles your taste buds to have a great pleasure.
Ingredients For Cinnamon Schnapps
Here are the ingredients that you will need to make this drink at home.
| | |
| --- | --- |
| Ingredients | Quantity |
| Distilled water | 44 ounce |
| Sugar | 8 ounce |
| White/light corn syrup | 4 ounce |
| Food grade glycerine | 2 tsp |
| 100% Grain alcohol | 8 ounce |
| Red food coloring | ¼ tsp |
So these are the necessary ingredients that you will need and they are easily available in your nearest grocery store. You can collect them easily. For alcohol, you may have to visit some supermarkets.
How Much Time It Will Take?
This drink doesn't take much of your time to make. You don't have to wait much for this drink to get completed. Here is a complete breakdown of the time required to make Cinnamon Schnapps at home.
| | | |
| --- | --- | --- |
| Preparation time | Cooking time | Total time |
| 5 minutes | 15 minutes | 20 minutes |
Cinnamon Schnapps Recipe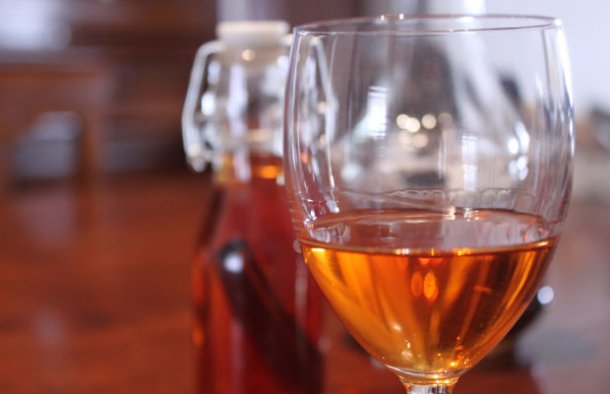 Now after discussing all these things, here comes the most important part of the recipe which everyone waits for. Let's start making this drink.
Take a pan and add corn syrup, sugar and 16 ounces of Distilled water and keep it over medium flame until the sugar gets dissolved.
Now keep stirring continuously and add cinnamon oil and make sure sugar dissolves completely.
Now let this mixture cook for about 5 minutes over the low flame until it becomes a thick syrup.
Take the pan off the flame and add the remaining 28 ounces of water along with the glycerin and make sure the temperature is low.
Add the grain alcohol in this syrup and keep stirring.
Add the food coloring if needed and store it in the glass bottle.
And here we go, let's enjoy this cocktail. You can enjoy this with your friends and well wishers.
Nutritional Facts Of Cinnamon Schnapps
This drink contains alcohol and you should be aware of its use. Apart from that this drink is good than other cocktails that are available in the market. Here is the complete nutritional breakdown of this drink.
| | |
| --- | --- |
| Calories | 237.48 |
| Carbohydrates | 36.7 |
| Protein | 0.18gm |
| Fat | 0.23gm |
| Fiber | 0.35 gm |
| Calcium | 14.16 |
| Vitamin C | 1.59 mg |
| Iron | 0.21 mg |
How To Make Cinnamon Schnapps at Home | Video
I don't think you will need any help in making this recipe at home but still, I guess watching a video is worth it. It will help you to know the details which can make this even classy.
I hope you have liked this Cinnamon Schnapps recipe and will make this drink at your place. Please tell us your reviews and experiences about this recipe in the comment box below. Till then, stay tuned for such more recipes.