How To Make Ciabatta Rolls At Home
Ciabatta roll is a delicious bread roll that is soft and airy inside but crunchy on the outside. It is a broad-flat and elongated flatbread. Today, I'll be sharing the recipe for this bread.
Ciabatta rolls were originally made in Adria, Italy, in the year 1982 by a baker. I love the texture of this bread. It is the perfect bread for making sandwiches and burgers.
To make Ciabatta rolls, mix water, yeast, all-purpose flour, and salt in a bowl. Allow it to rise at room temperature. After 30 minutes, cut the dough into equal pieces and bake for around 20 minutes. Your Ciabatta bread rolls are ready.
This was a quick overview of the recipe. Find the complete recipe below.
1. Rye Croutons– If you love croutons then, you should know that homemade croutons taste the best. You can easily make rye croutons with leftover rye bread. They are really easy to make and get ready in no time.
2. Paneer Sandwich– Paneer sandwich is a simple, easy and tasty sandwich that can be made for breakfast, evening snacks or for a light lunch or dinner. 
3. Pizza Crust– This is hands down the best pizza dough. You will love this crust – it's crisp, chewy and so satisfying. Make this and you will never want a store-bought crust again. 
4. Chicken Missi Roti– This chicken missi roti is soft, round Indian flatbread made with a combination of chicken, whole wheat flour and gram/chickpea flour and seasoned with Indian spices.
Ingredients for Ciabatta Rolls
1 teaspoon Instant Yeast
1 cup Water
300 g All-Purpose Flour
1 teaspoon Salt
How Much Time It Will Take to Make Ciabatta Bread Rolls?
| Preparation Time | Additional Time | Cooking Time | Total Time |
| --- | --- | --- | --- |
| 10 Minutes | 3 Hours 20 Minutes | 20 Minutes | 4 Hours |
Steps to Make Ciabatta Rolls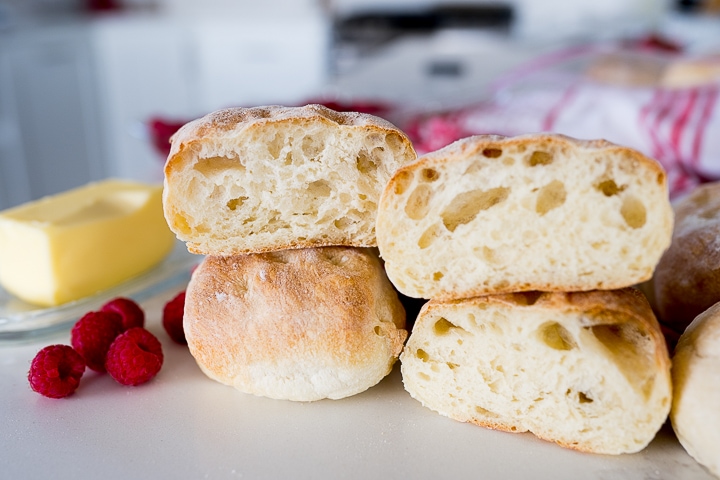 Take a small cup. Add yeast to it with some lukewarm water. Mix them well to combine. You will smell the aroma of yeast and bubbles may appear. Let it rest for 2 minutes. 
In a large bowl, add salt and flour. Pour the yeast mixture in it and whisk them all until it turns fluffy. Make sure that there are no dry flour particles left in the bowl. So, scrap the sides, leaving no flour. The mixture will be very sticky, so you need not worry about that. 
Cover the bowl with plastic wrap. Let it rest for 1 hour at room temperature. 
Now, stretch and fold the dough by sprinkling some water on your hands. The technique is to fold the edge in the center until you cover all the edges. Set it aside for another 30 minutes.
Repeat the stretch and fold and cover it again for 30 minutes. Perform 3 rounds of stretch and fold until the dough doubles in size.
Now, place the dough on a surface with dry flour. Shape the dough in a rectangular shape by sprinkling some flour over it.
Shape the dough in the form of a log and seal the edges. Divide the dough into 4 equal parts. Let them rest for another 40 minutes.
Preheat the oven to 420oF and put a baking tray filled with water inside it.
Place the dough rolls on a baking tray lined with parchment paper. Put the baking tray in the oven and bake for about 20 minutes.
Nutritional Breakdown of Ciabatta Rolls
Let's see how much value of nutrition these rolls will deliver to you in the table below.
| | |
| --- | --- |
| Calories | 276 |
| Protein | 8.2 g |
| Carbohydrates | 57.6 g |
| Fat | 0.8 g |
| Cholesterol | 0 mg |
| Sodium | 585.8 mg |
How to Make Ciabatta Rolls at Home | Video