How To Make Christmas Brownies At Home
Christmas brownies are far away from your typical brownies. These brownies have a beautiful decoration to make them the perfect Christmas baked delight. They are the best Christmas gift for people who love sugar, chocolate and, of course, Christmas.
You can make your Christmas brownies any way you like. Top them with candy canes or add whipped cream to make them look like a present. But my favorite is the Christmas tree-shaped brownies. I just love making them and hopefully, you'll love them too.
To make Christmas brownies, melt chocolate and butter in a pan. Stir in vanilla extract and put them in the bowl of a standing mixer. To this, add sugars, eggs and sour cream and mix. Mix flour, cocoa powder, baking soda and salt in a bowl. Add this to the mixing bowl and prepare the batter. Bake the brownies and decorate with chocolate and sprinkles.
Transform your chocolate brownies to malted chocolate brownies by adding some malt powder into the mix. Don't have malt powder? Here are the best malt powder substitutes.
But before we jump onto the recipe, let's check out some other desserts that you might like.
1. Chocolate Avocados Mousse– Avocado Chocolate Mousse is a healthy no-bake dessert recipe made with a few ingredients in a few minutes. It's vegan, refined sugar-free and tastes sweet and rich.
2. Vanilla Brownies– Vanilla Brownies are also known as Vanilla Blondies. This recipe will lighten up your mood and gives a good aroma. When you'll follow this recipe, it will be a lot easier to make this brownie. Make these brownies for your loved ones and make them happy.
3. Texas Pecan Pralines– Pecans are high in fiber and rich in Vitamin E. They are also a great source of zinc. Besides that, they are low in carbs and loaded with healthy fats and protein. This makes it a perfectly healthy food. Even if they are candied, they are still healthy if prepared correctly.
4. Baklava– This honey baklava is flaky, crisp and tender and I love that it isn't overly sweet. It's basically a party in your mouth. I am a huge fan of baklava and this is the BEST baklava recipe I have ever tried. Hands down.
Ingredients For Christmas Brownies
Cooking Spray
8 oz. Semisweet Chocolate (roughly chopped)
2 Sticks Unsalted Butter
2 tablespoons Vanilla Extract
1 1/4 cups White Sugar
3/4 cup Light Brown Sugar
6 large Eggs
1/2 cup Sour Cream
2 cups All-Purpose Flour
1/4 cup Unsweetened Cocoa Powder
1 teaspoon Baking Powder
1/2 teaspoon Kosher Salt
1/2 cup Semisweet Chocolate Chips
For Decoration
1/2 cup Semisweet Chocolate Chips
Sprinkles
These were the ingredients you'll be needing to make these brownies with the Christmas spirit. Let's quickly look at the cooking time needed for these brownies as well.
How Much Time Will It Take To Make Christmas Brownies?
| Preparation Time | Cooking Time | Total Time |
| --- | --- | --- |
| 30 Minutes | 35 Minutes | 65 Minutes |
Let's get to the good part where I tell you how to make these brownies so, your house will smell like brownies and chocolate.
Steps To Make Christmas Brownies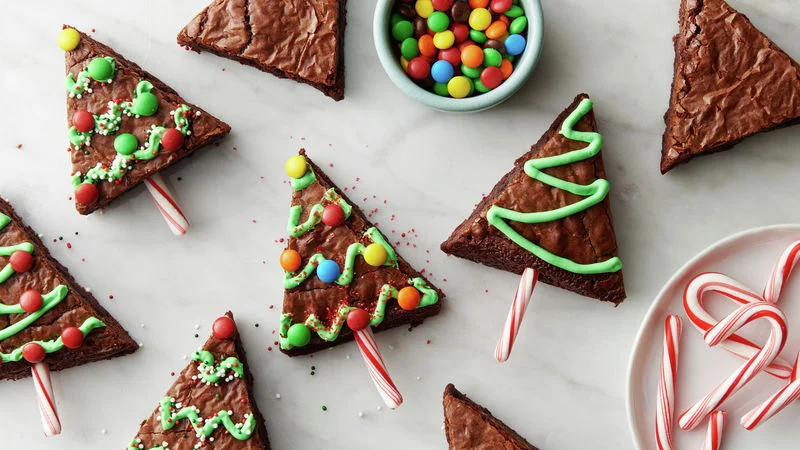 Start with preheating the oven to 325 F. Line a pan with foil and grease with cooking spray.
In a saucepan, add semisweet chocolate and butter—Cook over low heat. Stir occasionally till the contents of the pan are melted. Add vanilla extract and stir. Add the mixture to the bowl of a stand mixer.
To this bowl, add white sugar and brown sugar and beat for 2 minutes. Add eggs, one egg at a time, beating with each egg. After eggs are added, add in the sour cream.
In a large, add flour, cocoa powder, baking powder and salt and whisk all these together.
Add chocolate chips to the bowl and mix. Now mix the dry ingredients with the creamy mixture to make the batter.
Transfer the batter to the prepared baking pan. Spread it evenly.
Bake the brownies for about 30-35 minutes.
Take them out of the oven and let them cool down.
After they have cooled down, place them on a cutting board. Slice the brownies in triangular wedges, so they look similar to Christmas trees.
For decorating, melt the chocolate chips by microwaving them.
Drizzle the melted chocolate on the brownies and add sprinkles.
The brownies look beautiful and are ready to be served. Now, let's see the nutritional value of the Christmas brownies.
Nutritional Breakdown Of Christmas Brownies
Here is a table for the nutritional breakdown of this recipe.
| Nutritional Value | Per Serving |
| --- | --- |
| Calories | 352 kcal |
| Carbohydrates | 40 g |
| Protein | 4 g |
| Fat | 19 g |
| Fiber | 2 g |
| Sugar | 27 g |
| Calcium | 46 mg |
| Iron | 2 mg |
How To Make Christmas Brownies At Home | Video
If you feel like you couldn't understand a part of the recipe, I have attached a similar video for your help. Check it down below!
So, this was it about this recipe. If you have any suggestions or queries, please don't be shy and mention them in the comments. Thank you for reading and do try making this recipe!