How To Make Chocolate Cream Cheese Pie At Home
Chocolate cream cheese pie dessert is a perfect blend of chocolate and cheese. Today, let's see how you can make it at your home.
You must have tried many chocolate desserts, but this one has got really different. The cream and cheese just melt in your mouth. It is the best dessert for making at festivals or large gatherings. Now, let's have a quick overview of the recipe.
To prepare chocolate cream cheese pie, make the crust by crushing the cookies and sauting them in butter. Now, add cream cheese, sugar and milk to a bowl and whisk. Refrigerate and serve with the chips.
The recipe may sound confusing, but this was just an introduction to the recipe. If you want, you can also use crème fraiche or its substitutes for you. The full step-by-step instruction is mentioned below. Also, do check out some other cherry pie recipes that I think you should definitely try at your home.
1. Velvety Chocolate Butter Pecan Pie– The richness of this pie will make you go nuts. This pie is a classic combination of Pecan Pie and Chocolate Pie. This dessert is undoubtedly irresistible once you take a bite.
2. Cherry and Almond Tart– Cherry and almond tart is one of the few desserts that have both colors of Christmas as well as flavors of summer. It is the right amount of sweet and has a creamy texture. You can also use whipped cream to top it.
3. Peanut Butter Pie Jars– You are going to love this combination of peanut butter and milk chocolate. Another this that is going to make these peanut butter pie jars is because you can make them at home without any cooking or baking process.
4. Sawdust Pie– This pie got its name because of how all the ingredients look like sawdust when combined. If you never had this pie before, then it will indeed become a family favorite. So while you have your dinner, just put it in the oven to be prepared.
Ingredients for Chocolate Cream Cheese Pie
| Ingredients | Amount |
| --- | --- |
| Cream cheese | 3 ounces |
| Sugar | 2 teaspoon |
| Milk | 1 and ¾ cups |
| Whipped Topping | 2 cups |
| Graham Cracker Crust | 1 pc |
| Chocolate Puddings | 1 pack |
| Chocolate Chips | According to taste. |
| Oreo Cookies | 26 pc |
The timings are the best part which will make you more motivated for making this recipe at home. Take a look at the table below.
How Much Time It Will Take?
| | | |
| --- | --- | --- |
| Preparation time | Cooking time | Total time |
| 25 minutes |                   – | 25 minutes |
Note: The hilling time is not included in this time frame as it depends upon the cooling capacity and speed of the refrigerator.
The chocolate cream cheese pie is now at its final stage where I will tell you how to make it. This step is the most awaited and I know you are eager to wait for it as well. So, let's start making this recipe at home without wasting any time.
Chocolate Cream Cheese Pie Recipe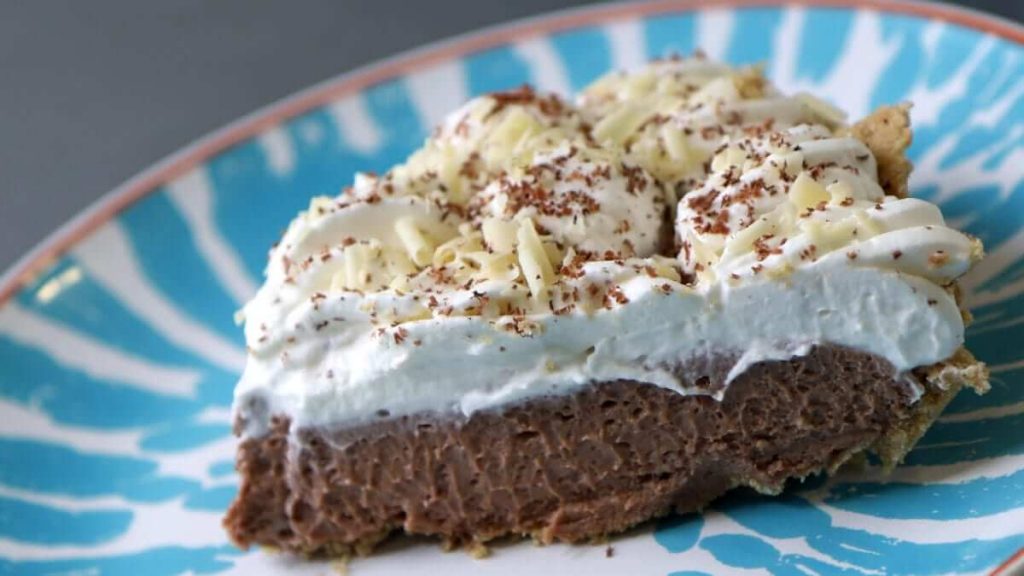 To Make the Crust
Crush the cookies into a fine paste along with their cream in a food processor.
 Pour these cookies paste into a small bowl.
Melt butter in a pan and add these cookie crumbs into it.
Mix this batter using a fork and fill the dish die plate with it.
Refrigerate it until set.
To Make Chocolate Pie Filling
Take a small bowl and add cream cheese in it along with some sugar and milk and whisk them until smooth. Fold this mix in a cup of whipped topping and spread evenly into crust.
In a small bowl, whisk the mix that you made and whisk it for 2 minutes and add the remaining milk along. Spread this filling on the crust evenly.
Now place it in the refrigerator and wait until solid.
Serve with some chocolate chips on the top or cool whip and enjoy!
You are Done! The chocolate cream cheese pie is ready to eat. Enjoy this recipe with your friends and family and have a great time.
Nutritional Breakdown Chocolate Cream Cheese Pie
The nutrition of this recipe is also important and provides a proper nutritional background of the food that you made. Here is the complete breakdown of the recipe in the table below.
| | |
| --- | --- |
| Calories | 381 |
| Fat | 19 gm |
| Cholesterol | 25 mg |
| Sodium | 511 mg |
| Carbohydrates | 48 gm |
| Sugar | 36 gm |
| Fiber | 1 gm |
| Protein | 5 gm |
How to Make Chocolate Cream Cheese Pie at Home | Video
To make this recipe in a more precise way, here is a video which will help you through all the process of this recipe. Do watch and make it even better.
And that's it for today. Hope you will like this recipe and will add some twist to your daily routine cooking. Hey! Check out the other recipes which I guess you will like too. Here are some of them, do give them a look and tell us what you think about them. We would love to get your response to all of them.
How to Make Mini Cheesecakes at Home
How to Make Mint Chocolate Chip Ice Cream at Home
How to Make Tembleque at Home
Try them and let us know about your stories and experiences that you had while making them. Till then have a great day and stay safe.