How To Make Chocolate Avocados Mousse At Home
Chocolate avocados mousse is a creamy, refreshing and delicious dessert. In this post, let's see how you can make it at your home.
The mousse is a perfect option for a romantic evening and can make anyone feel special. You can make it yummier by adding crunch toppings which will give it a great texture. This dish is quite simple yet creative. This blend of avocados and cream will never disappoint you and this will be the best dessert you will ever make.
To prepare chocolate avocados mousse, blend avocados, cacao powder and milk in a blender. Now, add some maple syrup and salt. Then, put it in a bowl and refrigerate for 1 hour. Garnish and serve.
But before we jump onto the recipe, let's check out some other desserts that you might like.
1. Chocolate Trifle Bowl– This easy Chocolate Trifle recipe is rich and decadent with layers of fudgy brownie, chocolate pudding, and whipped cream. It's a chocolate lover's dream, and it's perfect for feeding a crowd! It's often called a chocolate brownie trifle.
2. Christmas Brownies– These brownies are far away from your typical brownies. These brownies have a beautiful decoration to make them the perfect Christmas baked delight. They are the best Christmas gift for people who love sugar, chocolate and of course, Christmas.
3. Chocolate Tuile– These curved-shaped thin chocolate cookies can be a great element with ice cream at your next party. But these traditional French cookies are brittle and can easily break.
4. Swiss Chocolate Square– This recipe is a thin layer of cake with a fantastic creamy frosting on top, which is cut into small squares. The frosting is really what's worth it and makes it super delicious.
Ingredients for Chocolate Avocado Mousse
| Ingredients | Amount |
| --- | --- |
| Avocados | 2 ripe |
| Cacao Powder | 2 tbsp |
| Milk | 1/2 cup |
| Maple Syrup | 2 tbsp |
| Salt | 1/2 tbsp |
Here are all the list of ingredients that we need to make this yummy mousse at home.
How Much Time It Will Take?
The main time consuming thing is refrigeration and that is the main part of the dish.
| Preparation Time | Refrigerate Time | Total Time |
| --- | --- | --- |
| 5 minutes | 1 hour | 1 hour 5 minutes |
Chocolate Avocado Mousse Recipe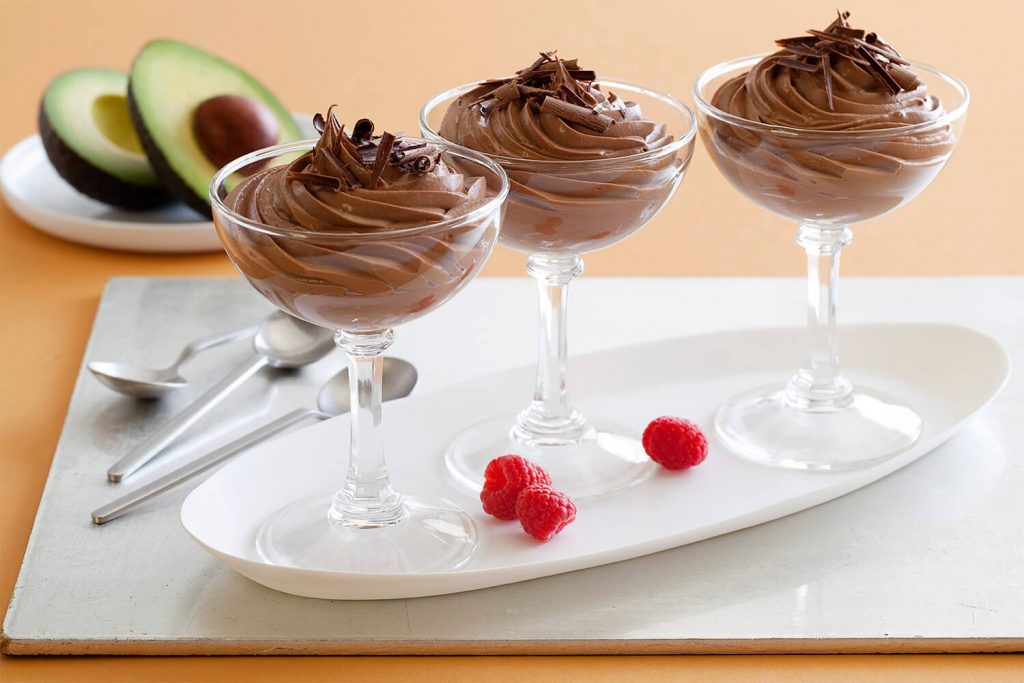 Put avocados, cacao powder and milk in a blender. Now, add some maple syrup and salt.
Blend them thoroughly.
Then, pour them into small bowls and refrigerate for 1 hour.
Sprinkle some chocolate powder on it and garnish it with cream and cherries.
Your yummy mousse is ready now. Make it at your home and everyone will definitely love it.
Nutritional Breakdown of Chocolate Avocado Mousse
These are nutrients which are present in this Chocolate Avocado Mousse are mentioned below.
| | |
| --- | --- |
| Calories | 181.8 kcal |
| Fat | 15 g |
| Cholesterol | 0 |
| Sodium | 25 g |
| Potassium | 440 g |
| Carbs | 18 g |
| Sugar | 0.4 g |
| Protein | 3.3 g |
How to Make Chocolate Avocado Mousse at Home | Video
I have put this video of this whole recipe so that you can understand this recipe more easily. Do watch this video whenever you have any confusion with the recipe.
Try this recipe at home and if you find it difficult, please ask in the comment section and don't forget to give your valuable feedback in the comment section. Also, stay connected for more wonderful and amazing recipes.