How to Make Chinese Spring Rolls at Home
The perfection in lives is what we crave for, so we do in our food; because we want it to be absolutely tasty. So, here's another fill in from the streets, to create at homes. Give your critics a roll of absolute spice and pleasure. It's a treat to eat. Unroll a layer to discover excitement, a deserted outing definitely has a pleasure to unfurl, that is mouth-watering. This time it is the Chinese delight that you unfurl.
There is a shop near my house and in the shop, and uncle used to make Chinese dishes only but the thing which I like the most is Chinese Spring Rolls, and those Chinese Spring Rolls have a crispy outer cover with smoother interiors of noodles gives you the absolute delight to have for special suppers.
Today, I will share the Chinese Spring Rolls recipe with my favorite people. Enjoy it with endless choice of sauces it's just going to add to the already heavenly taste and pleasure of having such a roll.
Also, there are other recipes that you can have as starters, let's check them out.
1. Potato Masoor Dal Ki Patties– This tikki is very healthy. It does not have potato. It has paneer and hence has goodness of calcium. Masoor is good in proteins, hence it is diabetic friendly, good for growing kids and a good source of calcium and proteins for pregnant ladies.
2. Low Country Boil– This Low Country Boil is a blend of shrimp, crab, sausage, corn and potatoes, all cooked together to create a hearty dinner. A complete meal in one pot that's perfect for feeding a large group of people.
3. Vegetable Spring Rolls– Spring rolls; an experience with pressing the readied recipe would justify your name. A crispy outer cover with smoother interiors of noodles gives you the absolute delight to have for special suppers.
4. Dahi Palak Patta Chaat– Spinach leaves are coated in a batter and deep fried to make spinach fritters and then drizzled with smooth beaten yoghurt, chutneys, and masalas.
Ingredients for Chinese Spring Rolls Recipe
| | |
| --- | --- |
| Ingredients | Amount |
| Corn flour | 1 cup |
| Salt | ½ tsp |
| Egg yolk | 1 unit |
| Maida flour | ¼ cup |
| Sesame oil | 3 cups |
| Chopped mushroom | 5-6 units |
| Chopped carrot | ½ unit |
| Chopped Green capsicum | 1 unit |
| Chopped green onions | 4 units |
| Green gram (moong) sprout | 1 cup |
| Soya sauce | 4 tsp |
| Vegetable soup | 2 tbsp |
| Sugar | ½ tsp |
How much Time it will Take?
| | | |
| --- | --- | --- |
| Preparation Time | Cooking Time | Total Time |
| 30 minutes | 40 minutes | 1 hour 10 minutes |
Chinese Spring Rolls Recipe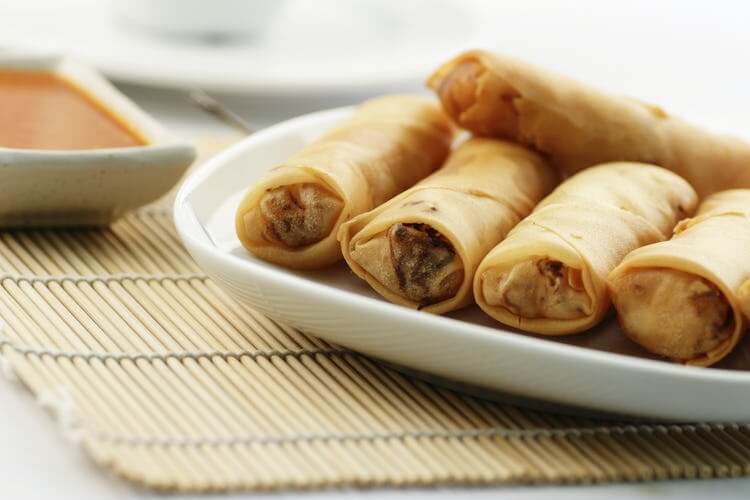 Make dough
In a bowl add 1 cup cornflour, ½ tsp salt, egg yolk, ¼ cup maida and 2 tsp sesame oil. Mix all. Keep it aside.
Make filling
In a preheated pan add 2 tbsp sesame oil, heat it. Add mushrooms, carrot, capsicum, green onions and Moong sprouts to it. Add 4 tsp soya sauce, 2 tbsp vegetable soup and ½ tsp sugar. Cook it for a while. Keep it aside to cool.
Make the final delight
Roll the dough in a plain and cut it into small squares. Put an egg coating on the edges of the so rolled squares.
Add the filling and fold them. Now heat 2 cups oil in a preheated pan and add these rolls to it. Fry them on a medium flame until golden outer covering.
Serve hot.
Serve a yummy snack for supper today with its pleasurable taste, with amazing sight and a dish to play around with kids. Serve a restaurant serving and enjoy the delights so made. Give your critics the challenge of taste with this Chinese Spring Rolls recipe.
Nutritional Facts Of Chinese Spring Rolls Recipe
| | |
| --- | --- |
| Calories | 145 |
| Protein | 3 g |
| Carbohydrates | 16 g |
| Fats | 8 g |
| Cholesterol | 0 mg |
| Sodium | 106 mg |
| Potassium | 67 mg |
How to Make Chinese Spring Rolls at Home | Video