How to Make Chinese Pizza at Home
I heard about many dishes which are originated from China like Noodles, sushi, and many more things. One day, I was thinking about Do Chinese people eat pizza? I search over the internet about the Chinese Pizza Recipe and I got one from a food website.
The very next day, I made it by doing some changes in the recipe and it came out to be the best pizza I ever had. When I served it to my friends, they started asking me the questions which I will share with you people also.
What Is Chinese Pizza?
In China, they called Chinese Pizza- Cong you bing which is also known as scallion pancakes. Made from savory Chinese ingredients like oil and scallions.
Do Chinese People eat Pizza?
In 1990. Pizza Hut opened its first store due to less interest in Chinese people. They did not bother to go there but today's generation took a keen interest in eating pizza. They get a boost in pizza cuisine also.
After giving the answers to their questions. I served them the pizza and they also loved it. Today, I was thinking to share a Chinese Pizza Recipe with my lovely people over here. Also, there are other recipes that you can have as starters, let's check them out.
1. Sonic Mozzarella Sticks– Mozzarella Sticks is one of the most famous foods served in Sonic. Loved by all, people throng the restaurants for Sonic mozzarella sticks.
2. Vegetable Nuggets– This Veggie Nuggets recipe is healthy, kid friendly, and simple to make. Perfect for lunch boxes and snacks.
3. Jalapeno Cheese Sticks– Jalapeno cheese sticks are a favorite party snack. They are delicious, cheesy and really easy to make. They also get ready in no time. The recipe is quite simple, but the results are amazing.
4. Keto Air Fryer Onion Rings– This keto air fryer onion rings recipe is so crispy, with 8 ingredients! Learning how to make onion rings in the air fryer is the key to keto onion rings that are just as crispy as real ones.
Ingredients For Chinese Pizza
| Ingredients | Amount |
| --- | --- |
| Vegetable Oil | 1 tbsp |
| Boneless Chicken Breast | 3/4 Pound |
| Chopped Gingerroot | 1 tsp |
| Tomato Sauce | 1 Can |
| Chili Puree With Garlic | 1 tbsp |
| Soy Sauce | 1 tsp |
| Pizza Crust | 16 ounces |
| Sliced Water Chestnuts | 1 Can |
| Small Snow | 2 ounces |
| Red Onion | 1/3 Cup |
| Shredded Mozzarella Cheese | 1 Cup |
| Fresh Cilantro | 1 tbsp |
You will find all the ingredients in the supermarket and some must be already in your kitchen. Now, let's move further where we will come to know how much time it will take to make Chinese Pizza.
How Much Time It Will Take?
| | | |
| --- | --- | --- |
| Preparation Time | Cooking Time | Total Time |
| 15 Mins | 25 Mins | 40 Mins |
When I was searching over the internet about the Chinese Pizza Recipe, I was very curious to make it and I know you are feeling the same. So without waiting more, let's check out the actual recipe of Chinese Pizza.
Chinese Pizza Recipe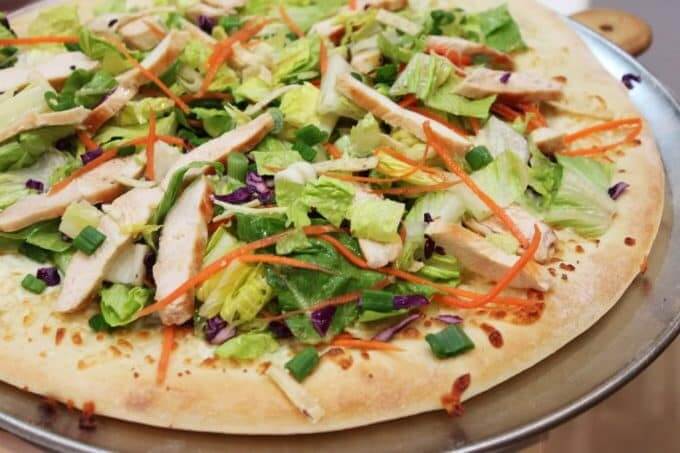 At 375°F heat oven.
Over high heat, heat skillet with oil, chicken, and ginger root. For for 5 minutes or until chicken losses pink color.
After some time, reduce heat to medium and add tomato sauce, soy sauce, and chili puree.
With spoon, spread chicken mixture on the pizza crust to the edges.
Sprinkle chestnuts, onion, and pea pods on the mixture with cheese.
Place the pizza crust in the oven and bake for 20 minutes or until cheese melts.
Before you serve, sprinkle cilantro over the pizza.
Finally, your Chinese Pizza is ready. You can serve them to your kids and I will bet you one thing you will definitely like it.
Nutritional Facts Of Chinese Pizza
The amount of nutrients in this recipe is quite high. But you don't have to worry about eating this because it will not affect your health. You can enjoy it without any second thoughts in your mind.
| | |
| --- | --- |
| Calories | 300 |
| Fat | 11 g |
| Cholesterol | 40 mg |
| Sodium | 450 mg |
| Potassium | 340 mg |
| Carbohydrates | 27 g |
| Protein | 20 g |
How To Make Chinese Pizza at Home | Video
When I read the recipe for the first time, I saw a video first and for you also, I have mentioned a video that will help you with all your doubts regarding the recipe of Chinese Pizza.
I hope you have liked this recipe and will definitely try it once at your home. Please tell us about your experience and reviews regarding this recipe in the comment box below.