How To Make Chinese Coconut Chicken At Home
Note- This post may contain affiliate links, we earn from qualifying purchases made on our website. If you make a purchase through links from this website, we may get a small share of the sale from Amazon and other similar affiliate programs.
Spending a good part of your day preparing Chinese coconut chicken at home will be worth it. The Chinese coconut chicken, an Asian delicacy, is a great dinner choice. This chicken has a Chinese twist added with fusion flavors. If you wish to order Chinese! Refer to this article for making the super easy Cantonese coconut chicken. Let's know more. 
Chinese coconut chicken is made with tempura-battered chicken breast pieces, sweet and tangy creamy coconut sauce, along other spices. The blend of flavors and aromas makes this Chinese coconut chicken a scrumptious meal. Let's turn the chicken cut into an exciting and flavorful Chinese dish. 
To make a Chinese coconut chicken recipe, marinate the chicken in a mixture of egg, cornstarch, salt, pepper, and ginger juice. Fry the marinated chicken until it is light brown and partially cooked. In a wok, add coconut milk, lime juice, and cornstarch. Stir it to make the sauce. Add the fried chicken to the wok and cook until it is cooked and combined well with the sauce. Your coconut chicken is ready.
If you want to know the entire recipe, equipment, ingredients, total time taken, and other useful information. Then, scroll down to see the exact quantity of ingredients used and the steps to avoid any fuss. Before you read forward, please check out the links for other main course recipes below. 
1. Garlic Broccoli and Chicken Pasta– This pasta recipe is quick and easy to make. It gives a perfect flavor of garlic with the richness of creamy parmesan sauce. Unlike other creamy kinds of pasta, this combination of chicken breasts combined with broccoli and pasta is not heavy at all.
2. Zuni Chicken– The secret behind the taste of Zuni Chicken is salting the bird at least a day in advance. It will help in improving flavor, keeping it moist, and making it tender.
3. Gravlax– Gravlax is a Scandinavian cuisine made of salmon by fermenting it with vodka and spices. It is served as an appetizer.
4. Tinga De Pollo– It is also known as Chicken Tinga. This recipe is basically from Mexico but its name is taken from the Spanish language. The recipe is very delicious and easy to make. So let's get started and make this Tinga de Pollo.
What Equipment Will You Need To Make Chinese Coconut Chicken?
Mixing bowls – Take two bowls, one to marinate the chicken breast and the other to blend the ingredients for the sauce.
Frying Pan – To fry the chicken breast use a frying pan.
Perforated Ladle – Use a perforated ladle to fry the chicken. This ladle will strain off the excess oil.
Wok – To make the sauce and cook the chicken using a wok. The chicken can be cooked evenly and quickly in a wok.
Spoon – The spoon will blend the liquid mixture nicely. 
Fork – To beat egg, use a fork.
How Much Time Will You Need To Make Chinese Coconut Chicken?
| Preparation Time | Cooking Time | Total Time |
| --- | --- | --- |
| 5 Minutes | 45 Minutes | 50 Minutes |
What Ingredients Will You Need To Make Chinese Coconut Chicken?
Chicken Breast – Use fresh boneless chicken breast to make Chinese coconut chicken.
Egg – The egg will be used for binding in the marination. Use one beaten egg to coat the chicken slices.  
Ginger Juice – Using ginger juice to the marinade is a delicious way to add warming, sweet, and spicy flavors.
Garlic Juice – The garlic juice adds a pungent flavor and gives an international flare to your coconut chicken. 
Coconut Milk – The coconut milk tenderizes the chicken and infuses it with rich flavors. 
Corn Starch – The chicken has better crisp when you coat it with corn starch.
Olive Oil – You can use any vegetable oil to fry the chicken. 
Lemon Juice – The lemon juice is a sharp element added to the gravy. It counters sweetness and enhances the flavors when added to coconut milk. In case you are out of lemon stock, use vinegar.
Salt – Add salt to your taste.
Black pepper – Season the marinated chicken with black pepper to add a spicy touch.
Sugar – Add sweetness to your coconut milk with a teaspoon of sugar.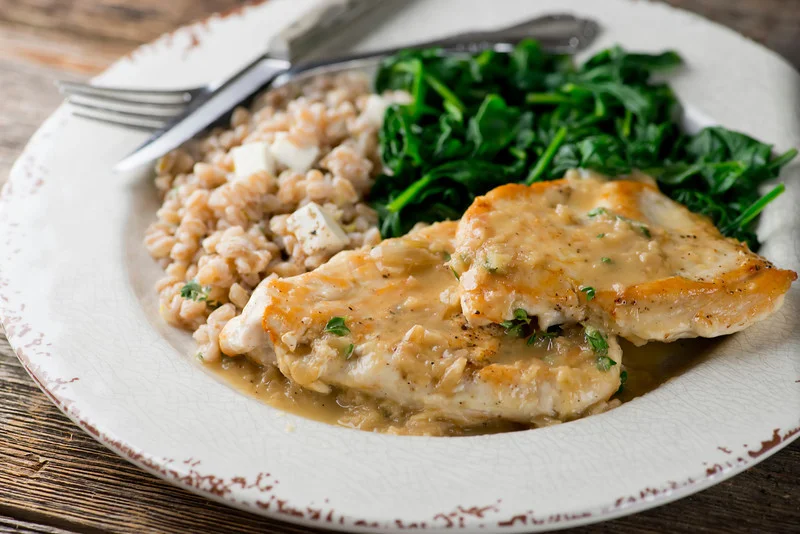 Steps To Make Chinese Coconut Chicken
1. Marinade the chicken
The first step to making Chinese coconut chicken is marination. Take a bowl, add chicken breast, raw egg, corn starch, ginger and garlic juice, and pepper. Mix it well and keep it aside for 10 minutes. Until then, mix the cornstarch with water and coconut milk with sugar for the sauce.
2. Frying Game 
Add the marinated chicken into a hot pan to fry. Fry the chicken breast in preheated oil partially until it is light brown. Take out when it is fried. Moving forward, take a wok, add the coconut milk, cornstarch mixed with water, and a teaspoon of lemon juice. Boil it for a few minutes, and then add the fried pieces of chicken.
3. Final Touch 
Once you have added the fried chicken pieces, cook it for another 10 minutes. Let the chicken absorb the sauce. When it is cooked, serve hot with rice. Enjoy your meal!
Nutritional Information
| | |
| --- | --- |
| Calories | 507 kcal |
| Protein | 32 g |
| Carbohydrates | 70 g |
| Fat | 37 g |
How Will Chinese Coconut Chicken Look And Taste Like?
The Chinese coconut chicken looks amazing. It is a bit sweet; however, the savory flavor is added with the hints of ground spices. The coconut chicken gravy has a thicker and richer consistency. Try this recipe to experience some unique flavors of coconut chicken curry. 
Recipe Card
Chinese Coconut Chicken Recipe
Chinese Coconut chicken is healthy and nutritious. The recipe is prepared by using coconut milk, chicken, eggs, and some ground spices. Try this Asian delicacy for a great dinner.
In another bowl, mix an egg, 2 tsp cornstarch, salt, pepper, and ginger. Pour this egg mixture over the chicken. Cover it for 10 minutes. In another bowl, mix 4 teaspoons cornstarch and 4 teaspoons water.

Take a saucepan over high heat and add 1 teaspoon garlic to it. Cook it for 10-15 seconds. Now, add coconut milk, lime juice to it and boil Cook it and stir in the cornstarch mixture. Stir it for about 10 seconds until it thickens.

Heat oil in a pan. In a bowl, add cornstarch mixture, 2 teaspoons vegetable oil, lemon juice, and salt.

Take the chicken pieces and dip them in the flour batter and fry it for three minutes.

Cut each piece crosswise using a very sharp knife. Place the single layer on a heated platter. Reheat the sauce over high heat and pour it over the chicken.

Garnish the edge of the platter with coconut flakes, some greens, or lemon slices.
Try this tender, juicy, and crispy Chinese Coconut Chicken at home with the help of this recipe. Help us with your feedback in the comments section below!!