How to make Chilaquiles at Home
Note- This post may contain affiliate links, we earn from qualifying purchases made on our website. If you make a purchase through links from this website, we may get a small share of the sale from Amazon and other similar affiliate programs.
As we all were having a perfect hangover food plan, today I am going to share something quirky with you which will add a twist in your hangover plans. Trust me! I am not kidding with you.
When you will try this recipe, you will automatically come to know why I am saying all this.
One day, I saw a random video suggestion on the internet where I saw this Chilaquiles recipe video. After watching the complete video, the next day I went to the supermarket and got all the ingredients used in this recipe. And you won't believe that my kids and husband loved this recipe.
On every special occasion, they always have a demand for this recipe of Chilaquiles. Today, I will be sharing this special recipe with my special food lovers.
Let's see the ingredients first which you will get from the nearby supermarket or any grocery store. Also, there are other recipes that you can have as starters, let's check them out.
1. Vegetarian Nachos Grande– This recipe is very easy to make at I bet that these nachos will taste better than your normal nachos. These nachos can help to fulfil your hunger while gaming and they are convenient to eat.
2. Peanut Butter Crunch– I have a recipe of Peanut Buttercrunch in my mind which will add a crunch in your snack menu and bring a smile on your face while munching it.
3. Chapli Kebab– Kebab is such cuisine that you can find in a Michelin star restaurant and also as street food. This Mughlai Pakistani cuisine and fondly relished by the people of Dhaka.
4. Texas Taco Dip Platter– This snack is filled with beans, beef chili and cheese. It is a bowl of chili, which has to be served as a dip with corn chips.
Ingredients for Chilaquiles
| | |
| --- | --- |
| Ingredients | Amount |
| Corn tortillas (cut into 6 wedges) | 1 dozen |
| Corn Oil | ————– |
| Salt | as required |
| Red chili sauce or Salsa verde | 1 to 2 Cups |
| Epazote sprigs | Few |
Garnishes
Cotija Cheese
Crema Mexicana
Cilantro (chopped)
Red onion (chopped)
Avocado (roughly chopped)
Let's see how much time it will take to make this complete Chilaquiles at Home.
How much time it will take?
| | | | |
| --- | --- | --- | --- |
| Prep time | Cook time | Total Time | Servings |
| 10 minutes | 15 minutes | 25 minutes | 4 |
Now, you have an approximate idea about time consumption. Let's see the instructions which will help in making this Chilaquiles.
Chilaquiles Recipe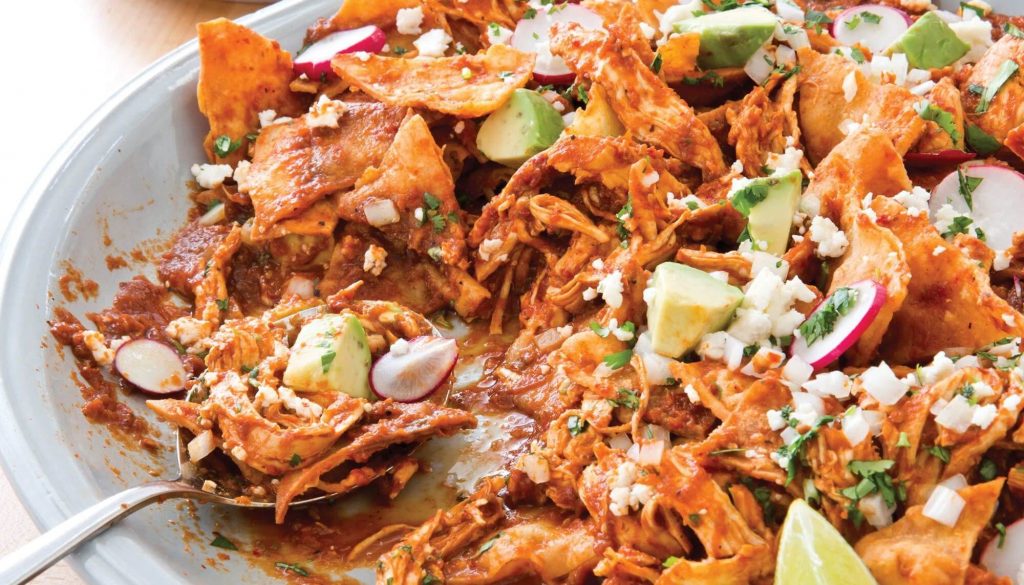 Add oil in a large pan and heat the oil.
add wedges of tortillas to the oil and fry it until it gets golden yellow.
Put it outside on a paper towel to remove the excess oil and season it with salt.
Take a pan and add 2 tbsp oil in the pan. Add salsa verde and let it cook for a few minutes.
Add a few sprigs of epazote to the salsa verde.
After that, add fried tortillas to the salsa and coat them from both sides.
Let it cook for a few minutes and then turn off the flame.
Now, your Chilaquiles Recipe is ready. I am sure that your family will also live this recipe.
Nutritional Facts of Chilaquiles
As we all are living in that period of time where people are more conscious about their health. If you want to know how much healthy Chilaquiles are, then I have mentioned the list of nutrients of the Chilaquiles recipe.
| | |
| --- | --- |
| Calories | 218.2 |
| Fat | 9.8 g |
| Cholesterol | 16.4 mg |
| Sodium | 2729.2 mg |
| Potassium | 110.2 mg |
| Carbohydrate | 23.2 g |
| Protein | 9.5 g |
How to make Chilaquiles at Home | Video
I made this Chilaquiles by watching a video on the internet and I thought to share the video of the Chilaquiles recipe, so you can make it easily at your home.
I hope this video will help you while making the recipe for Chilaquiles. If you want to share any of your recipes in thefoodxp blog, do let me know in the comments section.