How to Make Chicken Tortilla Soup at Home
So, the first thing which comes into my mind when I hear Non-Veg is chicken. I love eating chicken that too much. Chicken has its own flavour and unique taste which makes it different from other Non-vegetarian food. And do you know chicken is the most preferred Non-veg food item in this world? Well, I guess now you know. 
So what we are making today is the most delicious and the easiest recipe of chicken which will give a joyous blast to your taste buds. The name is the recipe is Chicken Tortilla Soup. So what is Chicken Tortilla Soup really?
Chicken Tortilla Soup is a traditional Mexican soup made from a base of tomato (or chicken). Usually, the Chicken Tortilla Soup recipe contains ingredients such as corn, beans and often other additions such as jalapenos and cilantro. Tortilla soup is most commonly made from chicken but it can also be found made from lamb, beef and fish.
The major ingredient that you require for this recipe of Chicken Tortilla Soup is obviously chicken but apart from chicken, what you will need is here in the box below. Also, there are other recipes that you can have as starters, let's check them out.
1. Broccoli Beer Cheese Soup– This recipe has beer is added to the soup just to give it a bit earthy flavor and make it even tastier. Try it once; you won't regret it at all.
2. Vegetarian Nachos Grande– This recipe is very easy to make at I bet that these nachos will taste better than your normal nachos. These nachos can help to fulfil your hunger while gaming and they are convenient to eat.
3. Lemongrass Ginger Soup– This simple soup can be eaten hot or cold, in winter, or in summer. Many are aware of the healing benefits of carrots, mainly the antioxidant-rich carotenoids that are known to pack anticancer powers.
4. Potato Soup– Potato is one of the major ingredients used in a variety of dishes. Potato soup is one of them. It is an amazing dish made with bacon, potatoes, milk, cheese, chicken broth and carrots as well.
Ingredients for Chicken Tortilla Soup
| Ingredients | Amount |
| --- | --- |
| Olive oil | 1 tbsp |
| Onion | 1 medium |
| Ground Cumin | 1 tsp |
| Chili Powder | 1 tsp |
| Tomatoes (crushed) | 14½ ounces |
| Corn | 1 cup |
| Chicken Breasts | 2 pc. |
| Avocado | 1 pc. |
| Cilantro | ¼ cup |
| Lime  | 1 pc |
| Jalapeno | 1 |
| Garlic | 3 large cloves |
| Chicken Broth | 3 cups |
| Diced Tomatoes with Chilies | 1 can |
| Black beans | 14 ounces |
All the ingredients are easily available from any nearby supermarket and will not be a trouble for you to look for.
The Chicken tortilla soup doesn't take much time in cooking. However, a little wait is worth for this amazing dish. Ok, let me tell you what time exactly it takes to make this amazing chicken tortilla soup.
How Much Time It Will Take?
| | | |
| --- | --- | --- |
| Preparation time | Cooking time | Total time |
| 10 minutes | 30 minutes | 40 minutes |
Now is the turn of the best part of any recipe. Yes, you are right, let's start making it now. Follow these amazing steps and get mouth blasting and delicious Chicken Tortilla soup.
Chicken Tortilla Soup Recipe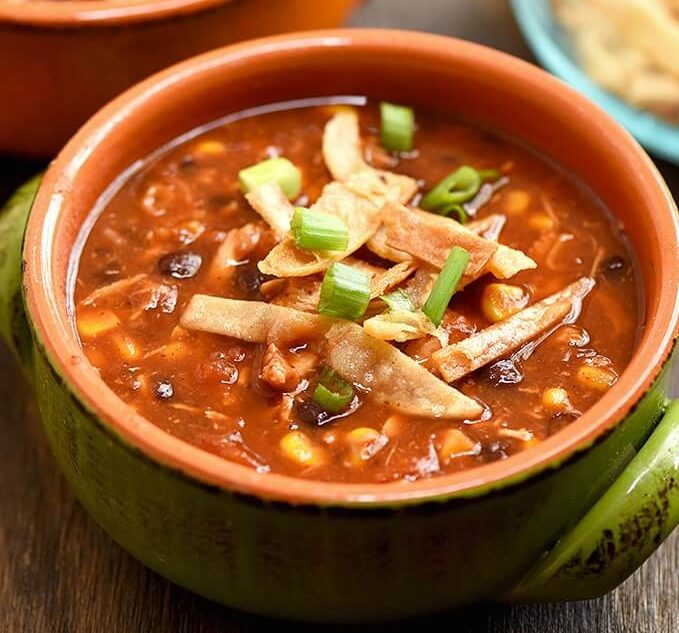 Add 2 tablespoons of olive oil to a large Dutch oven or sautee pan and set
over medium-high heat to steam.
Add the onion, jalapeno, and sauté for around 5 minutes, until the
vegetables start softening. Stir occasionally.
Stir in the garlic and sauté 1 to 2 minutes. Stir occasionally.
Add the chicken broth, juice and tomatoes, lime juice, corn, black beans ,
rice, chili powder, 2 teaspoons of salt, cumin, pepper, smoked paprika, and bring it to a roaring boil.
Let the mixture slowly simmer for about 5 to 7 minutes. If the overall liquid volume seems small at some point, if you choose to have more broth in your soup, add 1 to 2 cups of water; at the end, you can change the salt and seasoning ratios.
Add the coriander and cook for 1 minute.
Garnish with broth and add salt to taste. It can vary based on how spicy the broth of rice, onions, black beans and rice rotisserie are, and personal choice. Make the required changes to the seasoning (if you want to customize).
Spoon out soup and serve it in soup bowls, top with tortilla strips, ideally
garnish with avocado, cheese and/or sour cream.
And your Chicken Tortilla soup is ready. Enjoy it with your family and friends. 
Nutritional Facts of Chicken Tortilla soup
This soup is really good for health and can be enjoyed by everyone in the family of any age group. This dish contains no excessive oils and fats and is healthy. Here is some information about its nutritional values.
| | |
| --- | --- |
| Calories | 737 |
| Fats | 33 gm |
| Sugar | 21 gm |
| Cholesterol | 90 mg |
| Fiber | 18g |
| Sodium | 7755 mg |
| Carbohydrates | 79 gm |
| Protein | 39gm |
How to Make Chicken Tortilla Soup at home | Video
Here is a video for you guys which will help you in the whole procedure of making Chicken Tortilla Soup at home. Make sure you watch it and see how it's actually done.
I hope you like this recipe and if so, please comment down below and tell us your most welcomed reviews and experiences. Stay tuned for more recipes like these.