How To Make Chicken Tinga Bowl At Home
Chicken tinga bowls are full of whole grains, healthy fats, and protein, and they make a fantastic family supper! This chicken tinga recipe is as real as it comes, and once you've perfected it, you'll never need another. You can use chicken stock to give the dish more depth. Read on to check more about the recipe below.
You can make restaurant-quality cuisine in the instant pot in just 30 minutes. The stewed tomatoes and chilis give the dish a smoky, spicy flavour. This popular Mexican cuisine can be prepared in a variety of ways. This article will cover one of these ways.
Chicken tinga is a family favourite at my house since it appeals to everyone. To receive a sample of these flavours, follow all of the instructions. In the post below, I've included the most significant information about equipment, ingredients, calorific value, and processes.
What Equipment Will You Need To Make Chicken Tinga Bowl?
Bowl – In a large mixing bowl, combine all of the vegetables and chicken.
Non-Stick Pan – Sear the chicken breasts in a non-stick pan until golden and crispy.
Spatula – A spatula is used for cooking this majestic recipe.
 How Much Time Will You Need To Make Chicken Tinga Bowl?
| Preparation Time | Cooking Time | Total Time |
| --- | --- | --- |
| 20 Minutes | 20 Minutes | 40 Minutes |
What Ingredients Will You Need To Make Chicken Tinga Bowl?
Chicken – This recipe can be made with boneless, skinless chicken breasts or thighs. Either option is suitable. Once the chicken has been pressure cooked, shred it and return it to the pot to absorb the remaining tinga sauce.
Onions – Minced onions is required for this recipe.
Tomatoes – This recipe can be made using either canned or fresh tomatoes.
Chicken Stock –The chicken stock gives flavor and richness to the recipe.
Peppers – You can add pepper as per your preference.
Garlic – Garlic will soften while the chicken cooks. It adds a pungent flavour to the recipe.
Spices – A handful of spices from your spice cabinet are enough. Smoked paprika, dried oregano, ground cumin, and chilli are all needed in making the r

ecipe

.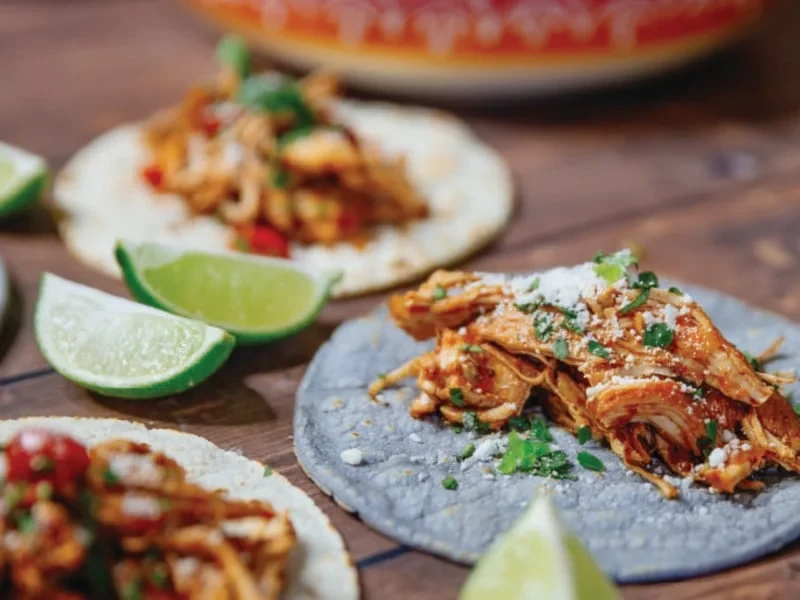 Steps To Make Chicken Tinga Bowl
1. Preheat The Pan
In a 12-inch nonstick skillet, heat the oil over medium-high heat. Thinly sliced chicken is great. Cook for 2 minutes after adding to the skillet. Then add oregano, chili powder, and chicken flavour and cook for another minute.
2. Gather All The Components

While the chicken is cooking, the mushrooms and onion are being sliced. Combine the chopped garlic and diced tomatoes in a skillet. In a mixing dish, add all of the ingredients to blend. Bring to a boil, then lower to low heat, cover, and cook for 5 minutes, or until chicken is done.
3. Serve
Now serve the hot chicken tinga bowl to your family.
Nutritional Value
| | |
| --- | --- |
| Carbohydrates | 75 g |
| Sugar | 10 g |
| Fibre | 5 g |
| Protein | 43 g |
| Cholesterol | 85 mg |
How Will Chicken Tinga Bowl Look And Taste Like?
The chicken tinga bowl is high in protein and stringier. This recipe is quite flavourful. Chicken tinga is a hearty dish that will keep you satisfied for hours. It has an unusual flavour that ranges from sweet to sour. The outside of the chicken tinga bowl is a little crispy, but when you bite into it, it's tender and delicious.
Chicken Tinga Bowl Recipe
Chicken tinga bowl is more moist, finer grained, higher in protein. This recipe has lot of flavours. The outside of the chicken tinga bowl is a little crispy. A restaurant quality dish that takes only 30 minutes to prepare in the instant pot.
Bowl

Baking Dish

Non-Stick Pan

Spatula
1

bowl

Boneless Chicken

2

tbsp

Garlic

1

Onion

1

tbsp

Pepper

½

cup

Chicken Stock

2

tbsp

Oil

2

Tomatoes
Preheat the pan, thinly slices of the chicken and cook for 2 minutes.

Combine garlic, tomatoes in a mixing dish.

Bring a boil to low heat, and cook for 5 minutes.

Now serve the delicious chicken tinga.
This was all about chicken tinga recipe. Make this delicious recipe at home and tell me in the comments how well you liked this dish. See you next time.