How To Make Chicken Potato Stew At Home
Note- This post may contain affiliate links, we earn from qualifying purchases made on our website. If you make a purchase through links from this website, we may get a small share of the sale from Amazon and other similar affiliate programs.
Chicken potato stew is the ultimate comfort food. It combines delicious crispy chicken with baby potatoes, vegetables, and refreshing herbs and turns it all into a one-pot meal. It is fulfilling and delicious.
Chicken potato stew brings back many memories of my childhood. The herby smell and the tender veggies bring back a whole lot of nostalgia for me. I make this stew whenever I want to take a walk down memory lane. My mother used to make this delicious stew for me. Once you try it, you'll be coming back for more too.
To make chicken potato stew, melt butter in a pan. Add shallots, garlic, and carrots to the pan and sauté. Remove the veggies and melt the rest of the butter in the same pan. Cook the chicken and add veggies, chicken broth, tomato paste, thyme, and potatoes. Cook with lid for about 30 minutes and the stew is ready.
This was just a teaser of the whole recipe, which you will find when you scroll down. There are other main course recipes on our blog as well that you should also check.
1. Vegetable Tagine– Vegetable Tagine recipe is just as easy and tasty, and it's a perfect way to use lots of different vegetables. I've included my favorite combination here, but you can use any number of vegetables.
2. Rachael Ray Meatballs– These meatballs are a great source of protein, iron, and vitamins as they are made from beef. You need some ingredients to prepare the meatballs and their sauce as well.
3. Turkey Mango Picadillo– Healthy, homemade fast food is a cinch with this Latin-inspired recipe. We remade this traditional dish with ground turkey breast instead of ground beef.
4. Shell Steak– Shell Steak means that part of a short loin of beef having no tenderloin. This cut is perfect for pan-frying. Making Shell Steak at home can be really fun as well as equally easy.
Ingredients For Chicken Potato Stew
4 Chicken Pieces (2 thighs, 2 drumsticks)
3 tablespoon Butter
10 Shallots (peeled)
10-12 Baby Potatoes (peeled)
2 Garlic Gloves
2 Carrots (peeled and chopped)
1 tablespoon All-Purpose Flour
4 Thyme Stems
1 tablespoon Tomato Paste
1 cup Chicken Broth
How Much Time Will It Take To Make Chicken Potato Stew?
| Preparation Time | Cooking Time | Total Time |
| --- | --- | --- |
| 10 Minutes | 35 Minutes | 45 Minutes |
Steps To Make Chicken Potato Stew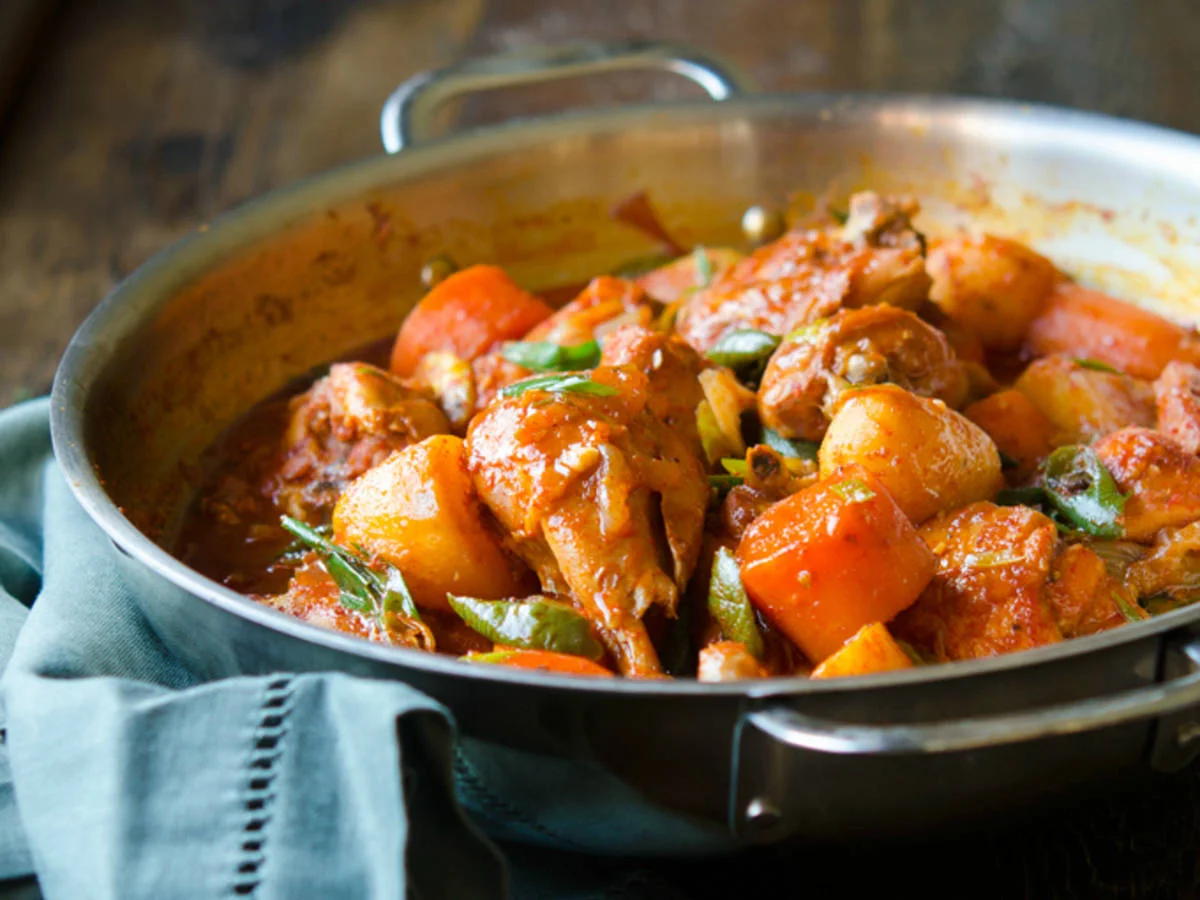 In a large pot, put one and a half tablespoons of butter and melt it over medium heat.
Add shallots, garlic cloves and carrots to this pot and sauté for 5 minutes.
Now, add the flour and sauté for another 2 minutes.
Remove the veggies from the pan and set them aside.
Now, put the remaining one and a half tablespoons of butter in the pan and melt it.
Put the chicken pieces in the pan and sauté them. Cook each side for about 4 minutes until they turn golden brown.
After the chicken is cooked, add the sautéed veggies, chicken broth, tomato paste, thyme stems and baby potatoes.
Close the pot lid and cook on medium heat until everything is tender. It should take about 25-30 minutes. After that, open the lid and your stew is ready!
Nutritional Breakdown Of Chicken Potato Stew
| Nutritional Value | Per Serving |
| --- | --- |
| Calories | 472 |
| Fat | 22 g |
| Protein | 22 g |
| Sodium | 445 mg |
| Carbohydrate | 49 g |
| Fiber | 7 g |
How To Make Chicken Potato Stew | Video