How to make Chicken Poppers at Home
Note- This post may contain affiliate links, we earn from qualifying purchases made on our website. If you make a purchase through links from this website, we may get a small share of the sale from Amazon and other similar affiliate programs.
Chicken Poppers- What a delicious snack! The crunch on the outside with juicy chicken inside that is dipped in cheese is a perfect combo. They can be had with or without the sauce as an appetizer or as the main dish combined with some salad. What is unique about these chicken poppers is that they are baked in the oven and not fried. The crispiness is because they are rolled in cornflakes.
Poppers are perfect bite-size and easy to eat. I love making chicken poppers for my kids. When I am prepping for the poppers in the kitchen, my kids are glued to me and as soon as the first batch is ready, they'd pop them in their mouths one by one and the plate goes empty in just a minute or two.
That's how we function when poppers are made and I love it. To add in a lot of flavours, I use parmesan cheese, paprika and garlic seasonings. I will share the secrets from my kitchen with you, so sit back and go through the poppers' recipe step by step. Also, there are other recipes that you can have as starters, let's check them out.
1. Air Fryer Chicken Wings– Air frying chicken wings presents you with chicken wings that are crispier than ever. It is an easy way to cook. If you are using frozen chicken for this recipe, then air fry the chicken wings for 5 more minutes than the actual time.
2. Sonic Mozzarella Sticks– Mozzarella Sticks is one of the most famous foods served in Sonic. Loved by all, people throng the restaurants for Sonic mozzarella sticks.
3. Sauteed Mushrooms– Sauteed Mushrooms recipe is easy to make and is an absolute delight. It takes only 25 minutes to make sautéed mushrooms at home. Well, half an hour isn't much of a time to get such a delicious dish at your plates.
4. Gluten-Free Turkey Meatballs– Gluten-free Turkey Meatballs are healthy, easy to cook, moist and juicy which require only a handful of simple ingredients. Gluten-free Turkey Meatballs are the most delicious meatballs ever.
Ingredients for Crispy Chicken Poppers
For Chicken Poppers
| | |
| --- | --- |
| Boneless Skinless Chicken Breasts | 1 Lb. |
| Garlic Cloves (Finely Minced) | 2 |
| Salt | ½ Tbsp |
| Black Pepper | ½ Tbsp |
| Flour | ½ Tbsp |
| Cornflakes | 2 ½ Cups |
| Grated Parmesan Cheese | 2 Tbsp |
| Paprika | ¼ Tbsp |
| Buttermilk | ¼ Cup |
For Parmesan-Ranch Sauce (Dip)
| | |
| --- | --- |
| Sour Cream | 1 Cup |
| Mayonnaise | ¼ Cup |
| Grated Parmesan Cheese | 1/3 Cup |
| Garlic Clove | 1 |
| Lemon Zest | 1 |
| Lemon Juice | 2 Tbsp |
| Ground Black Pepper | ½ Tbsp |
| Chopped Chives | 2 Tbsp |
| Salt | ¼ Tbsp |
The ingredients will be readily available in the nearby supermarkets. Now, let's see how much time and what goes into preparing the chicken poppers at home, step by step.
How Much Time Will it Take?
| | | |
| --- | --- | --- |
| Preparation Time | Making Time | Total Time |
| 10 min | 20-25min | 30-35 min |
Now let's check out the directions that you need to follow to make these Chicken Poppers at home.
Chicken Poppers Recipe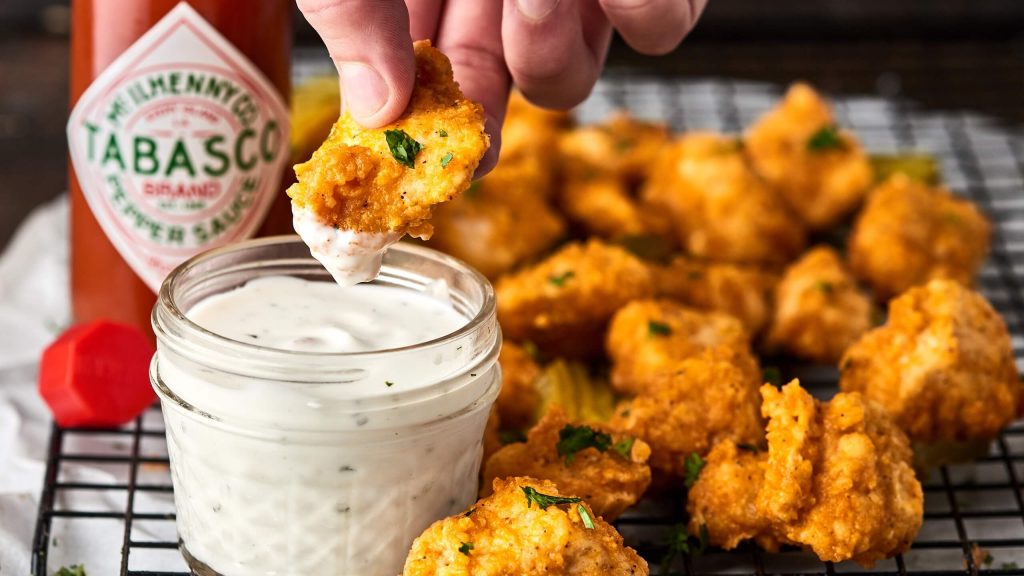 For Dipping Sauce
Take a bowl and add mayonnaise, sour cream, garlic, parmesan cheese, lemon zest, ¼ teaspoon ground black pepper, lemon juice, chives and ¼ teaspoon salt.
Put all these ingredients in the food processor.
Blend until smooth.
Refrigerate the mixture until needed.
For Chicken Poppers
Preheat the oven to 400 degrees F. Place in a baking sheet with aluminium foil.
Add the chicken breast pieces into a medium bowl and marinate with fresh garlic, ¼ teaspoon salt and ¼ teaspoon ground black pepper. Let it sit for a while. 
In a large Ziplock bag, add flour. Add the following ingredients- cornflakes, paprika, parmesan cheese, ¼ teaspoon of black pepper and ¼ teaspoon of salt to the bowl of a food processor. Swirl the mixture to crumble it. 
To coat the chicken pieces with flour, put them into the Ziplock bag with the flour and shake it. Now, transfer the flour-coated chicken pieces into a separate bowl. Pour some buttermilk over them and mix it gently with the fingers.
Now, coat the chicken pieces with cornflakes by placing them in another Ziplock bag with crumble cornflakes in it and shaking it. 
Coated chicken pieces are now to be placed onto the baking sheet with foil.
Lightly spray the cooking spray over the chicken pieces. Put into the oven and bake for 20 minutes or until the chicken is fully cooked.
The poppers are ready. They are best served with the dipping sauce.
Relish the poppers with your family and friends. I hope everyone around you loves your creation. Try it at home soon.
Nutritional Breakdown of Chicken Poppers
I will also add in the nutrition table here to know what you're feeding your body with.
| | |
| --- | --- |
| Calories | 250 |
| Total Fat | 15.0g |
| Sodium | 380mg |
| Total Carbohydrate | 16g |
| Dietary fiber | 3.0g |
| Sugars | 1.0g |
| Protein | 15.0g |
| Cholesterol | 255mg |
How to Make Chicken Poppers at Home | Video
Sometimes this recipe can confuse people. That's why I've added a video below, so it'll be easier for you to make these Chicken Poppers at Home.
I hope my home-made recipe helps you and guides you through. Here, I sign off. Do share your reviews down below and suggest to us some more recipes you want us to post.