How To Make Chicken-Fried Steak And Gravy At Home
Note- This post may contain affiliate links, we earn from qualifying purchases made on our website. If you make a purchase through links from this website, we may get a small share of the sale from Amazon and other similar affiliate programs.
A perfect dinner is all everyone needs at the end of a tiring day. The recipe I am sharing will fulfill this need. The recipe is for chicken fried steak and gravy. Chicken fried steak is made by dipping the steak in flour and eggs and then frying it. This is similar to the way chicken is cooked. Thus the name, chicken fried steak.
This recipe is a golden perfection served with milk-based gravy. The thinner the steak slices will be, the faster it gets cooked. By the time your steak turns golden, it will be cooked evenly. If you want to add a kick of flavor to the recipe, I will suggest you add tabasco sauce to the egg mixture. It will enhance the flavor of the steak.
To make chicken fried steak and gravy, dip the steaks in flour and then in eggs whisked with milk. Cook the steaks in a heavy skillet until they turn golden brown. Prepare the gravy by cooking flour, salt, and pepper in oil. Cook it until smooth and golden brown. Then, pour water and milk into it while stirring. Cook it until it gets thick. Serve the gravy with the fried steak.
This is only an overview of the recipe. Find the complete recipe below. There are other main course recipes on our blog as well that you should also check.
1. Porterhouse Pork Chops– A porterhouse pork chop is a bone-in pork chop with the pork loin on one side of the T-bone and the pork tenderloin on the other.
2. Shell Steak– Shell Steak means that part of a short loin of beef having no tenderloin. This cut is perfect for pan-frying. Making Shell Steak at home can be really fun as well as equally easy.
3. Pepper Steak– Pepper steak is a stir-fried Chinese American dish. The dish traces its first evidence of existence to America in 1948. Pepper Steak is the most perfect dish for dinner at your home.
4. Szechuan Vegetables– Szechuan Vegetables are a mix of world-famous pleasurable veggies mixed with sauces to create luxury and scenic beauty on our plates. It has an American origin, Chinese making, and Indie masalas to make it more precise.
Ingredients For Chicken-Fried Steak and Gravy
1 1/4 cups All-Purpose Flour (divided)
2 large Eggs
1 1/2 cups 2% Milk (divided)
4 Cube Steaks (6 ounces each)
1 1/4 teaspoons Salt (divided)
1 teaspoon Pepper (divided)
Oil (for frying)
1 cup Water
How Much Time Will It Take To Make Chicken-Fried Steak and Gravy?
| Preparation Time | Cooking time | Total time |
| --- | --- | --- |
| 10 Minutes | 20 Minutes | 30 Minutes |
Steps To Make Chicken-Fried Steak and Gravy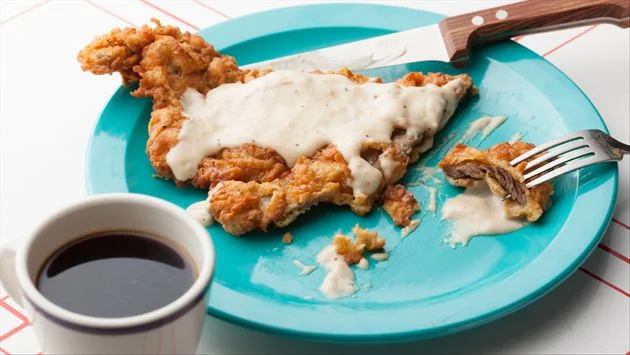 Take a shallow bowl and add 1 cup flour to it. In another bowl, whisk eggs with ½ cup milk. Season steaks with salt and pepper. Coat the steaks from both sides with flour. Now, dip it in an egg mixture and coat it again with flour.
Take a heavy skillet or cast-iron skillet and heat ¼ inch of oil in it over medium flame. Add steaks in it and cook it until it's golden brown and read 160oF. This may take 4-6 minutes on each side. Drain them on paper towels and keep them warm.
Now, strain out the oil from the pan and leave behind 2 tablespoons of oil. Add the remaining ¼ cup flour to it with ½ teaspoon salt and ¼ teaspoon pepper. Mix them well in order to make a smooth mixture.
Cook this mixture over medium flame until it turns golden brown. This may take 3-4 minutes. Whisk water into this mixture gradually and pour in the remaining milk. Bring it to a boil with constant stirring. Cook until it gets thick.
Serve the gravy with hot steaks. Garnish with parsley.
Nutritional Breakdown of Chicken-Fried Steak and Gravy
| | |
| --- | --- |
| Calories | 563 |
| Protein | 46 g |
| Carbohydrates | 29 g |
| Fat | 28 g |
| Cholesterol | 148 mg |
| Sodium | 839 mg |
How To Make Chicken-Fried Steak and Gravy At Home | Video