How To Make Chicken Demi-Glace At Home
Note- This post may contain affiliate links, we earn from qualifying purchases made on our website. If you make a purchase through links from this website, we may get a small share of the sale from Amazon and other similar affiliate programs.
Rich and thick, chicken demi-glace is one of the best sauces to serve with red meats like roasted and grilled steaks. Combining this sauce with the roasted veggies gives it a pronounced flavor and deeper color. So, today let's learn to make this recipe.
Demi-glace is French cuisine and is made by simmering bones. You can also try this recipe using chicken wings or chicken bones. However, in our version of our recipe, we have used chicken wings. Now, brace yourself to make an awesome recipe and turn your meat dishes into a treasure.
Chicken demi-glace can be prepared by simmering chicken wings in a pot and extracting the pronounced flavor. Remove the bones and add white wine, onion, carrot, celery, leek, peppercorns, and bay leaves in it. Boil and cook for 1-2 hours. Cook once so that the mixture gets reduced by three-fourths.
The simmering of bones gives you richer and thicker sauce. To achieve the base with complex flavors, Demi-glace can also be spun into soups and stews. Moreover, you can store this demi-glace sauce made with chicken bones for up to 6.
This article will be your guide and tell you about the required equipment, ingredients, nutritional value, and proper steps. Now, without any further ado, let's check out the entire recipe and other information. In case you wish to make some more sauces, check out the other sauce recipes follow the links.
1. Hoffman House Cocktail Sauce– Hoffman house cocktail sauce is best paired with seafood. So the next time you are buying shrimps, make sure to try out this recipe.
2. Mac and Cheese Bar– Mac and cheese bar is an appetizing dish that you can make for your loved ones. This dish is also a preferable option for hosting large gatherings.
3. Thai Sweet Chili Sauce– The sauce is also known as nam chim kai in Thailand. I prefer to have it with grilled fish, spring rolls and chicken wings. You can also use honey or brown syrup in the sauce.
4. Tomato Basil Pizza Sauce– The tomato basil pizza sauce really makes some awesome pizzas. This version of the sauce has some extra ingredients which make it different than the traditional pizza sauce.
What Equipment Will You Need To Make Chicken Demi-Glace?
Stockpot – To bring the chicken wings and bones to a proper boil, use a big stockpot with a lid to cover.
Mesh Strainer – Use a mesh strainer to strain off the excess chicken or bone mixture. When you strain off, you will see a thick brown-colored stock.
Saucepan – Either you can use the same stockpot to refrigerate the Demi-glace stock, or the saucepan can do the work.
How Much Time Will You Need To Make Chicken Demi-Glace?
| Preparation Time | Cooking Time | Total Time |
| --- | --- | --- |
| 10 Minutes | 13 Hours | 13 Hours and 10 Minutes |
What Ingredients Will You Need To Make Chicken Demi-Glace?
Chicken Wings – Well-known demi-glace is made with chicken wings and their bones. 
White Whine – A splash of wine to the stock adds rich and umami flavors. Moreover, the glaze in the sauce is visible because of the wine.
Onion – Add onions to enrich your chicken demi-glace with a sweet and peppery flavor.
Carrot – The fiber and other minerals are added to chicken demi-glace by using carrots. 
Celery – Using celery, you will have greenly and earthy flavors to your demi-glace.
White Peppercorns – Musty and earthy flavors will be added if you use white peppercorns. Also, it adds a little spice.
Bay Leaf – Whenever you infuse bay leaf in broth or stock, it enhances the minty and peppery flavor. With bay leaves, your stock will smell great.
White Wine – A splash of white wine will add a glaze to your chicken demi-glace.
Water – While boiling on a simmer flame, the stock will keep reducing. So, to boil the chicken wings and bones, keep a minimum of 2 liters of water.
Leek – It is similar to spring onions which have grassy and earthy flavors. Add a sprig of leek to your chicken demi-glace. 
Salt – Add salt to your taste.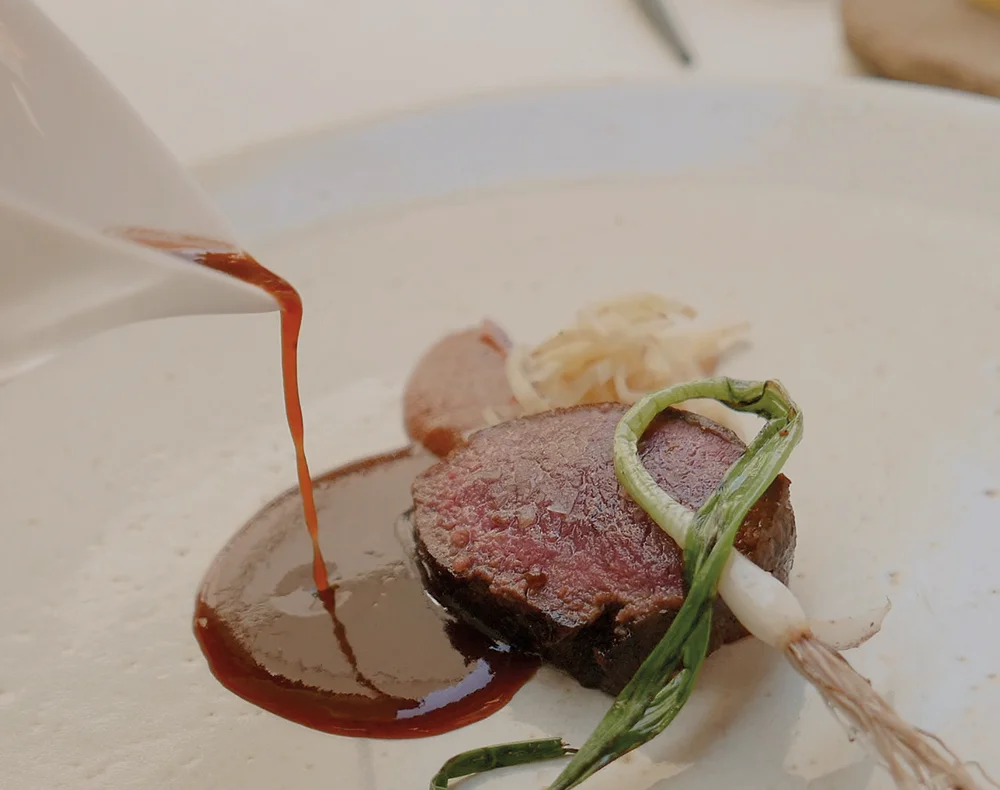 Steps To Make Chicken Demi-Glace
1. Set In Motion 
Begin with sautéing the classic aromatic veggies, including carrot, shallots, celery, and leek in olive oil. Add a bay leaf and a teaspoon of white peppercorns. Once you see the veggies turning light brown, add a teaspoon of tomato sauce to add the color in demi-glace. Mix it well.
2. Spit Roast
Place the chicken wings and bones on top of the browned veggies. Add a teaspoon of oil if required. Roast everything for 30 minutes. Once it is tender and browned, put it in a stockpot with three cups of water. Water can be added according to the quantity of stock you want. Boil it on a simmer flame for a good 10-12 hours until all the flavors are extracted. 
3. Refine The Stock 
Strain off all the veggies, chicken mixture, and other solids from the boiled stock. Even the evaporation will reduce the stock, which will lead to a thick consistency. Boil it again for 5 minutes. Strain off again, let it cool down and then put it in to refrigerate.  
4. Glaze'em

Many people also add the stock to form demi-glace ice cubes. After refrigerating, take it out after a few hours. You will see all it brings is umami and a lip-smacking smooth, sticky structure. The jelly, thick, and flavorful chicken demi-glace is ready! Serve it with any of your favorite grilled or stewed dishes.
Nutritional Information
| | |
| --- | --- |
| Calories | 106 kcal |
| Carbohydrates | 12 g |
| Protein | 4 g |
| Sodium | 210 mg |
| Sugar | 1 g |
How Will Chicken Demi-Glace Look And Taste Like?
Chicken demi-glace is an important and traditional element in French cuisine. It is intensely flavored with a lip-smacking, smooth, and silky texture. It is an incredibly rich sauce used in classic stews, dishes, and base for other sauces.
Recipe Card
Chicken Demi-Glace Recipe
Do you know that Demi-Glace is basically a sauce that came from French cuisine and is made by simmering bones? You can also try this recipe using chicken wings or chicken bones. But today we are going to discuss this Chicken Demi-Glace recipe by using chicken wings.
1

lb.

Chicken Wings

3

qt.

Cold Water

1

cup

White Wine

1 ½

cup

Chopped Onions

1

cup

Chopped Carrot

¼

cup

Chopped Celery

¼

cup

Chopped Leek

1

tablespoon

White Peppercorns

1

Bay leaves

1

tablespoon

Salt
Begin with sautéing the veggies and roasting it well with the chicken wings and bones. Add a splash of red wine and salt to your taste.

Then boil it on a simmer flavor for 12 hours until the flavors are extracted from the chicken bones and all other veggies.

Now, skim the surface and strain off the excess chicken, veggies, and other solids

Boil the stock again for about an hour.

Once you see thick consistency, let it cool down. Then put it in the refrigerator or pour it in the ice tray to form the cubes.
Frequently Asked Questions (FAQs)
What is demi-glace sauce made of?
The demi-glaze sauce is prepared with beef or chicken stock. The traditional demi-glaze French version is made with veal stock.
Is there such a thing as chicken demi-glace?
The chicken demi-glaze is a sauce prepared with beef, chicken, or veal stock. The taste of this sauce is succulent and satiating.
What is chicken demi-glace used for?
Chicken demi-glaze is used as a stand-alone sauce in classic dishes or as a base for other sauces.
Is demi-glace a mother sauce?
Yes the traditional French demi glaze is a mother sauce.
I hope you have liked this recipe of chicken demi-glace. Make it at your home. Please share your experiences and reviews with us by commenting down in the comments section below.