How to Make Cherry Pie Recipe at Home
Note- This post may contain affiliate links, we earn from qualifying purchases made on our website. If you make a purchase through links from this website, we may get a small share of the sale from Amazon and other similar affiliate programs.
Pies are one of the ancient sweet dishes that this world came to know about. The Roman civilization first introduced this recipe in the 5th century and since then, people are fond of it and love to have it. This recipe has always been a perfect match for every occasion, majorly in the American and European sub-continent. These regions, and especially America, is known for this recipe. They have made this recipe a traditional American dessert and make it usually on every special occasion.
Pies are of various flavors and made using different ingredients, including various fruits and nuts. It wholly depends upon you what flavor and contents you want in your pie. But today, we have got you a very delicious pie recipe that is both easy and has a few ingredients to deal with. Today's recipe that we have included in our list is the cherry pie recipe. This recipe is famous in the American sub-continent and people over there love to have it.
The flavor and taste of this pie are exceptional and make it different from other desserts available. Let's move ahead and start the procedure of making this tempting cherry pie recipe at home. But first, I've mentioned some other cherry pie recipes that I think you should definitely try at your home.
1. Lemon Meringue Pie– An incredible, classic sweet and tart dessert, lemon meringue pie is more like a sweet dream. The pie filling surely makes you crazy, prompting you to have it over and over again. Nothing can beat a simple and quick-to-make lemon meringue pie.
2. Apple Pear Pie– Apples and pears are a natural pair. A dish that has the combination of both tastes divine. Apple Pear Pie is indeed a mouth-watering and delicious dish.
3. Tomato Pie– If you love pizza, then this tomato pie is a must-have for you all. Tomato Pie has such a taste that it even attracts the kids with its flavours. It is savoury as it is filled with fresh tomatoes, with the flavour of basil, and makes it creamy and cheesy with a mixture of mayonnaise and shredded cheese.
4. Black Raspberry Pie– This is the best black raspberry pie because of it is a two crust pie and has a hint of cinnamon and nutmeg to bring your fork back for another piece of pie.
Ingredients for Cherry Pie
| Ingredients | Quantity |
| --- | --- |
| Frozen tart cherries | 4 cups |
| Granulated sugar  | 1-1 ½ cups |
| Cornstarch  | 4 tsp |
| Almond extract  | ⅛ tsp |
| Any pie crust  | 1 pc |
| Butter  | 1 ½ tsp |
| Granulated sugar  | 1 tsp |
Ingredients ready. Now let's see how long this recipe is going to take. The complete time details are mentioned below in the table.
How Much Time Will it Take?
| Preparation time | Cooking time | Total time |
| --- | --- | --- |
| 20 minutes  | 1 hour 10 minutes | 1 hour 30 minutes |
After every valuable information, it's now time for the most important part of the recipe. Come and make this cherry pie recipe at home with no compilations at all. It is an easy recipe and can be made by anyone.
Cherry Pie Recipe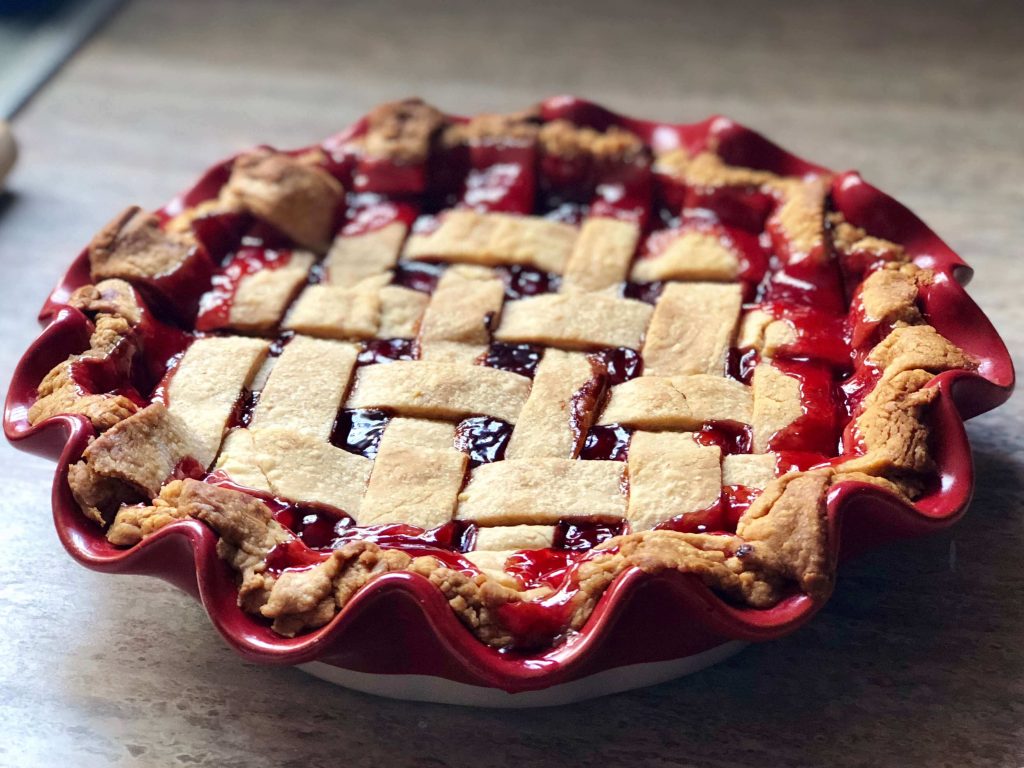 In a medium saucepan, add cherries and keep it over the heat. Saute them until the cherries lose their moisture. It will take a few minutes to do so.
Once the cherries' juice is finally out, remove them from the heat, and in a mixing bowl, mix sugar and cornstarch.
Add this mixture to the cherries and mix them well. Also, add the almond extract and mix it well.
Keeping this mixture on low heat, cook it until the mixture gets thickened. Keep stirring continuously.
After done, turn off the heat and let it cool. Check the consistency; if thicker, add some water and add a little cornstarch if thin.
Keep your oven ready with a temperature of about 375F.
Prepare your crust and divide it into half. Make sure it can fit in your pan. Now add this cherry mixture into this crust and a little butter along.
The crust of the pie should be moist. Cut in the middle of the crust to make sure steam escapes from there. Sprinkle some granulated sugar on top and it is ready for baking.
Bake it for about 50 minutes. Take it out of the oven and let it cool.
And your cherry pie is ready. Enjoy this masterpiece recipe and feel its delicious taste. Everyone is going to love it at the house.
Nutritional Breakdown of Cherry Pie
Here is the nutritional breakdown of this recipe that helps to manage your diet and intake of nutrients.
| | |
| --- | --- |
| Calories  | 105 |
| Fats  | 0 gm |
| Carbohydrates  | 24.7 gm |
| Sugar  | 10.6 gm |
| Protein  | 0 gm |
| Fiber  | 0 gm |
How to Make Cherry Pie at Home | Video
Here is a video that will assist you while making this recipe. Watch this video to know more details and various other tips and tricks implemented to make it easier.
That's it for today. This recipe is a must one and I hope you all will try it. Tell us how you made it and what it tastes like? Till then, stay tuned for more such recipes and have a great day!