How to Make Cherries in the Snow at Home
You may love spicy food but you may also love to end your food with something sweet. And this is what the majority of us like to do. Some people are so fond of sweets that they even take it as their mid-meal. I like to indulge in sweets after my hearty meal. Dessert is something that can bring happiness even when you had a dull busy day. So to cheer you up today, I am going to share a dessert recipe.
Dessert for today is Cherries in the Snow. Wow! what a lovely name. You must be able to make a picture of a reddish as cherries and white as snow. Yes! You are right then. It looks spectacular with red cherries and white cream. It is a dessert with cooked cherries and cream cheese. This dish is not exactly a cake and not precisely a pudding but a combination of both. A perfect no-bake recipe that can enlighten the celebration of any occasion.
No-bake recipes are effortless and less time consuming as compared to baking recipes. They can be made instantly without any chaos. No-bake recipes are something you can rely upon when you have surprise visitors at your home and there is no cake or pudding ready. You do not require an oven for such recipes. I love no-bake recipes as they are easy and instant.
Talking about the dessert, this dessert is super easy and healthy as you can substitute full-fat cream with low-fat cream. So let me share the recipe with you to satisfy your sweet tooth with it. But before we jump onto the recipe, let's check out some other desserts that you might like.
1. Microwave Vegan Fruit Dessert– This microwave vegan fruit dessert is super healthy, gluten-free and best for the autumn season. Vegan fruit dessert is super delicious and an easy-to-make recipe. The delicious Rhubarb balances an old-fashioned dessert that might otherwise seem sickly sweet. 
2. Tipsy Laird– Tipsy laird is a very simple Scottish Trifle made with sponge cake, raspberries, whiskey and whipped cream. This combination is as delicious as it sounds. This Scottish dessert is usually served during Christmas or on New Year's eve.
3. Eton Mess– It is a classic British dessert made from a mixture of strawberries, pieces of meringue and cream. This dessert is called Eton mess because it was first made in Eton college and was served in their annual cricket match against Harrow school.
4. Scottish Cranachan– This recipe is a traditional Scottish dish that is flavorful and very easy to make. It is made with oats along with other ingredients and also uses malt whisky for a boozy flavor.
Ingredients for Cherries in the Snow
| Ingredients | Amount |
| --- | --- |
| Cherry Pie Filling | 2 cans/ 21 ounce |
| White Sugar | 1 cup |
| All Purpose Flour | ½ cup |
| Cream Cheese | 2 packs/ 8 ounce |
| Whipped Topping | 1 container/ 12 ounce |
| Vanilla Extract | 1 teaspoon |
| Angel Food Cake | 9 inch |
These ingredients are readily available at any supermarket near you. Just grab them and get started with it, so dive into the sweetness of this dessert. Also, take a look at the time you will need to make this dessert.
How Much Time Will It Take?
| Preparation Time | Cooking Time | Total Time |
| --- | --- | --- |
| 25 minutes | 10 minutes | 35 minutes |
This dessert needs 35 minutes. Isn't it great? I know how happy you must be now, as most desserts take a lot of time in their preparation. Now, follow the below-given steps to stat with it.
Cherries in the Snow Recipe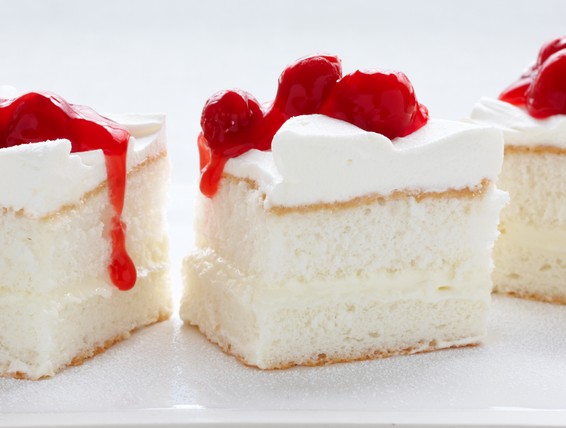 Take a saucepan, add cherries, sugar and flour to it and bring this to boil over medium flame with stirring simultaneously. Boil it for another 5 minutes and turn off the stove. Keep it aside
Now, take a large bowl and add cream cheese and vanilla extract to it. Beat them together until it turns smooth. Add whipped topping to this. Mix well. Take out half of this mixture in a 9×12 inches glass dish.
Over this spread mixture, sprinkle the angel food cake by crumbling it. Add another layer of cream cheese mixture over the cake and cover it with the cherry mixture. 
Refrigerate this dish for at least 5 hours and serve chilled.
What an easy recipe it is. I am delighted to share this recipe with you as it can save your time for sure.
Nutritional Breakdown of Cherries in the Snow
Some of you must be thinking that cake is not good for our health. That's why, I've added the nutritional breakdown of this Cherries in the Snow cake below.
| | |
| --- | --- |
| Calories | 491 |
| Protein | 5.7g |
| Carbohydrates | 72.3g |
| Fat | 20.5g |
| Cholesterol | 41.1mg |
| Sodium | 347.7mg |
How to Make Cherries in the Snow at Home | Video
Here is the video to help you in every step. If you want to know more details of the recipe, kindly watch this video as it will be a great help to you.
So what are your views about this recipe? Let me know your reviews to help you out if anything has to be made clear. I am happy to help you. Share this recipe with your friends and do comment in the section below with your experience and queries.