How to make Cheesy Spinach Corn Sandwich
Note- This post may contain affiliate links, we earn from qualifying purchases made on our website. If you make a purchase through links from this website, we may get a small share of the sale from Amazon and other similar affiliate programs.
After tuition, I and my friends used to go to eat something like momos, spring rolls, etc and one day one of my friends take all of us to a shop and he ordered a sandwich there, everybody was asking him why you take us here.
He said just wait and eat what I ordered we were like ok bring it on, we got some sandwiches after some time and when I got one bite of that sandwich, it was sumptuous and it was very delicious and I ask my friend about the name of that sandwich.
He told me the name and it was Spinach Corn Sandwich, I was impressed with the taste and Guess What? So when I returned home, I asked my mom that does she know the Spinach CornSandwich recipe? And she replied Yes!
I noted the recipe and the next day, I tried to make the Spinach Corn Sandwich at home and to be honest, I even made it more tastier than the ones I had in the shop.
So today, I will share Spinach Corn Sandwich Recipe with my lovely people and after you made it share your views in the comment section. Also, there are other recipes that you can have as starters, let's check them out.
1. Vegetable Uttapam– Vegetable Uttapa, also Uttapam, is a crisp and spongy breakfast south Indian delight. The recipe for Uttapam is both easy to cook and healthy. The recipe is nutritious and seasoned with healthy vegetables.
2. Humboldt Fog Brulee– Humboldt is basically aged goal milk cheese. This cheese was originated in California. I was watching this cooking show on the BBC and then I came to know about this kind of dish.
3. Punjabi Paneer Pakora– Paneer pakora are a quick evening snack that has a lovely crispy texture with a moist, soft paneer from within.
4. Jalapeno Cheese Sticks– Jalapeno cheese sticks are a favorite party snack. They are delicious, cheesy and really easy to make. They also get ready in no time. The recipe is quite simple, but the results are amazing.
Ingredients for Spinach Corn Sandwich Recipe
| | |
| --- | --- |
| Ingredients | Amount |
| White bread slices | 4 pc |
| Processed cheese | 50 gms |
| Blanched and chopped spinach leaves | 20-25 pc |
| Boiled corn kernels | ½ cup |
| Chopped onion | 1 unit |
| Grated ginger | 1 tsp |
| Salt | ½ tsp |
| Crushed black peppercorns | ½ tsp |
| Olive oil | 2 tsp |
| Chopped Green chilly | 1 unit |
Cheesy Spinach Corn Sandwich Recipe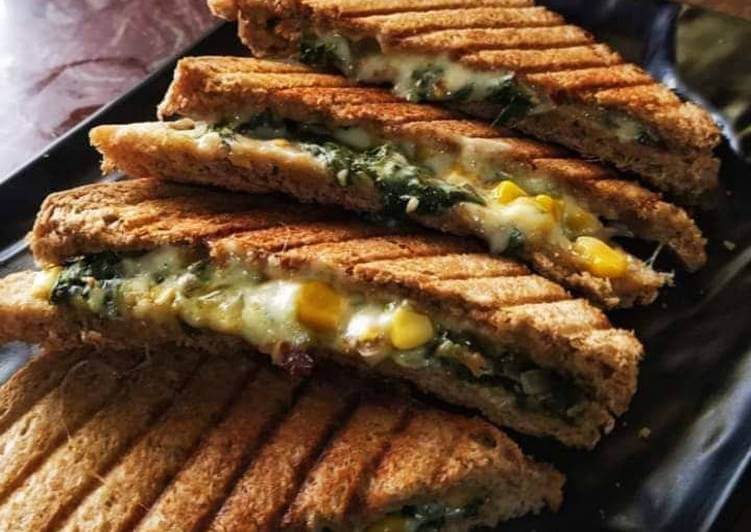 First of all, boil the spinach corn kernels and keep them aside.
Now in a preheated pan add 1 tsp olive oil.
Now add 1 chopped onion, 1 chopped green chili, grated ginger, and spinach, boiled corn, some salt, and crushed black peppercorns, now roast them.
Place it in a bowl. Add grated cheese to it and mix well.
Take two pieces of bread and spread butter on it.
Now spread the mixture on bread slices and seal two pieces together spread some oil on both sides.
Grill it, serve it and eat this wonderous sandwich.
A wonder of such tasty ingredients is just what's needed in a spill down of hunger. You can use this Spinach Corn Sandwich recipe to make cheesy Spinach Corn Sandwiches at home.
How Much Time it Will Take?
| | | |
| --- | --- | --- |
| Preparation Time | Cooking Time | Total Time |
| 15 Minutes | 15 Minutes | 30 Minutes |
Nutritional Information of Spinach Corn Sandwich Recipe
| | |
| --- | --- |
| Calories | 281 |
| Carbohydrates | 39 g |
| Protein | 8 g |
| Fat | 11 g |
| Cholesterol | 24 mg |
| Sodium | 884 mg |
| Potassium | 404 mg |
| Fiber | 4 g |
| Sugar | 7 g |
How to Make Spinach Corn Sandwich at Home | Video