How To Make Cheese Sauce At Home
Note- This post may contain affiliate links, we earn from qualifying purchases made on our website. If you make a purchase through links from this website, we may get a small share of the sale from Amazon and other similar affiliate programs.
Anything that has cheese melts my heart! The cheese sauce is one of the delectable sauces that can be cherished with various fried snacks. Making it in your kitchen is quite easy and can be prepared in no time. Check out the details for this classic cheese sauce that is filled with cheesy goodness and rich spices.
Having an amazing, creamy cheese sauce in the kitchen is a game-changer. It goes well with quite a bunch of things, be it nachos, pita bread, salads, pasta, toast and you may experiment it with various other things available in your kitchen.
Cheese sauce can be made by prepared by making a roux and adding milk to it. Now, add pepper and onion powder to it. Then, add cheddar and parmesan to the mixture. Your cheese sauce is ready to rock!
I serve cheese sauce with fish and chips and my friends love it. So, why not try this sauce at home and relish it with family and friends. It is any day better than the store-bought sauces. Before that, check out the other sauce recipes as well.
1. Red Chile Sauce – Red Chile sauce is very popular in Mexico and people there use it as a substitute for their regular tomato ketchup. This sauce is also called red chili enchilada sauce.
2. Bistro Sauce – Bistro sauce has got a composition of mustard, horseradish, and garlic, which makes it a smooth texture.
3. Parsley Sauce – The sauce is very easy to make and gives a good aroma. The creamy texture of the recipe makes it an excellent addition to any cuisine.
4. Cranberry Sauce – Cranberry sauce gives a lightness to Thanksgiving or Christmas dinner and it adds a delectable flavor. It compliments best with various types of meat like chicken, turkey, pork, and ham.
What Equipment Will You Need To Make Cheese Sauce?
Saucepan – Take a saucepan to prepare the cheese sauce at home.
Spoon – Use a large spoon to add the spices and stir them frequently.
Grater – Grate the cheddar cheese with a help of a grater.
How Much Time Will You Need To Make Cheese Sauce?
| Preparation Time | Cooking Time | Total Time |
| --- | --- | --- |
| 5 Minutes | 10 Minutes | 15 Minutes |
What Ingredient Will You Need To Make Cheese Sauce?
Milk – Adding milk will thicken the consistency of the sauce.
Butter – A tablespoon of butter will bring out a soft and smooth texture to the cheese sauce.
Flour – Prepare the roux gravy with half a cup of flour mixed with butter.
Cheddar Cheese – For a cheesy blend of flavors add grated cheddar cheese.
Parmesan Cheese – Along with cheddar cheese add half a cup of parmesan cheese.
White Pepper – Spice up the cheese sauce with a pinch of white pepper.
Onion Powder – Add a teaspoon of onion powder for aromatic flavors.
Garlic Powder – Bring out pungent flavors with a pinch of garlic powder.
Salt – Add salt to your taste.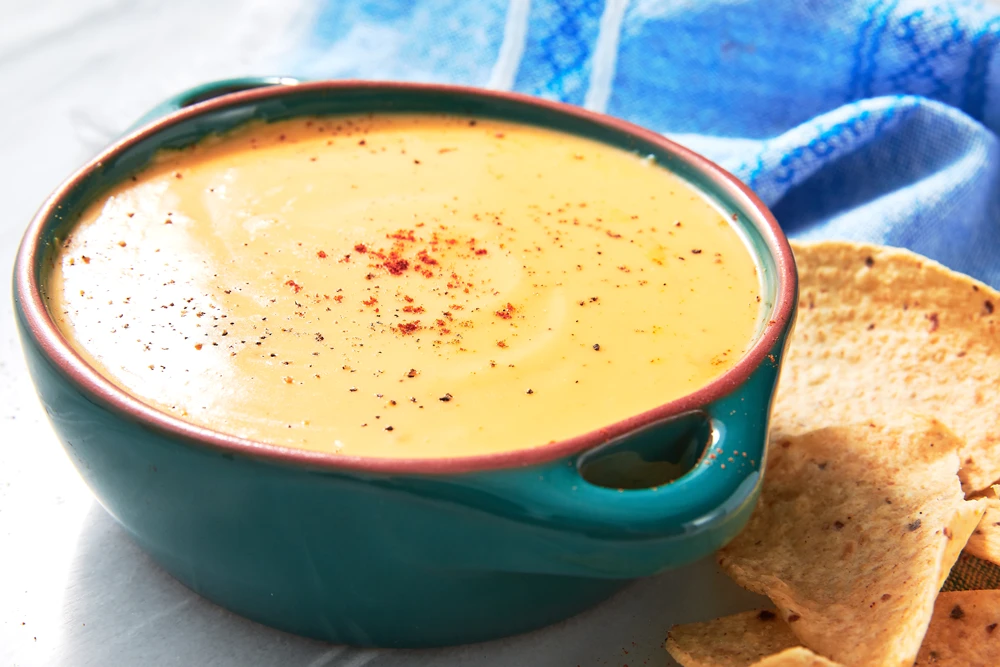 Steps To Make Cheese Sauce
1. Roux In Making
Prepare the roux gravy by merging butter and flour in a saucepan. The mixture of butter and flour is called a roux. Then, add half a cup of milk, stirring frequently to avoid forming lumps.
2. Cheese Blend
Add grated cheddar and parmesan cheese to the mixture and keep whisking for about 2 minutes until the cheese melts. Immediately, stir in the spices like salt, white pepper, garlic powder, and onion powder. Simmer the sauce until it is thickened, creamy, and smooth. Once the sauce is prepared, serve with fried snacks and enjoy!
Nutritional Information
| | |
| --- | --- |
| Calories | 439 kcal |
| Carbohydrates | 17 g |
| Fat | 33 g |
| Protein | 8 g |
| Cholesterol | 73 mg |
| Sodium | 2086 mg |
| Dietary Fiber | 1.3 g |
| Potassium | 77 mg |
How Will Cheese Sauce Look And Taste Like?
Cheese sauce will look cream, thick, and flavorful. The oozing cheesy flavors will satiate your cravings. Serve this cheesy sauce with your favorite snacks and side dishes. All in all, the creamy and zesty flavors are the icing on the cake.
Cheese Sauce Recipe
Anything that has cheese melts my heart! The authentic cheese sauce will make your heart melt too. Try the cheese sauce right in your kitchen with just a handful of ingredients. All you need is butter, flour, milk, cheddar cheese, parmesan cheese, garlic powder, onion powder, and salt.
1 ½

cup

Milk

2

tablespoon

Butter

2

tablespoon

Flour

1 ¼

cup

Grated Cheddar Cheese

¼

cup

Grated Parmesan Cheese

1

teaspoon

White Pepper

1

teaspoon

Onion Powder

1

teaspoon

Grarlic Powder

1

teaspoon

Salt
Firstly, melt the butter in a saucepan and add the flour to it. Cook for about 2 minutes. The mix of flour and butter, called 'roux', is an essential part and needs to be whipped continuously to get rid of any starchy flavour before adding any ingredient.

Pour in milk slowly while stirring the mixture to avoid the formation of lumps.

You may now add the onion powder and white pepper to the mix. I also splash a tablespoon of garlic powder to add an extra edge to the sauce (completely optional).

Mix well until the mixture reaches a boil and thickens. Now, remove the pan from heat.

Add grated cheddar and parmesan cheese to the mixture and keep whisking for about 2 minutes until the cheese melts.
Frequently Asked Questions (FAQs)
How do you make a cheese Sause?
Simmer all the elements in a saucepan to prepare easy and quick cheese sauce at home. First, prepare the roux gravy, and then merge the milk, cheese, and spices. The cheese sauce will be ready in just 20 minutes.
What is a good melting cheese for sauce?
Some of the good options for adding melting cheese to the sauce are Asiago, Cheddar, Colby, fontina, Gouda, Gruyère, Havarti, Monterey Jack, or Muenster. 
How do you keep cheese sauce from breaking?
Adding a little cornstarch can rescue the sauce and prevents it from breaking.
How do you make cheese sauce thicker?
Milk, cornstarch, and cheese are the elements that will make the cheese sauce thicker.
I hope the recipe finds a way into your kitchen and you all relish it with your family and friends. Do share your feedback with us in the comment section below and let us know your suggestions. Reach out for help anytime.