How To Make Cheese Fries At Home
It is safe to assume that everyone enjoys a bowl of cheese fries. These fries can be the perfect movie snack for you to enjoy with your friends. Today, I will share the recipe for cheese fries so you can make them at home.
The trick to making perfect cheese fries is by choosing the right potatoes. You need to select the ones with high starch content so that they do not end up turning red in colour and turn soggy within a short period of time. This enables you to attain the right texture and colour for your cheese fries.
To make cheese fries, cut the potatoes and boil them in water. Dry them and dust them in the cornflour. Now, fry them in oil at high flame for 1 minute. Heat a teaspoon of butter in a pan and saute onion in it. Then, add turmeric, chili powder, and some milk. Slowly add cheese slices and mozzarella cheese to this mixture and stir until smooth. Pour the mixture over the fries.
This is just an overview of the cheese fries recipe. Further in this article, you'll find information regarding the ingredients, nutritional value, detailed recipe and more. Also, there are other recipes that you can have as starters, let's check them out.
1. Open Faced Texas Burger– Open faced burger consists of more than one food item on a slice of the burger bun. It can be consumed as breakfast, lunch, supper, or an evening snack.
2. Mac and Cheese Bites– Hearing of Mac and Cheese makes everyone drool. The recipe today is not of the basic mac and cheese we eat in a plate. It is of Mac and cheese that you can finish in just two bites.
3. Air Fryer Pizza Rolls– This homemade snack is easy to prepare and can even be used few days after they are made.
4. Scotch Eggs– Scotch eggs make for a very delicious and fulfilling breakfast. They are a great recipe if you are looking to do something different for your meal.
Ingredients for Cheese Fries
For Fries
4 medium-sized Potatoes (cut into vertical fries)
2 tablespoons Cornflour
Salt (as per taste)
Cooking Oil (for frying)
For Cheese Sauce
1 tablespoon Butter
1 Small Onion (chopped)
A pinch of Turmeric
A pinch of Red Chilli Powder
2 tablespoons Milk
2 Cheese Slices
2 tablespoons Mozzarella Cheese
How Much Time It Will Take To Make Cheese Fries?
| Preparation Time | Cooking Time | Total Time |
| --- | --- | --- |
| 10 Minutes | 25 Minutes | 35 minutes |
Steps To Make Cheese Fries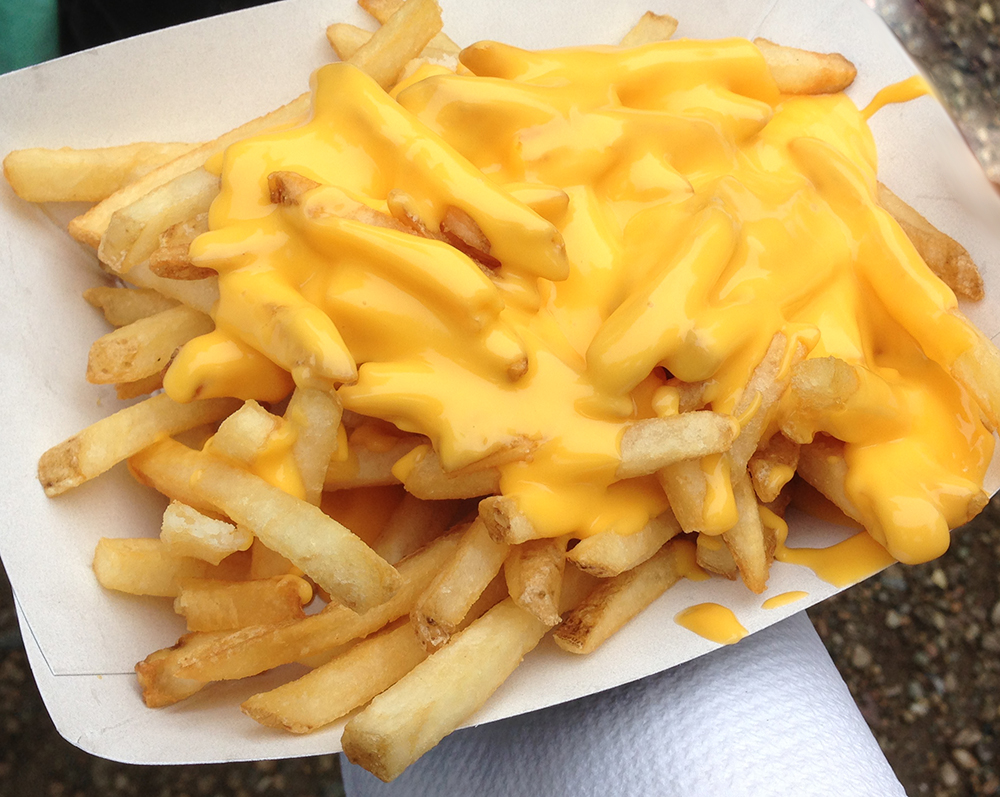 Take a pot and boil water in it. Add the potatoes to the pot along with a pinch of salt to the boiling water. Let it boil for 2-3 minutes.
Drain the water and dry the potato slices with a dry cotton cloth. Add a teaspoon of cornflour to the dried potato slices and mix them well.
Then, heat oil in a pan. Fry these potatoes slices in oil until they are golden brown.
Heat up a wok and add a teaspoon of butter to it. Add some finely chopped onion to it along with a pinch of turmeric and red chilli powder. Cook this for 2 minutes and then, add 2 slices of processed cheese to it.
Finally, add mozzarella cheese to this sauce and let it simmer for 2 minutes. When you get a smooth consistency, take the sauce off the flame and pour it directly over the fries.
Nutritional Breakdown of Cheese Fries
| | |
| --- | --- |
| Carbohydrates | 38 g |
| Fat | 18.5 g |
| Sodium | 749 mg |
| Dietary Fiber | 3 g |
| Protein | 5 g |
How To Make Cheese Fries At Home | Video