How To Make Carrot Rice At Home
Carrot rice is a delicious and healthy recipe. It is made from sauteed vegetables, rice and spices. It is flavorful and aromatic. It is also really simple to make.
This carrot rice recipe is from South-Indian cuisine. This recipe is a complete package of flavors, aroma, and nutrition. It also satiates the hunger and makes you full. This carrot rice is made with carrots cooked with rice and a mix of various ground spices that make it taste like heaven.
To make carrot rice, heat oil in a pan. Add mustard seeds, cumin seeds, and curry leaves to it and sauté. Then, add cashew nuts and cook until brown. Add onions and green chili and cook. Add the carrots and sauté for a minute. Then, add turmeric powder and salt. Mix well and add cooked rice. Cook for some time and mix until the rice is covered with turmeric. Your carrot rice is ready.
Want to make carrot rice but don't have basmati rice? Here is list of substitutes for basmati rice. This was a brief summary of the recipe. Find the complete recipe below. There are many other recipes that you can make with rice, I highly recommend you to check them as well.
1. Syrian Rice– Syrian rice is not your run-of-the-mill cooked rice. It is rice that is cooked in butter along with orzo pasta or broken spaghetti. It is easy to cook and can be served with a lot of different curries.
2. Coconut Curry Noodle Bowl– Coconut curry bowl noodle is a perfect summer meal. These coconut curry noodles are healthy, flavorful, and saucy. This recipe is a perfect summer meal for all noodle lovers.
3. South Indian Tomato Rice– South Indian style Tomato Rice with lots of spices. This is favorite way to make tomato rice, it tastes so good with pickle and a side of yogurt.
4. Turmeric Rice– Turmeric rice is a great and easy fried rice recipe with the goodness of turmeric and the flavors of other spices. It is really easy to make and is a great dish to make if you have leftover rice.
Ingredients for Carrot Rice
| Ingredients | Quantity |
| --- | --- |
| Basmati Rice  | 1 cup |
| Carrot (grated)  | 1 |
| Oil | 2 teaspoons |
| Mustard Seeds  | ½ teaspoon |
| Cumin Seeds  | ½ teaspoon |
| Curry Leaves  | A few |
| Cashew Nuts  | 10 |
| Onion  | ¼ |
| Green Chili  | 2 |
| Turmeric Powder  | ¼ teaspoon |
| Salt  | To taste |
How Much Time Will it Take?
| Preparation Time | Cooking Time | Total Time |
| --- | --- | --- |
| 5 Minutes  | 10 Minutes  | 15 Minutes |
Carrot Rice Recipe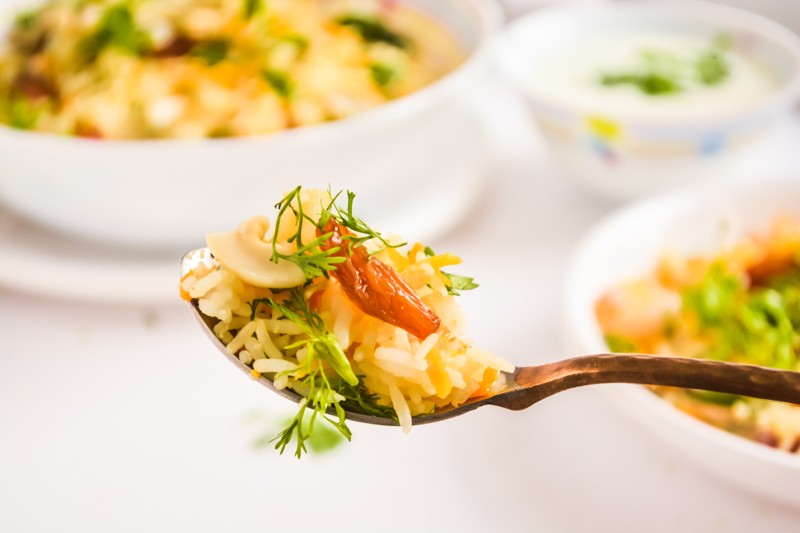 Add some oil to a pan. Keep it on medium-high flame.
Add mustard seeds, cumin seeds, and curry leaves to it and saute. Also, add cashew nuts. Cook them until they turn golden brown.
Then, add the chopped onions and green chili. Cook them until onions become translucent.
Now, add the carrot and saute for one more minute. Cook them until their color changes.
Then, add the turmeric powder and add salt to taste. Stir it.
After that, add the cooked rice and mix it without breaking the rice grains. Mix well until the rice becomes yellowish. Serve hot.
Nutritional Breakdown of Carrot Rice
| | |
| --- | --- |
| Calories  | 178.7 |
| Protein  | 4 g |
| Sugars  | 1.7 g |
| Fat  | 4.8 g |
| Cholesterol  | 0 mg |
| Carbohydrates  | 30.1 g |
How to Make Carrot Rice at Home | Video