How To Make Caramelized White Chocolate at Home
Note- This post may contain affiliate links, we earn from qualifying purchases made on our website. If you make a purchase through links from this website, we may get a small share of the sale from Amazon and other similar affiliate programs.
We all have eaten White Chocolates but have you ever ate Caramelized White Chocolate? If no, then I will tell you how to make Caramelized White Chocolate at home, so you can make it at home.
I know you must have mane doubts regarding the Caramelized White Chocolate and don't worry, I will clear all your doubts but first I will share the story which I experienced when I came to know about Caramelized White Chocolate.
If you are a foodie you must follow food pages over Instagram and while scrolling over Instagram. I saw a photo and in the caption, it is written Caramelized White Chocolate.
I was like I heard about the White Chocolates but I never heard about Caramelized White Chocolate. I saw the email of that chef who posted that picture and the moment I saw the email, I emailed him to know the recipe. Within hours, he sent me the Caramelized White Chocolate Recipe.
But before sharing the exact direction, I will tell you What exactly is Caramelized White Chocolate? You can also refer to Caramelized White Chocolate as Blonde Chocolate which is made from melting the white chocolates at high temperatures which are good for health also.
So ow let's check out the Caramelized White Chocolate recipe. But here are some other amazing recipes that you should definitely try.
1. Mint Chocolate Chip Cookies– Big, soft cookies filled with Andes Mint Candies, Mint Chips and Chocolate Chips. Mint and chocolate in every delicious bite! No chill time; you can enjoy these Mint Chocolate Chip Cookies in 30 minutes.
2. Peanut Butter Milkshake– Everyone's had the classic chocolate shake, but a peanut butter shake? If you are a peanut butter lover, then this shake is a must-try. It's sweet and a little salty, and definitely not something you get every day.
3. Spanish Hot Chocolate– Spanish chocolates are super delicious. People in Spain love chocolates like anything. They want everything filled, sprinkled and dipped in chocolate. Spain seems to have chocolate everywhere.
4. Shahi Tukda– Shahi Tukda is a soft bread pudding, whose topping melts like caramel in your mouth. The richness of saffron and the flavour of cardamom, send your taste buds to a different world this royal delicacy is served with Rabdi.
Ingredients For Caramelized White Chocolate
| Ingredients | Amount |
| --- | --- |
| White Chocolate | 1 Pound |
| Sea Salt | 1 Pinch |
Sea Salt must be in your kitchen and if you are a chocolate lover, then check your refrigerator, you will find white chocolate there.
Now, the main question that arises is that how much time you have to invest in making Caramelized White Chocolate. Don't worry, I have mentioned the proper timings in the table below.
How Much Time It Will Take?
| | | |
| --- | --- | --- |
| Preparation Time | Cooking Time | Total Time |
| 20 Mins | 50 Mins | 80 Mins |
 So, let's move towards the final destination that is the directions to make this Caramelized White Chocolate at home.
Caramelized White Chocolate Recipe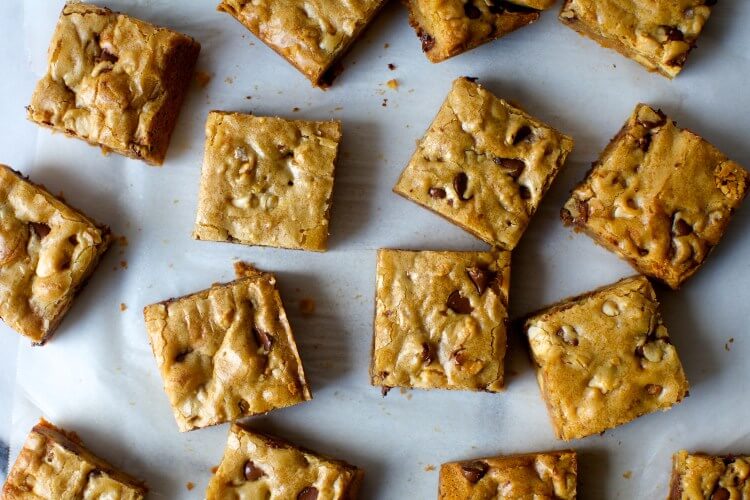 At 130°C, preheat the oven and chop the white chocolates and scatter them on the baking sheet.
For 45 minutes, roast the chocolate in the oven and stir after each interval of 10 minutes and make there is no crumb formed.
Cook until it will turn dark and stir the sea salt for taste. Make the chunks of chocolates.
Transfer the chocolate chunks in an airtight container. You can use it for several months.
Finally, Caramelized White Chocolates are ready. Make these chocolates at your home and you'll definitely love them.
Nutritional Facts Of Caramelized White Chocolate
This Caramelized White Chocolate is delightful chocolate. But here is the complete nutritional breakdown of this Caramelized White Chocolate if you need it.
| | |
| --- | --- |
| Calories | 155 |
| Fats | 9g |
| Cholesterol | 6mg |
| Sodium | 26mg |
| Potassium | 81mg |
| Carbohydrates | 17g |
| Protein | 2g |
How To Make Caramelized White Chocolate at Home | Video
This recipe of Caramelized White Chocolate is very simple to make but still, I have added a video and I highly recommend you all to watch this video if you are making this for the first time.
I hope you all have liked this Caramelized White Chocolate. Do try it once at your home and share your experience with us in the comments below. I will definitely try to cover it in the thefoodxp blog.