How to Make Cantaloupe Juice at Home
Note- This post may contain affiliate links, we earn from qualifying purchases made on our website. If you make a purchase through links from this website, we may get a small share of the sale from Amazon and other similar affiliate programs.
The recipe that I am going to tell you is something that will refresh you and make you feel more energetic. Today, I am going to share a very easy recipe with you which you can make any time anywhere with no extra ingredients and less hard work. 
I went to a corporate event last year in summers and was served by this cantaloupe juice which filled my soul with energy and I really liked its taste. Then one of my friends told me about the same Cantaloupe Juice other day and I asked him if he could share the recipe with me.
I learned this Cantaloupe Juice recipe quite a while ago and tried it at home. It was a very soothing and refreshing drink. I thought that I must share this short recipe with you guys so that you can also enjoy its refreshing taste. Now without wasting much of your time let's start preparing this drink.
But there are many other drink recipes that we've covered in our blog. You should definitely check them as well.
1. Healthy Tomato Juice Spiced– Homemade Spiced Tomato Juice has phenomenal flavors with fresh garden ripened tomatoes and a hint of green bell peppers and onion.
2. LA Water– LA Water is one of the easiest and most awesome cocktails that you can make at your home. Anyone can make it easily at your home using just 8 ingredients.
3. Bacardi Mojito– Bacardi is always the favorite of many alcohol lovers and they love to improvise this brand in many ways and here it is the Bacardi Mojito recipe. This drink is good at the taste and will make you refreshed at the same time.
4. Apricot Nectar– Some of you might hate eating raw apricots but will definitely going to enjoy this apricot nectar. I recommend you all to try this recipe of apricot nectar just for once after that, you can't stop yourself.
Ingredients for Cantaloupe juice
| | |
| --- | --- |
| Ingredients | Quantity |
| Ripe cantaloupe | 1 pc |
| Simple syrup | 1 cup |
| Ice Cubes | 4-5 |
| Water  | 3 cups |
That was not that difficult. These ingredients are easily available at your home and if not you can get them at the nearest super market.
So, making this recipe is also very easy just like its ingredients. You have to do nothing. Now let's see how much time would it take you to make this Cantaloupe juice?
How Much Time it will Take?
| | | |
| --- | --- | --- |
| Preparation time | Cooking time | Total time |
| 5 minutes | 5 minutes | 10 minutes |
As I told you this recipe takes almost no time to get ready and done. Anyways, let's move towards the next step. Oh yes! Let's start making this cool and refreshing drink for what you've been waiting for.
Cantaloupe Juice Recipe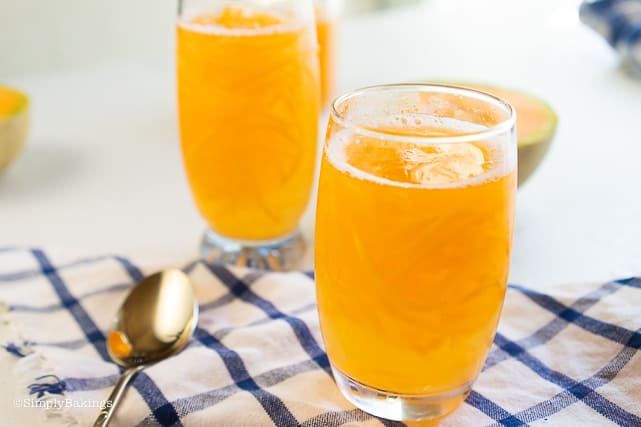 Place a saucepan over medium heat, mix sugar and water to make the basic syrup and bring it to a boil over medium to high flame.
Reduce heat to medium, and boil for around 3-4 minutes before sugar dissolves. Absolutely Awesome.
Place the seeds of melons and pulp over a bowl in a sieve package. Run through the seeds into a cup of cold water, pressing with a spoon back to remove the liquid. Chop the cantaloupe into long strings, along with some water, into the bowl using a knife or melon scraper. 
In a container, put melon strips and juice with plenty of ice, and enjoy by adding simple syrup to enhance the taste.
You can add water in case the juice is too sweet. Serve chilled.
So this is the sweet and short recipe for this refreshing Cantaloupe juice. Try this recipe at home with your kids, family and friends.
Nutritional Facts of Cantaloupe Juice
So this drink is purely natural and doesn't contain any added preservatives. This is a really healthy drink for everyone. But here is the complete nutritional breakdown of this Cantaloupe juice recipe if you need it.
| | |
| --- | --- |
| Calories | 627 |
| Carbohydrates | 161 gm |
| Protein | 1 gm |
| Fat | 1 gm |
| Fiber | 1 gm |
| Sugar | 161 gm |
| Vitamin c | 51 gm |
| Calcium | 18 gm |
| Iron | 1 mg |
How to make Cantaloupe Juice at Home | Video
This recipe is very simple to make but still, I would recommend this video if you are making this for the first time. Here is a video that can help you in the process of making this juice.
I hope you have liked this recipe. Do try it once at your home and comment down your experiences and reviews about this recipe and tell us if you want any other recipe. We will love to hear from you guys.