How To Make Candied Kumquat At Home
Candied kumquat is an easy peasy recipe. Today, let's see how you can make it at your home.
I first tried them at my friend's house. There was a kumquat tree in their house and we all used to collect and eat them. So, one day I was looking for recipes that can be made with kumquat and got to know about candied kumquat. Now, let's have a quick overview of the recipe.
To prepare candied kumquat, chop kumquat and remove the seeds. Now, simmer them in water and add sugar. When it starts to boil, turn off the heat and let it cool. Store in a jar and refrigerate. 
Below are the detailed steps to make the recipe. But before we jump onto the recipe, let's check out some other desserts that you might like.
1. Microwave Vegan Fruit Dessert– This microwave vegan fruit dessert is super healthy, gluten-free and best for the autumn season. Vegan fruit dessert is super delicious and an easy-to-make recipe. The delicious Rhubarb balances an old-fashioned dessert that might otherwise seem sickly sweet. 
2. Velveeta Fudge– It is a candy that has a texture of chocolate flavor. It is smooth and creamy like Barfi (Indian Sweet), or you can call it "Chocolate Barfi" also. You should definitely try it at your home.
3. Texas Tumbleweed– This recipe is perfect when you are in a rush but still want to make a delicious dessert. It is a no-bake recipe. It has a hint of salt, sweetness, and cream. These treats will be a perfect combination of flavors.
4. Clafoutis– It is a baked French dessert of fruit, traditionally cherries, arranged in a buttered dish and covered with a thick flan-like batter. The preparation is easy and there is nothing at all in this recipe that is difficult to understand.
Ingredients for Candied Kumquat
| Ingredients | Quantity |
| --- | --- |
| Chopped Kumquats  | 4 cups |
| Water  | 1 cup |
| Sugar  | 2 cups |
This is all that you need to make these kumquat candies at home. You only need to buy this fruit from the market and it's done.
How Much Time Will it Take?
| Preparation Time | Cooking Time | Total Time |
| --- | --- | --- |
| 10 Minutes  | 30 Minutes  | 40 Minutes |
The timings are also acceptable. It will only take about 40 minutes to makes these candies at home. You don't need to spend all the time in your kitchen. Just a few minutes and it's done.
Now, let's move towards the final part of the recipe to find out how to make it and the full procedure that you need to follow. So, here you go.
Candied Kumquat Recipe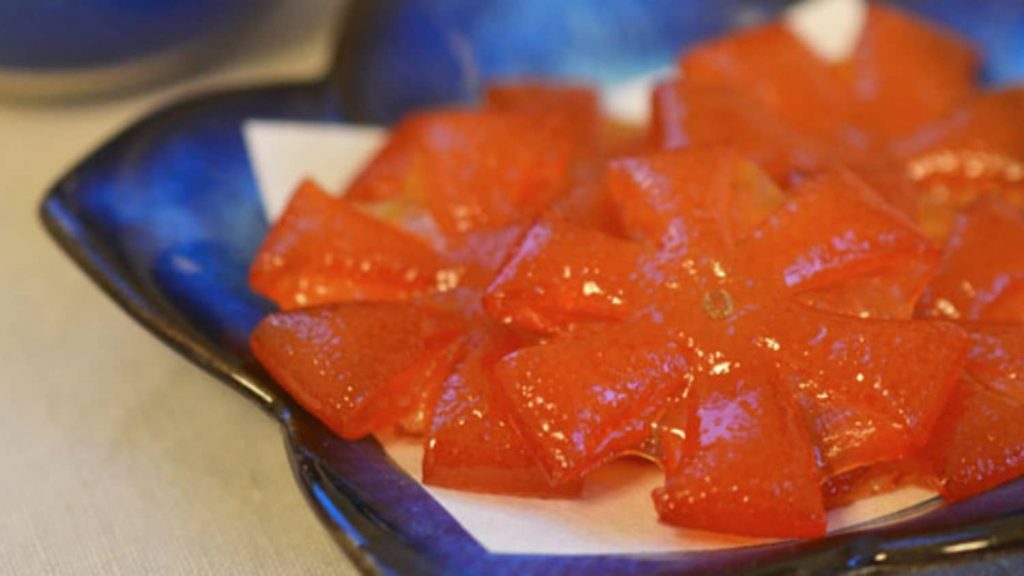 Chop the kumquats and remove the seeds from them. The seeds can also be added as they are also edible.
Take a pot and add some water and sugar to it. Let it boil and add those chopped kumquats to it. Let them simmer for about 10 minutes.
Drain the water from the pot and reserve it in a bowl. Pour the liquid that you filtered back to the pot and boil it until it becomes thicker and forms a syrup.
Mix the syrup and kumquats and stir it well. Serve it or keep it in a jar and refrigerate. 
That's it! Your kumquat candies are ready and will now be your next after-meal treat. Enjoy these sweet and tangy candies and relive the old days of your childhood.
Nutritional Breakdown of Candied Kumquat
This recipe's nutritional breakdown is below in the table and are enough to tell you what these candies consist of.
| | |
| --- | --- |
| Calories  | 1183 |
| Fats  | 3 g |
| Sugars  | 273 g |
| Fiber  | 23 g |
| Protein  | 7 g |
How to Make Candied Kumquat at Home | Video
To know more about this recipe and have a clear idea about what to do. Here is a video that you need to watch. It will clarify all your doubts and confusion regarding this recipe.
After trying this candied kumquat recipe, do share your reviews in the comment section. And for those who are having a query related to the recipe, please ask your questions in the comment section. I will revert you with the best possible solution. Enjoy your meal.