How to Make Calamari Fritti at Home
Are you a fan of Mediterranean food or craving something exotic but this pandemic is stopping you from going out? If yes, not to worry at all. Because this yummy Calamari Fritti can solve your problem and you can feel that Mediterranean food at home.
I first tasted Calamari Fritti at a restaurant and I found it so amazing that I decided to make it on my own at home. After doing some experiments, this came out to be the best Calamari Fritti recipe ever. So, I decided to share it with you all.
Though it was a bit tedious to make the replica of what the restaurant made. But trust me, this dish won't disappoint you. It is very easy and cheap to make this at home as compared to the restaurant.
But for those of you who don't know what calamari is. It's a squid. Yes, you heard me right. So get ready to make these tentacle pieces at home with this easy recipe. No doubt, everyone will like this recipe, especially the kids. But I would suggest, don't make it very often because it is a fried dish and can affect health.
For calamari, you can buy fresh or frozen from the market. You can have the frozen ones too. If you want fresh calamari, you can check it at a nearby store or online. Also, there are other recipes that you can have as starters, let's check them out.
1. Chile Toreados– If you are like me who likes extra spice in food, you must know Chile Toreados. In this post, I will share the recipe of this Mexican dish, which will help you spice up your food.
2. Cullen Skink- This soup basically originated in Scotland and is very famous over there and is considered a local specialty. Cullen skink got its name from a town named 'Cullen' in the Moray area of Scotland.
3. Vegan Stuffing– It contains a lot of vegetables and uses olive oil as an alternative to butter. Vegetable broth is also a great alternative to chicken broth. It also contains a whole lot of spices that make it aromatic and flavorful.
4. Yorkshire Pudding– Yorkshire pudding is an easy-to-make healthy recipe that you can enjoy for your breakfast or a starter.
Ingredients for Calamari Fritti
| Ingredients | Amount |
| --- | --- |
| Fresh or Frozen Calamari | 750g |
| Canola Oil | 2 tbsp. |
| All Purpose Flour | 1 cup |
| Seasoning Salt | 1 tbsp. |
| Eggs | 2 |
| Lemon Juice | 1 tbsp. |
| Milk | 1/2 cup |
| Greek Yogurt | 1/4 cup |
| Peri Peri Sauce | 1 tsp |
We need these ingredients to make this seafood delicacy at home and these are very easy to find at a nearby store. Now let's check out the time you need to invest in making this recipe at home.
How Much Time It Will Take?
| Preparation Time | Cooking Time | Total Time |
| --- | --- | --- |
| 10 minutes | 10 minutes | 20 minutes |
In almost 20 minutes, you can make this Calamari Fritti at home and serve it to your loved ones. Now without wasting more time, let's just dive into the recipe to make Calamari.
Calamari Fritti Recipe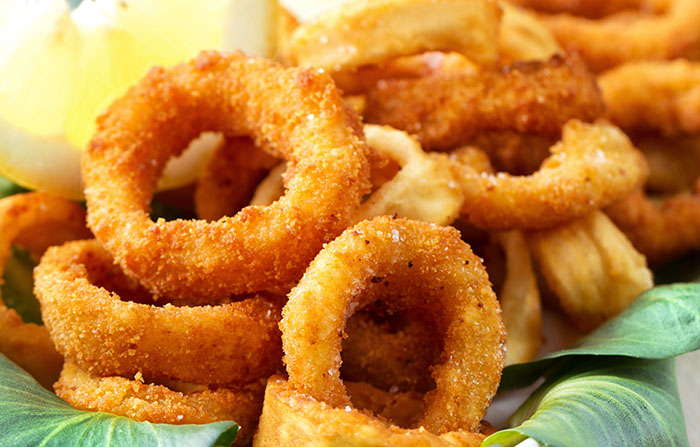 Take a large bowl and add flour and salt and mix them properly.
In a separate bowl, beat eggs, lemon juice and milk.
Drop some Calamari rings in the other bowl with eggs and shake off excess egg. Then toss it in the flour mixture.
In another pan, heat oil and put calamari rings ensuring they are separated and have space to fry evenly.
Cook for 1 minute, flip over and cook for 90 seconds.
Use a paper towel to remove the excess grease.
Don't overcook it because it will make them tough and rubbery.
Your Calamari Fritti is ready to serve. Do make this at your home and your family members are going to love this.
Nutritional Breakdown of Calamari Fritti
Calamari has high cholesterol values in it. So I don't recommend you to make this recipe on a daily basis. That's why I've added the nutritional breakdown of this recipe below.
| | |
| --- | --- |
| Calories | 195kcal |
| Fat | 9.55mg |
| Carbohydrates | 12.49mg |
| Protein | 13mg |
| Fiber | 0.6g |
| Cholesterol | 196mg |
| Sodium | 311 mg |
How to Make Calamari Fritti at Home | Video
This video will help you make yummy Calamari at home. This video has all the important steps that you need to understand before making calamari fritti.
I hope this recipe makes your day. I would really like to know your opinions about this recipe in the comments section below. Before leaving, you can also check out some other wonderful recipes on the thefoodxp blog.