How To Make Calabrian Sauce At Home
Note- This post may contain affiliate links, we earn from qualifying purchases made on our website. If you make a purchase through links from this website, we may get a small share of the sale from Amazon and other similar affiliate programs.
Want to spice your food up? If yes, then there can nothing be better than Calabrian sauce. In this post, let's see how you can make the Calabrian sauce at home in a snap. Keep reading.
The main ingredient used in the sauce is the Calabrian chili peppers, which are found in Italy. I personally like to pair the sauce with Italian food like pizza and pasta, but you can use it with any of your food. The recipe is very easy and efficient to make.
The Calabrian sauce is a 3-ingredient recipe that can be prepared by blending Calabrian chili, garlic cloves and olive oil in a blender of a food processor. You can store it in a jar for later use. 
You can enjoy this sauce with a pizza, scrambled eggs, or you can just swipe it over your toast. Let's check out how to prepare this hot sauce at home with no preservatives. Starting up with the list of ingredients.
1. Chicken Liver Pate– Chicken Liver Pate is a delicious recipe is especially for chicken lovers. Even if you don't love to eat chicken, you can make it for your close ones who love to eat chicken.
2. Chana Dal Chutney– Chana dal is also known as Daria dal. The chutney is very hot and spicy due to the addition of red chilies. You can enjoy the chutney with poha, dosa and uttapam.
3. Vegan Lemon Sauce– The sauce has a tangy flavor that makes boring food exciting. The sauce is best for vegans as most of the dips and sauces make use of dairy products. The recipe is best paired with pasta.
4. Tomato Basil Pizza Sauce– The tomato basil pizza sauce really makes some awesome pizzas. This version of the sauce has some extra ingredients which make it different than the traditional pizza sauce.
What Equipment Will You Need To Make Calabrian Sauce?
Food Processor – Blend all the elements in a food processor.
Airtight Container – Store the Calabrian sauce in an airtight container.
How Much Time Will You Need To Make Calabrian Sauce?
| Preparation Time | Cooking Time | Total Time |
| --- | --- | --- |
| 5 Minutes | 5 Minutes | 10 Minutes |
What Ingredients Will You Need To Make Calabrian Sauce?
Calabrian Chili – For making the Calabrian paste, take some Calabrian chili and blend then nicely with other elements.
Peeled Garlic Cloves – Garlic cloves will bring out an aromatic blend of flavors to the Calabrian sauce.
Olive Oil – Adding oil to the paste will retain the moisture. Moreover, it is rich in antioxidants and helps in fighting against infections.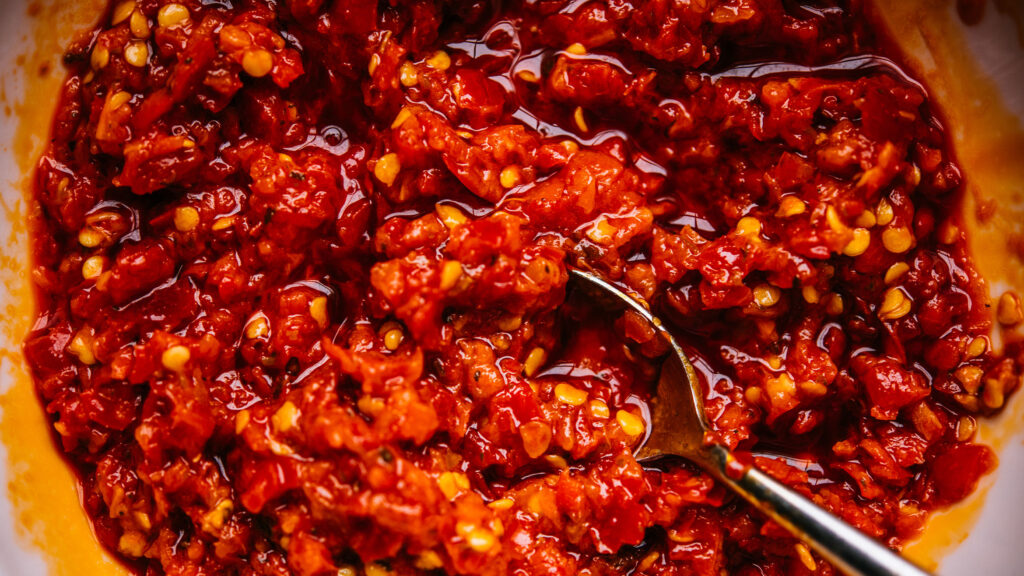 Steps To Make Calabrian Sauce
1. Immersion
Take a blender to prepare the Calabrian sauce by merging all the components. Add Calabrian chili, garlic cloves and olive oil in it and blend to form a smooth paste. When you achieve a smooth consistency of the sauce, put it in an airtight container to store. Serve this sauce with your favorite snacks.
Nutritional Information
| | |
| --- | --- |
| Calories | 30 kcal |
| Carbohydrates | 1 g |
| Fat | 2 g |
| Sodium | 46 mg |
| Calcium | 0.1 mg |
How Will Calabrian Sauce Will Look And Taste Like?
Calabrian sauce is glazed with Calabrian chilis and looks appetizing. Once you try this sauce, you are surely going to pop out the sauce with most of the recipes. All in all the Calabrian sauce recipe is delectable. Prepared with fresh garlic cloves, Calabrian chilis and olive oil you will taste the freshness and aromatic flavors.
Recipe Card
Calabrian Sauce Recipe
Spice up your life and food with Calabrian sauce in your kitchen. It is a child's play to combine Calabrian chilis, and olive oil. This sauce can be prepared in no time.
1

cup

Calabrian Chili

3

peeled Garlic Cloves

¼

cup

Olive Oil
Take a blending jar of the food processor. Add Calabrian chilli, garlic cloves and olive oil in it and blend to form a smooth paste.

Store in a jar or serve immediately as it is ready to be tasted.
Frequently Asked Questions (FAQs)
What does Calabrian sauce taste like?
Calabrian sauce is spicy, salty, and loaded with smoky flavors.
How long does Calabrian chili paste last?
Calabrian chili paste lasts for about 6-9 months.
What is Calabrian paste?
Calabrian paste is prepared with Calabrian chili peppers. These peppers are native to the Calabria region of Italy.
How do you store Calabrian chili?
Store the Calabrian chili in an airtight container and put them to refrigerate.
After trying the recipe, do share your reviews in the comment section. And for those who are having a query related to the recipe, please ask your questions in the comment section. I will revert you with the best possible solution. Enjoy your meal.