How to Make Cabbage and Noodles at Home
Note- This post may contain affiliate links, we earn from qualifying purchases made on our website. If you make a purchase through links from this website, we may get a small share of the sale from Amazon and other similar affiliate programs.
Today, I bring to you a Polish dish that has been on my favourites list since I was a child. I have grown up watching my grandmother cook it for the family on weekends, usually. I am talking about "Cabbage and Noodles." The tenderness and sweetness of cabbage combined with the soft egg noodles is a treat to the taste buds. Adding the oomph factor to the dish is the brown sausage incorporated in butter. I can feel the taste in my mouth while I type it. What a comforting meal to have with your friends and family!
Also known as Haluski, this recipe is a perfect way to use the leftover cabbage. It becomes a fantastic side dish with some fries. This dish usually finds its way during Lent. I learnt this dish from my grandmother and have passed it on to many of my friends. I keep receiving calls from friends on weekends where they ask for the secret of the recipe. I feel flattered on getting so many compliments for some amazing dishes that come from my kitchen.
Well, there's no secret to making your dish look and taste amazing. All you need is giving proper time and making it with love. And today, I would love to share the recipe for this delicious dish with you all. But here are some other amazing recipes that you should definitely try.
1. Stir-Fried Vegan Rice Noodles– Stir-fried vegan rice noodles are a really yummy and healthy option for a special dinner. The other name of this vegan recipe is fried rice vermicelli and Singapore noodles.
2. Instant Cup Ramen– The idea with noodle cups, or pot noodles as the Brits call these, is to pack all your favorite noodle soup components into a jar or other heatproof vessel, but nix the broth. When you're ready to eat, pour hot water over the top, let things warm up for a few minutes, and lunch is served.
3. Beef and Bean Torta– When talking about Mexican dishes, the first thing that comes to our mind is a bean. Yes, beans are used in almost all of the Mexican cuisines. So, I am going to tell you about dish made of beef, tortilla and beans.
4. Tacos Al Pastor– Unlike tacos filled with beef, chicken, or even fish, Taco Al Pastor are filled with pork. The recipe got its name from the technique adopted by Mexican shepherds to prepare strips of marinated pork on vertical spits.
Ingredients for Cabbage and Noodles
| Ingredients | Amount |
| --- | --- |
| Chopped Cabbage | ½ Head |
| Uncooked Egg Noodles | 8 oz |
| Sliced Sausage | 12 oz |
| Frozen Peas | 2/3 cup |
| Onion | 1 |
| Garlic Clove | 1 |
| Olive Oil | 2 tbsp |
| Salted Butter | 1/4th cup |
| Salt | To taste |
| Pepper | To taste |
The ingredients required will be most likely available in your kitchens. All you need is a mood to create magic in your own kitchen. Also, little of time is needed, let's see how much.
How Much Time Will It Take?
| Preparation Time | Cooking Time | Total Time |
| --- | --- | --- |
| 10 minutes | 30 minutes | 40 minutes |
Well, investing 40 minutes in a dish with giving you a full platter of rich flavours and textures. So, why not try it. Let's quickly jump into the step by step process to cook cabbage and noodles.
Cabbage and Noodles Recipe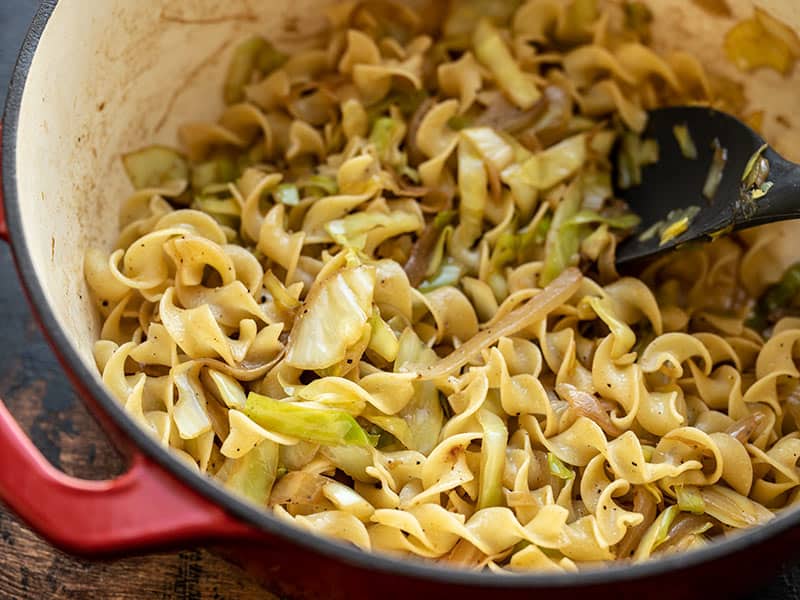 Cook the noodles according to the directions on the packet. Then, drain under cold water and let it rest.
Take a pan and in 1 tbsp olive oil, cook the sausage until they're brown.
Now add butter, onion and a little more olive oil to the pan and cook the onions for about 5 minutes.
Now, add the chopped cabbage and garlic clove to the onion and cook them for 10-15 minutes.
Add cooked noodles, peas and salt and pepper to taste. Cook the mixture well for 2-3 more minutes until everything is properly cooked.
Cabbage and noodles are ready to be served on the platter. Enjoy!
Nutritional Breakdown for Cabbage and Noodles
It's time to check the nutritional value of the dish. The nutrition table down below will help you provide all the information you need. I hope it helps.
| | |
| --- | --- |
| Calories | 579 |
| Protein | 17 g |
| Carbohydrates | 28 g |
| Fibre | 5 g |
| Sugar | 6 g |
| Fat | 44 g |
| Cholesterol | 106 mg |
| Sodium | 872 mg |
| Potassium | 515 mg |
| Calcium | 78 mg |
| Iron | 2.5 mg |
Note- The nutritional breakdown is for one bowl of cabbage and noodles.
How to Make Cabbage and Noodles at Home | Video
Here, I am adding a video of step by step guide for the process of cooking cabbage and noodles at home. You may refer to it in case of any difficulty.
I hope you enjoyed reading the recipe and would make the dish for your friends and family. I am sure this recipe will not disappoint you. You can add in or subtract ingredients of your choice and let us know if there are any suggestions for us. We would love to have feedback from your end in the comment section down below. Until I come up with a new creation, have fun and stay indoors.