How To Make Burrito Lasagna At Home
A burrito has flour tortilla, beans, meat filling and salsa as its main ingredients. Have you ever thought of incorporating these in the form of lasagna? The recipe for burrito lasagna will make this wish come true.
Burrito is a Mexican dish that is not only popular in Mexico but is immensely prominent worldwide. Talking about Burrito Lasagna, it is a great meal for weeknights. You can even make this ahead and freeze it till it is the day to be served. 
To make burrito lasagna, cook beef on medium heat. Add enchilada sauce, cumin and taco seasoning. Prepare rice, spread beans on the tortilla. In a greased baking dish, spread the meat mixture. Layer tortillas over the mixture and add some rice, beans and cheese. Repeat the layers and cover and bake for 20 minutes. Sprinkle cheese and bake it uncovered till the cheese melts. 
Do not consider the above methods as a detailed method. You will get to know about the recipe in detail below. You just need to follow the instructions in a precise manner. But here are some other amazing recipes that you should definitely try.
1. Sopa de Tortilla– You will love this recipe and once you made it, then there is no going back. You will try many other Mexican recipes and will explore all the great taste they have.
2. Chicken Murphy– This recipe is a lovely mix of diced chicken breast, sausage, potatoes, white wine, and several other ingredients. The best thing is that you don't have to be a great and experienced chef to cook delicious and amazing food.
3. Texas Trash– Texas Trash recipe is a fine embodiment of boldness and hugeness just like Texas City. It is an important snack to be served in either parties or weekend gatherings.
4. Texas Toothpicks– For summers, these Texas Toothpicks are one of the best appetizers that you can have. This recipe is delicious and you can make it at home without any fuss.
Ingredients For Burrito Lasagna 
2 pounds ground beef
2 cans of enchilada sauce (10 ounces each)
1 envelope taco seasoning
1 tablespoon ground cumin
1 package ready-to-serve Spanish rice (8.8 ounces)
12 flour tortillas (warmed)
1 can refried beans (15 ounces)
4 cups shredded Mexican cheese blend
Optional toppings: salsa, sliced avocado, shredded lettuce, taco sauce and/or sour cream
The ingredients you need will surely be stocked up in your pantry. Check its availability first and then plan your visit to the grocery store accordingly. Let me tell you the time you need to prepare this meal.
How Much Time Will It Take To Make Burrito Lasagna?
| Preparation Time | Cooking time | Total time |
| --- | --- | --- |
| 35 Minutes | 30 Minutes | 65 Minutes |
In approximately an hour, you will be ready with the Burrito Lasagna. It may seem time consuming but it is really easy to cook. Take a note on how it is cooked.
Steps To Make Burrito Lasagna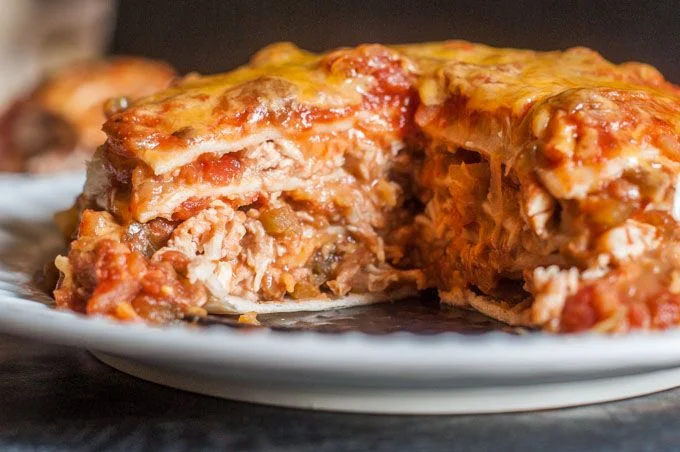 Set the oven on preheat mode at 350 degrees. 
Take a large skillet and cook beef until it is no longer pink. Cook on medium flame. Drain the liquid.
Add enchiladas sauce, taco seasoning and cumin. Heat them properly.
Cook the rice and spread 2 tablespoons of beans on each tortilla. Spread a cup of meat mixture in a greased baking dish of 13×9 inches. Layer the meat mixture with four tortillas and with one-third of rice, remaining meat mixture and cheese. Repeat the layer. Top it with the remaining tortillas, rice and meat mixture.
Cover and bake it for 20 minutes. Sprinkle the remaining cheese over it. Now, uncover and bake it for 10-15 minutes or until the cheese melts. Let it be at rest for 10 minutes before serving.
Serve hot.
You can garnish it with selective toppings of your choice.
Nutritional Breakdown of Burrito Lasagna 
Check out the nutrition composition of this recipe.
| | |
| --- | --- |
| Calories | 515 |
| Protein | 29 g |
| Carbohydrates | 44 g |
| Fat | 25 g |
| Cholesterol | 83 mg |
| Sodium | 1325 mg |
How To Make Burrito Lasagna At Home | Video 
If you prefer step-by-step instructions of this recipe then watch the video with a similar recipe that I have added to make it easier to use. If you liked this recipe, do share it with your family and friends.
Can't wait to begin with the recipe? Try it and share your reviews in the comment section. Just in case you have any query related to the recipe, you can ask your questions in the comment section too. Also, I would love to get some suggestions for any other recipe you want to know about. Write them in the comment box and I will be happy to help you. Now grab your plate and eat this delicacy. Bon Appetit!