How to Make Burgundy Sauce At Home
Note- This post may contain affiliate links, we earn from qualifying purchases made on our website. If you make a purchase through links from this website, we may get a small share of the sale from Amazon and other similar affiliate programs.
Burgundy sauce is a classic and authentic sauce. The sauce originated in burgundy, French. This sauce is best known for its incredible wine and rich flavors. Perceive a sense of being a great chef in your kitchen by preparing this rich sauce. Dive in to know more.
Burgundy sauce can be served with grilled steak, chicken, or whatever you like. For making the burgundy sauce, you need butter, flour, olive oil, onion, beef broth, mushrooms, oregano, basil, and salt to your taste. The key element added to the sauce is rich and flavorful burgundy wine.
Simmer all the elements, add the roux, and the burgundy sauce will be ready to serve. Try it with your favorite steak or grilled meats. Make this authentic burgundy sauce just like it makes in France by following the detailed recipe below.
The required list of equipment, ingredients, calorific value, and instructions are mentioned below. Before you proceed with the recipe, check out the links to other sauce recipes as well.
1. Chicken Liver Pate – Chicken Liver Pate is a delicious recipe, especially for chicken lovers. Even if you don't love to eat chicken, you can make it for your close ones who love to eat chicken.
2. Sweet Sugar Syrup – The sweet sugar syrup can be used to make a wide variety of desserts, cocktails, and many others. It is used extensively in India for making desserts such as jalebi, gulab jamun and so many more.
3. Spicy Pudina Chutney – Spicy pudina or mint chutney is popular in India. The chutney is served with many snacks there.
4. Tamarind And Jaggery Chutney – Tamarind and jaggery chutney is a fusion of spicy, tangy, and sweet flavors. The tamarind has a lot of sourness in it, so jaggery is added to balance it by adding a touch of sweetness.
What Equipment Will You Need To Make Burgundy Sauce?
Skillet – Make the burgundy sauce in a skillet.
Pan – In a separate pan, prepare roux gravy.
Ladle – Stir in the spices with a ladle.
Knife – Chop the mushrooms with a sharp knife.
How Much Time Will You Need To Make Burgundy Sauce?
| Preparation Time | Cooking Time | Total Time |
| --- | --- | --- |
| 5 Minutes | 15 Minutes | 20 Minutes |
What Ingredients Will You Need To Make Burgundy Sauce?
Butter – For making roux gravy take a tablespoon of butter.
Olive Oil – Saute the veggies using olive oil.
Portobello Mushrooms – Add sliced portobello mushrooms to the sauce for rich and umami flavors. The taste of these mushrooms is similar to the button mushroom.
Garlic – Add minced garlic to the sauce for strong and piquant flavors.
Onion – For a savory blend, add chopped onions.
Flour – Mix flour with a tablespoon of butter to prepare the roux.
Burgundy Wine – burgundy wine will impart the flavors of raspberry to the burgundy sauce.
Dried Oregano – Add a teaspoon of dried oregano for an herbal blend of flavors.
Salt – Add salt to your taste.
Dried Basil – With fresh and spicy notes of pepper, dried basil will enhance the flavors of the sauce.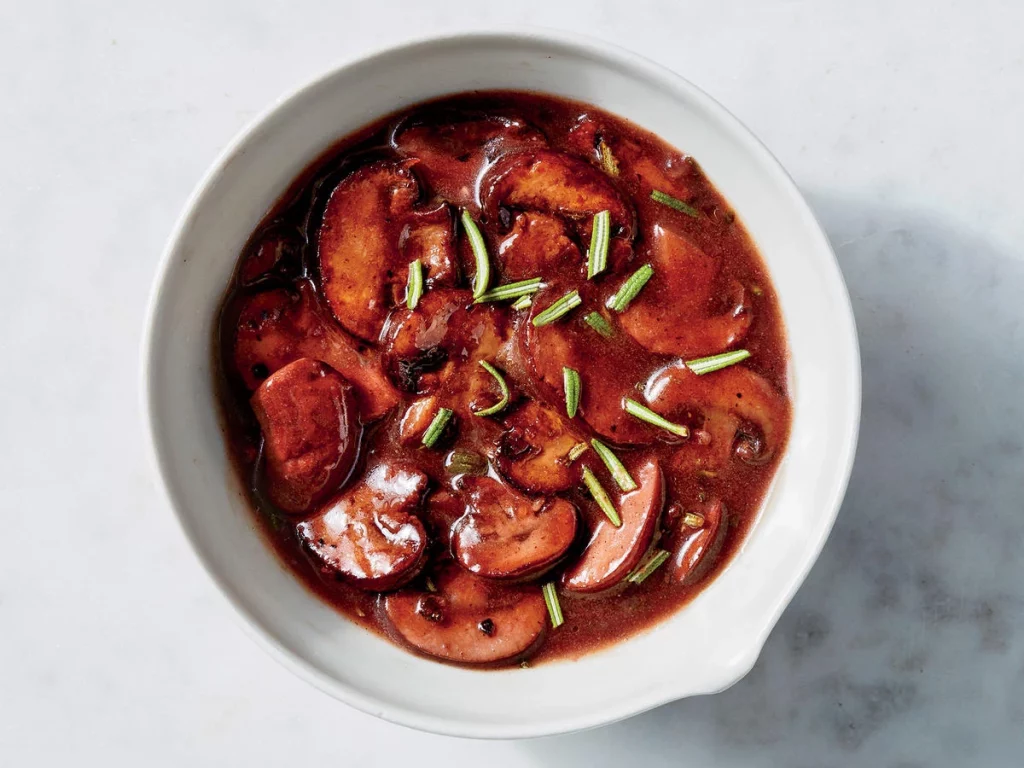 Steps To Make Burgundy Sauce
1. Initial Step
Take a skillet to saute the veggies. Grease the skillet with a teaspoon of olive oil. Add onions, garlic, and mushrooms. Saute until the veggies are cooked through. Meanwhile, prepare the roux gravy in a different pan with butter and flour. Add the roux to the pan of veggies. Stir in evenly and at the same time add the beef broth. Simmer for 5 minutes until the veggies are mixed up with the broth.
2. Simmer The Sauce
Moving forward, add burgundy wine, oregano, and basil. Mix it well and cook until the sauce is thickened and merged evenly. Once you see the bubbles forming and the liquid reduced to half, remove the pan. The burgundy sauce will be ready. Serve the sauce with your favorite dishes.
Nutritional Information
| | |
| --- | --- |
| Calories | 74 kcal |
| Carbohydrates | 4.9 g |
| Protein | 1 g |
| Fat | 3.3 g |
| Sodium | 81 mg |
| Cholesterol | 3.8 mg |
How Will Burgundy Sauce Look And Taste Like?
Burgundy sauce s prepared with traditional burgundy wine and some rice spices. The sauce is thick, spicy, and filled with umami flavors. This scrumptious wine-flavored burgundy sauce is delectable. Serve this sauce with your favorite steaks and enjoy!
Recipe Card
Burgundy Sauce Recipe
Burgundy sauce is an authentic and classic sauce prepared with rich burgundy wine, shallots, oregano, and basil. Try the recipe in your kitchen and become a food connoisseur with us right away. Check out the details and satiate your appetite.
1

tbsp

Butter

1

tbsp

Olive Oil

2

Garlic

⅔

cup

Onion

2

tbsp

All-Purpose Flour

1

cup

Burgundy Wine

1

pinch

Dried Oregano

1

pinch

Dried Basil

1 ½

cups

Sliced Baby Portobello Mushrooms

1

teaspoon

Salt
Take a large skillet and heat butter and olive oil in it over low flame. Add onions and garlic to it and cook until onions turn transparent. 

Add flour to it and pour beef broth slowly into it with constant stirring. Cook till it turns smooth and combines well with the broth and vegetables.

Pour the burgundy wine into this mixture. Sprinkle oregano and basil on it. Cook it on a low flame till the sauce becomes thick and add mushrooms. It may take 10 minutes.
Frequently Asked Questions (FAQs)
How can I thicken my wine sauce?
Adding roux to the sauce will help you to thicken the consistency of the sauce.
What's burgundy sauce?
Burgundy sauce is prepared with traditional burgundy wine, basil, oregano, mushrooms, and onions.
What are the 5 French mother sauces?
The five French mother sauces are béchamel, velouté, espagnole, hollandaise, and tomato.
What is the common problem in making sauce?
The common problem in making the sauce is not whisking the roux evenly. If you stir in the roux nicely the texture and consistency of the burgundy sauce will be amazing.
Does simmering thicken the sauce?
Simmering the sauce intensifies the flavors and thickens the consistency as well.
Please share your reviews in the comment section. For your queries, refer to the comments section and post your question there. If you like this recipe, share it with your near and dear ones and enjoy it together.