How To Make Burger King Hershey Pie At Home
Note- This post may contain affiliate links, we earn from qualifying purchases made on our website. If you make a purchase through links from this website, we may get a small share of the sale from Amazon and other similar affiliate programs.
Burger King Hershey pie is a decadent dessert. A dessert that tastes heavenly and delightful. It is layered with cream cheese at the bottom and a chocolate mouse on the top. This pie is a treat for the chocolate lover's dream! I have shared a detailed recipe to make Burger King Hershey pie at home! 
No-bake recipe Burger King Hershey pie is quickly made with just a few elements. The crust is buttery, crumbly, and chocolaty. The cheesy layer has cream cheese whipped up with cream, vanilla extract, and sugar. As it is served cool, it sometimes tastes like ice cream.
Filled with phenomenal layers of beautiful flavors and textures, Burger King Hershey's pie is rich and creamy. Let's move on to the equipment and ingredients required to make this Sunday pie at home. The detailed instructions are also mentioned in the article below. But before you read out the entire recipe, check out other Burger King copycat recipes from our website.
delicious. The burger has big burger sandwiches and flame-grilled patty that have a smoky flavor. The flame-grilled beef patties are served with onion, tomatoes, lettuce, cheese, jalapenos, and sauces.
1. Burger King Impossible Whopper – The burger king impossible whopper is named because no one thought that there could be a whopper with a beef patty. But there is now! The beef patty is replaced with a flame-grilled vegetable patty. It is then topped with mayonnaise, ketchup, grilled patty, pickles, tomatoes, onion, and lettuce and served between toasted sesame buns.
2. Burger King Zesty Sauce – The Burger King zesty sauce is the perfect partner to your fries and onion rings. But this zesty sauce is also spicy, flavorful, and easy to make. The tang comes from lemon, vinegar, tomato sauce, and mustard. The spicy hit comes from horseradish and cayenne pepper. The creaminess comes from mayonnaise.
3. Burger King Onion Rings – The Burger King onion rings are a bit different than your usual onion rings. The rings are made with the paste of diced onions and a mixture of spices. The mixture is shaped into perfect round rings and covered in breadcrumbs. They are then fried and are served hot and crispy.
4. Burger King Iced Coffee – The burger king vanilla iced coffee is a delicious drink that'll give you your daily coffee dose. It is really simple to make. All you need is some coffee powder, sugar, cold milk, ice cubes, and of course some vanilla syrup. The drink tastes and smells absolutely amazing.
What Equipment Will You Need To Make Burger King Hershey Pie?
Bowls – Take separate bowls to mix the components of each layer.
Spatula – Slather the chocolate layer on the top by using a spatula.
Cake Tray – Pour the layers into the cake tray to set it in the refrigerator. You can also use pie containers.
Whisk – Beat the cream cheese with whipped cream and sugar using a whisk.
Blender – This is optional. You can use a blender to blend the whipped cream. Here I have used just a whisk to blend. 
How Much Time Will You Need To Make Burger King Hershey Pie?
| Preparation Time | Resting Time | Total Time |
| --- | --- | --- |
| 15 Minutes | 1 Hour | 1 Hour 15 Minutes |
What Ingredients Will You Need To Make Burger King Hershey Pie?
For Crust 
Chocolate crust – You can see chocolate on chocolate in this pie. Make the crust either by using a chocolate crust or graham cracker mixed with cocoa powder. 
Butter – A tablespoon of melted butter added to the crust will let it form in the right shape. 
Sugar – Add a teaspoon of sugar for the sweetness. 
Cocoa Powder – Use this only if you are using graham crackers.
For Cheese Layer 
Powdered Sugar – As we have already added some sugar to the crust, we will accordingly add in the cheese layer.
Cool Whip – Use half a cup of whipped cream for the cheese layer. The whipped cream will add a light and fluffy filling. 
Cream Cheese – Take softened cream cheese. It will be easy to beat the softened cream cheese. Enrich a thick layer by using cheese cream.
Vanilla Extract – A teaspoon of vanilla extract will work as a flavor enhancer in Hershey's pie.
For Chocolate Layer 
Instant Chocolate Pudding Mix – For making the top layer of chocolate, use instant chocolate pudding mix. 
Milk – Add half a cup of milk to the chocolate mix. Mix until you achieve the desired consistency. It should neither be too thick nor too runny.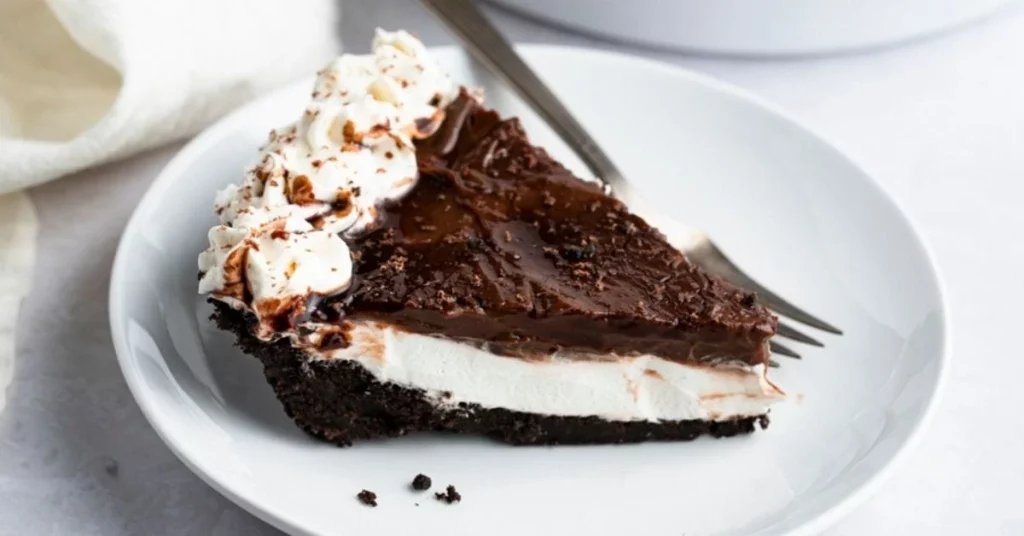 Steps To Make Burger King Hershey Pie
1. Crust Base
For making the crust base, take a chocolate crust. In case you are using graham crackers, mix them with cocoa powder. Here I have used a chocolate crust. In a bowl, add a chocolate crust, powdered sugar, and melted butter. Mix it well until you achieve a wet sand-like mixture. Pour the mixture into the pie tray to set it through. 
2. Cheese Layer
The second layer of the pie is the layer of creamy cheese. In a separate bowl, beat the cream cheese until soft and fluffy. Add a tablespoon of sugar, cool whip cream, and a teaspoon of vanilla extract. Continue to beat until the mixture is fluffy and lump-free. Pour the cheesy filling over the top of the ground base crust.
3. Chocolate On Chocolate 
Prepare the chocolate layer by mixing instant chocolate mix with a cup of milk. Combine it until it is smooth and thick. Slather the chocolate mix on top of cheesy filling. At last, sprinkle some chocolate chips and put them in the refrigerator to set. In an hour, you can serve the copycat Burger King Hershey pie.
Nutritional Value
| | |
| --- | --- |
| Calories | 330 kcal |
| Protein | 3 g |
| Fat | 19 g |
| Carbohydrates | 32 g |
| Sodium | 220 mg |
| Sugar | 22 g |
| Dietary Fiber | 1 g |
| Cholesterol | 10 mg |
How Will Burger King Hershey Pie Look And Taste Like?
Burger King Hershey Pie has crunchy chocolate crust as its base. Rich creamy cheese on its second layer. Lastly, covered with a chocolate layer, this Hershey pie is a delicious and decadent dessert.
Burger King Hershey Pie Recipe
Burger King Hershey pie is a delectable dessert offered by the food chain. However, with the no-bake recipe and a handful of rich elements, it can be prepared at home. For making this copycat pie you need a chocolate crust, cream cheese, whip cream, sugar, vanilla extract, chocolate pudding, and milk.
For Crust
½

cup

Chocolate Crust (oreo biscuits)

2

teaspoons

Butter (melted)

1

tablespoon

Sugar
For Cheese Layer
1

teaspoon

Powdered Sugar

½

cup

Whipped Cream

3

tablespoons

Cream Cheese

1

teaspoon

Vanilla Extract
For Chocolate Layer
2

tablespoons

Chocolate Pudding Instant mix

½

cup

Milk
In a large bowl, add the chocolate crust, melted butter, and powdered sugar. Mix it well to form a wet sand mixture.

Pour the crust mixture in the cake tray. With a spatula spread it all over.

For the second layer of cheese cream, in a bowl beat softened cream cheese for 2 minutes. Add powdered sugar, cool whip cream, and vanilla extract. Mix until the texture is smooth and fluffy.

Spoon the cream cheese filling on top of the chocolate pie crust. Smother out the top with a spatula. Refrigerate until you mix the chocolate layer.

At last mix the instant chocolate pudding with milk. Whisk it until you achieve a thick consistency.

Pour the chocolate pudding on the top. Spread it all over.

Garnish it with whip cream and some chocolate chips and put it in the refrigerator to set.

Slice and Enjoy your happy dessert!
Frequently Asked Questions (FAQs)
1. How much is a Hershey pie at Burger King?
Burger King Hershey pie costs you $1.69. Their apple pie is for $1.49 and cookies cost you $1 for 2 pieces. 
2. How long does Hershey pie from Burger King last?
Burger King Hershey pie can be stored for up to a week. In case you are making it at home, you can freeze the pie for up to a week or even more than that. However, the time should not exceed 10-12 days.
3. What is Hershey Pie made of?
Burger King Hershey pie is a no-bake chocolate pie. It is made with chocolate mix, creamy cheese, chocolate crust, whipped cream, and vanilla extract.
4. Does Burger King have Hershey pie ice cream?
Burger King Hershey pie is a sundae dessert made with chocolate and cheese cream filling. It doesn't have ice cream, but the name goes like creamy ice cream dessert. While making this pie at home, you can add ice cream to the cream filling. 
I hope you liked the Burger King Hershey pie copycat recipe that you can make easily at home. Do share your views in the comments section below!