How To Make Buckeye Balls at Home
Do you know what are Buckeye Balls? If not, then I will tell what are they, These are the balls made from creamy peanut butter, butter, vanilla, and granulated sugar with dough and melted chocolate. Buckeye Balls are chewy, crunchy, chocolatey or we can say they are the combination three C's (chewy, crunchy, chocolatey).
Now, one more question is arriving in your mind which is why we call them Buckeye Balls?
The coated chocolate candy made with peanut butter and nut which makes peanut butter has arrived from the buckeye tree. You will find the buckeye tree in the United States.
When I was in Ohio, I found Buckeye Balls popular there, I went to a shop and bought those for myself. The thing which I found unique is they are not sticky and the taste of these balls are delicious.
I went home and just but the taste of Buckeye Balls. I started making them at my place from failing for 4-5 times, I made it and they tasted as same as I bought from the shop.
Today, I was thinking to make Buckeye Balls at home but I thought to share Buckeye Balls Recipe with my lovely people over here. But here are some other amazing recipes that you should definitely try.
1. Soft Pretzel Bites– Homemade Soft Pretzel Bites-these little pretzel bites are fun to make at home and are great for parties and game day.
2. Clone of a Cinnabon– These rich, gooey cinnamon buns are the best cinnamon buns ever! They are very similar to the ones you might find at the mall, and they're sweet, moist and delicious.
3. Pear Preserves– This pear preserves recipe only calls for eight simple ingredients that are likely hiding in your kitchen already. Folks often wonder how to make pear preserves, and we're here to set the record straight.
4. Strawberry Vinaigrette– Strawberry is surely one of the most delicious fruits which makes your mouth watery with its taste. Vinaigrette is made by mixing an oil with vinegar or lemon juice. It is commonly used as salad dressing or sometimes as a marinade as well.
Ingredients For Buckeye Balls
| Ingredients | Amount |
| --- | --- |
| Peanut Butter | 1 1/2 Cup |
| Unsalted Butter | 1/2 Cup |
| Vanilla Extract | 1 tsp |
| Kosher Salt | 3/4 tsp |
| Granulated Sugar | 3 1/2 Cups |
| Chocolate Chips | 3 Cups |
When I started making Buckeye Balls, it took me time. But when I got how to make these, it took a little time to make these and from my analysis, I have made a proper table of timings. I have mentioned the table below.
How Much Time It Will Take?
| | | | |
| --- | --- | --- | --- |
| Preparation Time | Cooking Time | Additional Time | Total Time |
| 45 Mins | 10 Mins | 30 Mins | 85 Mins |
I have to wait for the perfect Buckeye Balls Recipe but you don't have to wait like I did because you are just one step away from the recipe.
Buckeye Balls Recipe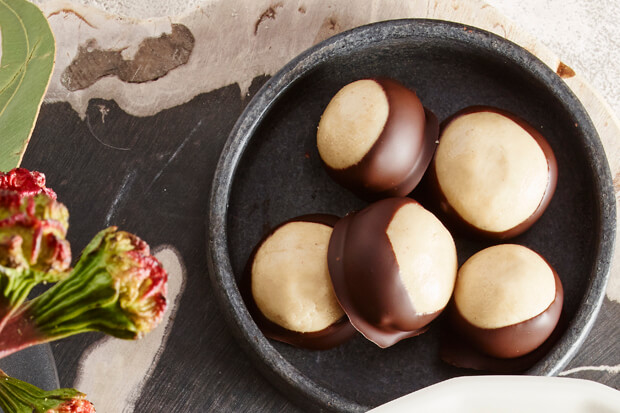 In a large bowl add peanut butter, melted butter, vanilla, and salt. Stir them properly.
Add granulated sugar to the bowl and mix until the sugar absorbed or paste forms.
From the mixture of peanut make small balls and with parchment paper line the balls on a baking dish.
Leave those balls overnight in the refrigerator.
In a bowl add chocolate chips and melt those in the oven, until they become liquid.
By pricking toothpick to the balls of peanut butter, dip those to the chocolate mixture one by one leaving the top undipped.
By dipping all the balls place them on a baking dish and chill them in the refrigerator overnight to set.
After the night place those balls in the airtight container.
Finally, Buckeye Balls are ready. Just liked I loved these candies as a kid, I recommend you to make it for your kids and they'll love it.
Nutritional Facts of Buckeye Balls
If you are a health conscious who checks the nutrients of the things he or she eats, then I have mentioned the nutritional breakdown of Buckeye Balls.
| | |
| --- | --- |
| Calories | 204 |
| Protein | 3.7g |
| Carbohydrates | 22.8g |
| Fats | 12g  |
| Cholesterol |  8.1mg |
| Sodium | 81.2mg |
How To Make Buckeye Balls at Home | Video
I am the kind of person who grabs things quickly while watching it live. So, I have added a video of the recipe of Buckeye Balls. While watching the video, you can easily make it.
I hope you've liked this recipe. Make this at home and you and your fall in love with these tasty Buckeye Balls. Do share your reviews regarding Buckeye Balls Recipe in the comments section below. And till then, stay tuned for more recipes like these.