How To Make Bubblegum Cake At Home
Yes, you read the title right! It's bubblegum cake. It's even more colorful and delicious than you ever imagined. If you haven't tried this recipe yet, read this article and give it a try. The bubblegum cake contains artificial fruit flavors infused together with vanilla extract.
If you love bubble gums, you'll love this cake too. I've tried this recipe a couple of times and it's an instant hit for whoever tastes it. It looks beautiful and might seem a little difficult to make. But, believe me! This recipe is as simple as cutting a cake.
For the bubblegum cake, blend together butter, sugar, eggs, flour mix. Add vanilla flavor, bubblegum flavor, and fruit color to the mixture. Blend them together and pour the batter into the baking pan. Bake it for about 80 minutes. Frost the cake with cream, butter, vanilla, and bubblegum flavor. Decorate with bubblegum balls. 
This was a brief of the recipe instructions. To know more, read the full recipe card below. You can also check out the video below. Try this recipe and rate it if you like it. But before you read out the entire recipe, check out other appetizing desserts from our blog.
1. Strawberry Icebox Cake– Strawberry icebox cake is a 3-ingredient no-bake cake. It has graham cookies stacked with layers of flavored whipped cream and strawberries between them. The cream is flavored with vanilla and sugar. This dessert is topped with chopped strawberries and whipped cream.
2. Chocolate Banana Cake– Chocolate banana cake is a comforting dessert filled with the flavors of vanilla, chocolate, and banana. It's fluffy, soft, and nutritious. Cinnamon and cocoa powder added to this cake add more flavor and delight to this cake.
3. Marbled Pumpkin Cheesecake– Marbled pumpkin cheesecake crispy base of pecans and cookie crumbs. The creamy filling is loaded with the flavors of cream cheese, pumpkin, vanilla, and sugar. It has a marbled top layer that looks as amazing as it tastes. 
4. Smoked Apple Pie– Smoked apple pie is a healthy dessert. It has a smoky flavor with a crispy golden crust. This pie has dense apple filling. It's flavored with cinnamon, vanilla, and nutmeg. It has the sweet taste of sugar and vanilla with a twist of lemon juice and orange zest. Smoked apple pie is coated with butter and sugar to have a crispy sweet outer crust.
What Equipment Will You Need To Make Bubblegum Cake?
Blender – Mix the componenets using a blender or dough kneader.
Baking Tin – Take a round baking tin to bake the bubblegum cake.
Parchment Paper – Place the cake mixture on parchment paper. This will not let the cake stick.
Large Bowl – Mix all the components in a bowl.
Cake Knife – Spread the frosting with a knife.
How Much Time Will You Need To Make Bubblegum Cake?
| Preparation Time | Cooking Time | Total Time |
| --- | --- | --- |
| 10 Minutes | 1 Hour | 1 Hour 10 Minutes |
What Ingredients Will You Need To Make Bubblegum Cake?
Butter – Blend the softened unsalted butter with sugar to achive smooth texture.
Vanilla Extract – A teaspoon of vanilla extra will enhance the spoonge flavors.
Eggs – For even binding of the dough, add two eggs. It is optional. You can make the cake without eggs as well.
Sugar – Add sugar to your taste.
Flour – Put a cup of all-purpose flour to prepare the spoonge dough.
Yogurt Mix – A tablespoon of yougurt mix will keep the dough soft and smooth.
Milk – For the liquid content, add halfa a cup of milk to the mixing bowl.
Bubblegum Flavoring – Add a tablespoon of bubblegum flavoring and mix it well.
Food Color – Just a few drops of food color will bring out nice and bubblegum color.
Sprinkles Or Bubblegum Balls – Garnish your bubblegum cake with either the bubblegum balls or sprinkles.
Whipping Cream – Preapre the frostong with a tablespoon of whipping cream.
Cooking Spray – Grease the baking tin with cooking spray.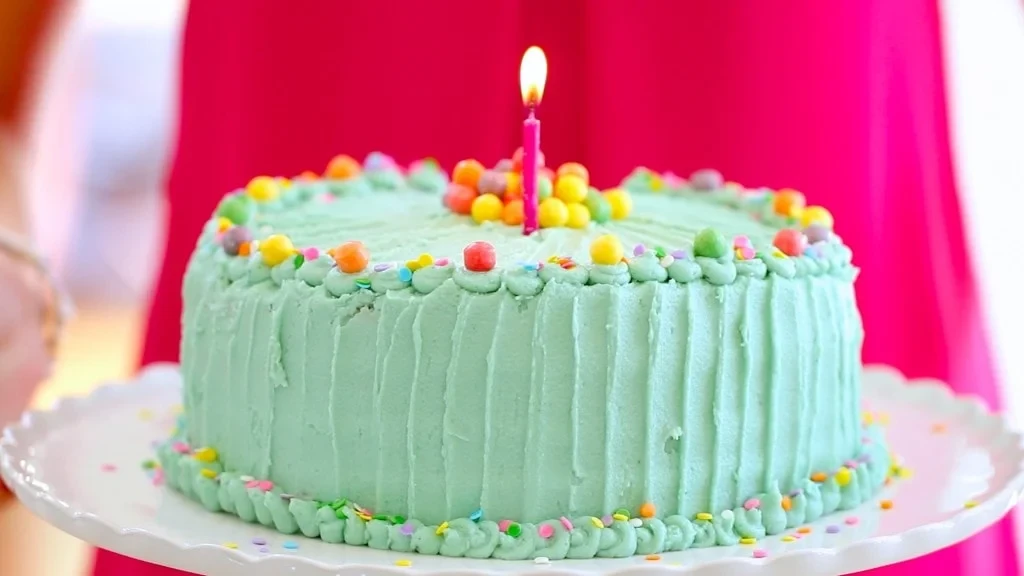 Steps To Make Bubblegum Cake
1. Merger
Take a blender or dough kneader and combine the components. Add softened butter, sugar, vanilla extract, eggs, and milk. Mix it well before you add flour and other elements. Pour the elements one by one, stirring frequently. Moving forward, add yogurt mix, flour, and bubblegum flavoring. Mix it through evenly. Then, a teaspoon of food color to bring out a nice texture. Fold the mixture nicely.
2. Baking
Pop the mixture into the pre-breezed in the pre-line baking tin. Smoothing over the top shake the tin and put it in the oven to bake for about 40 minutes at 360℉. Cook until the cake is fluffy and soft. Remove the cake on the wire rack and let it cool down.
3. Frosting
For frosting, add butter and sugar to a blender. Mix it well until it is soft. Then, add vanilla extract, a tablespoon of whipping cream, and the food color of your choice and mix it through. The frosting will be ready!
4. Assemble
Cut the cake in between to make two layers for the frosting. Spread the frosting on each layer. Smother some frosting on the top and garnish it with your favorite sprinkles or bubblegum balls.
Nutritional Information
| | |
| --- | --- |
| Calories | 981 kcal |
| Carbohydrates | 120 g |
| Protein | 8 g |
| Fat | 55 g |
| Saturated Fat | 33 g |
| Polyunsaturated Fat | 3 g |
| Monounsaturated Fat | 15 g |
| Trans Fat | 2 g |
| Cholesterol | 83mg |
| Sodium | 495 mg |
| Potassium | 83 mg |
| Fiber | 4 g |
| Sugar | 92 g |
| Vitamin C | 1 mg |
| Calcium | 78 mg |
| Iron | 2 mg |
How Will Bubblegum Cake Look And Taste Like?
Bubblegum cake prepared at home is smooth, soft, lovely, great, and moist. The flavors are well infused and taste delectable. Moreover, the texture and frosting with the sprinkles on the top looks appetizing
Recipe Card
Bubblegum Cake Recipe
The Bubblegum cake is a colorful delicious dessert. This cake is soft and super moist. So, if you want a cake that tastes like bubblegum and is beautiful, try this recipe. Blend the components, merge them nicely, and bake the cake. The key element added is a bubblegum flavoring that tastes delectable.
Blender

Baking Pan

Parchment Paper

Large Bowl

Cake Knife
½

cup

Butter

1

tablespoon

Vanilla Extract

2

Eggs

½

cup

Sugar

1

cup

Flour

2

tablespoons

Yogurt Mix

½

cup

Milk

1

teaspoon

Bubblegum Flavoring

1

teaspoon

Food Color

½

cup

Sprinkles Or Bubblegum Balls

½

cup

Whipping Cream

1

teaspoon

Cooking Spray
Add softened butter, vanilla, flour mix, and yogurt to the blender. Blend the mixture until soft and creamy. Slowly add egg whites, vanilla, 2 tablespoons of milk, and bubblegum flavor to the mixture.

Add food color and blend this mixture until it becomes smooth. Pour this batter into the baking pan with parchment paper on it. Bake this for around 80 minutes. After the baking is done, keep this cake aside to cool for about 10 to 15 minutes.
Frosting
Add butter, sugar, whipping cream, vanilla extract to a bowl. Blend the mixture. Now, add few drops of bubblegum flavor until it gets the color of your choice.

Frost the cake with this mixture. Add some bubblegum balls on top and decorate with colorful sprinkles. Your bubblegum cake is ready.
Frequently Asked Questions (FAQs)
What is in bubblegum flavor?
The combination of artificial flavors of banana, strawberry, cherry, and orange is what makes the bubblegum flavoring.
What makes a cake moist and fluffy?
Beat the butter with sugar to achieve a creamy moist and fluffy cake.
Why do we add milk to the cake?
Adding milk to the cake batter will lighten the texture and results in dense flavors.
What is the secret ingredient to a moist cake?
Add a few drops of olive oil to achieve a moist and tender cake.
Try the bubblegum cake recipe with our recipe guide above. Do share your reviews in the comment section. If you find any difficulty making the recipe, please feel free to ask in the comment section and I will try my best to respond to you. Do share this recipe with your friends and family as well.