How to Make Brown Sugar Irish Coffee at Home
Note- This post may contain affiliate links, we earn from qualifying purchases made on our website. If you make a purchase through links from this website, we may get a small share of the sale from Amazon and other similar affiliate programs.
Do you guys love coffee? Oh, why not. Coffee is the best way to relax. It helps you to feel more relaxed, calm, and energetic at the same time. All coffee lovers definitely know how tasty coffee is. You would have heard about various types of coffee like cappuccino, latte, black coffee, and many more; everyone has a different taste. But have you heard about coffee that has whiskey mixed in it?
Well, it sounds a little weird but yes, this recipe exists. A very famous recipe that has a blend of coffee and infused whiskey in it. This recipe goes by the name of the Brown sugar Irish coffee recipe. This recipe has a rich taste and all those who love both coffee and whiskey will love this one.
So what are we waiting for? Let's get into this recipe and start making it. The ingredients are given below in the table. But there are many other drinks that we've covered in our blog. You should definitely check them as well.
1. Tequila and Tonic– Tequila and Tonic together? Yes! They make a great pair. Tequila and Tonic drink is very refreshing and not sugary at all. Beat this summer heat by learning how to make Tequila and Tonic at home.
2. Smoked Butterscotch Latte– If you are a Starbucks fan, then you should know that there are a wide variety of coffee drinks on their menu. But my personal favourite drink is their Smoked Butterscotch Latte. This is because of the butterscotch flavour and smoked element of this drink.
3. Flaming Doctor Pepper– The flaming Doctor Pepper cocktail tastes like pepper and it is put on fire. It is an irony that Doctor Pepper is not its ingredients. This flaming cocktail is notorious for the harms it may cause, if not made with precautions.
4. Orange Whip Drink– It is a sweet mocktail introduced by The Blues Brothers. It is basically an orange Julius with booze. So naturally, it's amazing.
What Equipment Will You Need To Make Brown Sugar Irish Coffee?
French Press – Prepare a cup of coffee using a French press.
Coffee Mug – Preheat the coffee mug by adding warm water to it.
Pipping Bag – Use a piping bag to add whipping cream on the top.
How Much Time Will You Need To Make Brown Sugar Irish Coffee?
| 20 Minutes Preparation Time | Chilling Time | Total Time |
| --- | --- | --- |
| 10 Minutes  | 10 Minutes | 20 Minutes |
What Ingredients Will You Need To Make Brown Sugar Irish Coffee?
Water – For making brown sugar Irish coffee take half a cup of hot water.
Heavy Whipping Cream – Take half a cup of heavy whipping cream to make brown sugar Irish coffee.
Hot Coffee – Take two tablespoons of hot coffee for making brown sugar Irish coffee.
Whiskey – Prepare a classic combination of Irish coffee with 4 ounces of whiskey.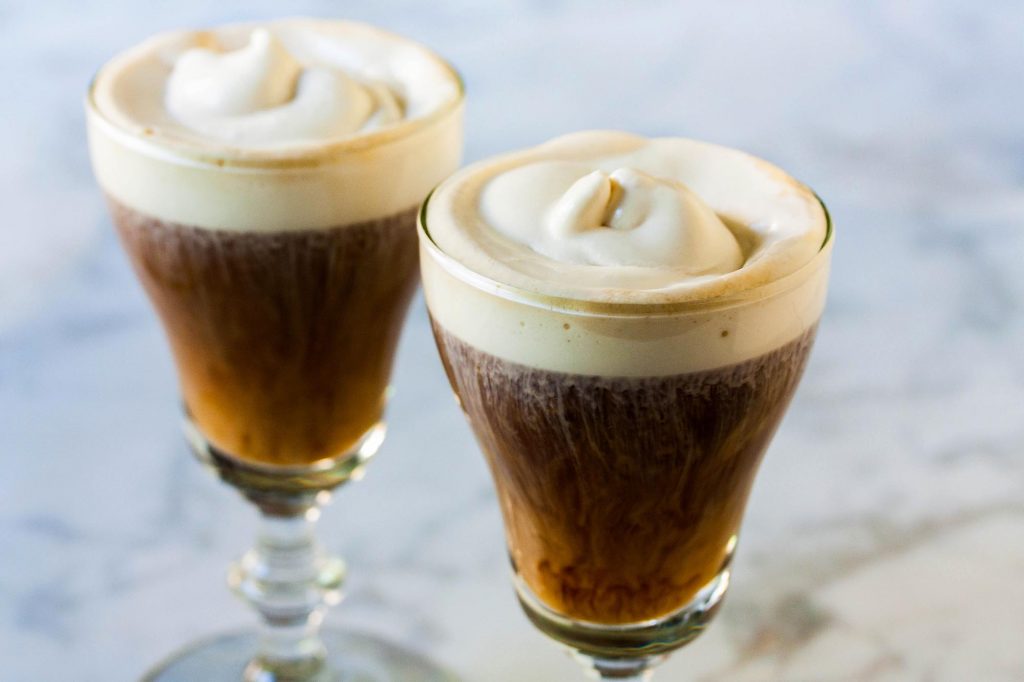 Steps To Make Brown Sugar Irish Coffee
1. Coffee Press
Add warm water to the coffee cup to preheat the cup. Whip up the heavy cream using a whisk and brew the coffee in hot water with a help of a French press.
2. Assemble
Begin to assemble. Empty your preheated glass, add brown sugar, two tablespoons of whiskey, and fill them halfway with hot coffee. Finally, pour the heavy cream onto the top.
Nutritional Informaion
| | |
| --- | --- |
| Calories  | 82 |
| Fat  | 1.2 gm. |
| Carbohydrates  | 4.5 gm. |
| Protein  | 0.2 gm. |
| Sugars  | 4.4 gm. |
| Fiber  | 0 gm. |
How Will Brown Sugar Irish Coffee Look And Taste Like?
Recipe Card
Brown Sugar Irish Coffee Recipe
Brown Sugar Irish Coffee is a quick and easy to prepare coffee. You need brewed coffee, brown sugar, whiskey, and heavy whipping cream. Brew the coffee, warm up the mug, and stir in all together. The brown sugar Irish coffee will be ready.
Brown Sugar Irish Coffee Recipe
First, you have to make the syrup of brown sugar. And to make this, you have to take a saucepan and add some water and brown sugar to it. Let the water boil and keep this mixture over medium-high heat until the sugar dissolves. Once done, let it cool.
Now the second step is about the whipped cream. To make it, you can either use a mixer or a hand blender. Whisk the cream with the brown sugar syrup in it and mix it well. Whisk it until it reaches the ribbon stage. The consistency of this cream should be thick.
And the last step is to make the drink. Take your new Irish glass out of the cupboard and add some coffee and whiskey to it. Stir a little bit and on the top, add lots of whipped cream.
Hola! Your Brown Sugar Irish coffee is ready and can be served now. This coffee will be the best drink for any occasion or party and everyone will praise the cook or chef who made it. Be the one and impress everyone out there.
Nutritional Breakdown of Brown Sugar Irish Coffee
The nutrition details of this drink can be seen in the table below. Have a look at the table and know the exact amount of nutrients present in it.
How to Make Brown Sugar Irish Coffee at Home | Video
If you find this drink challenging to make, then there is no need to worry. A video has been provided for you to vanish all your doubts and confusions. Watch it and make it like a pro.
Can't wait to begin with the recipe? Try it and share your reviews in the comment section. Just in case you have any queries related to the recipe, you can ask your questions in the comment section. If you liked this recipe, do share it with your family and friends. Bon Appetite!