How to Make Brooklyn Egg Cream at Home
Brooklyn Egg Cream is a traditional drink in Brooklyn since the 1920s and is termed as Brooklyn's official elixir. Check out the recipe so you can make it at your home.
The Brooklyn egg cream will surely turn out to be your favorite drink if you are someone with a sweet tooth. This drink is super easy to make and will be ready to serve in about 5-10 minutes.
To make Brooklyn egg cream, add milk and plain cold seltzer in a glass until the glass is brimming with froth. To the center of the glass, add some chocolate syrup. Stir consistently and your drink is ready to be served. 
This is just a snippet of the recipe. Find the complete recipe below.
1. Milk Stout– Milk stout or cream stout is rich, chocolate roasted essences with pints of coffee and caramel present in it. There is only a subtle difference between milk stout and traditional dry stouts. The milk sugar balances the roasted bitterness present in stouts and is a smooth version of it.
2. Pumpkin Smoothie– This pumpkin smoothie comes together quickly and combines some favorite fall flavors like pumpkin, maple, cinnamon, and other pumpkin pie spices.
3. Pineapple Coconut Jello Shot– A drink having pineapple and coconut sounds like a treat to hear. These two ingredients have different tastes and are mixed to make a drink that is considered one of the best drinks in the American region.
4. Oatmeal Stout– There is something about winter that demands warmth and comfort, hearty flavors and earthiness. It is the perfect season for brewing a nice dark oatmeal stout. 
Ingredients for Brooklyn Egg Cream
¼ cup Cold Whole Milk
2 tablespoon Cold Whole Milk
¾ cup Plain Cold Seltzer
3 tablespoon Fox's U-Bet Chocolate syrup
The ingredients you need to make this drink are readily accessible in any supermarket. It is a simple yet delicious drink. Let's see the time you need to make this drink.
How Much Time It Will Take to Make Brooklyn Egg Cream?
| Preparation Time | Cooking Time | Total Time |
| --- | --- | --- |
| 5 minutes | 5 minutes | 10 minutes |
10 minutes! You must be wondering, is it possible? Well, you can count on me for this. You can make this drink in minutes. See the instructions below to know the procedure.
Steps to Make Brooklyn Egg Cream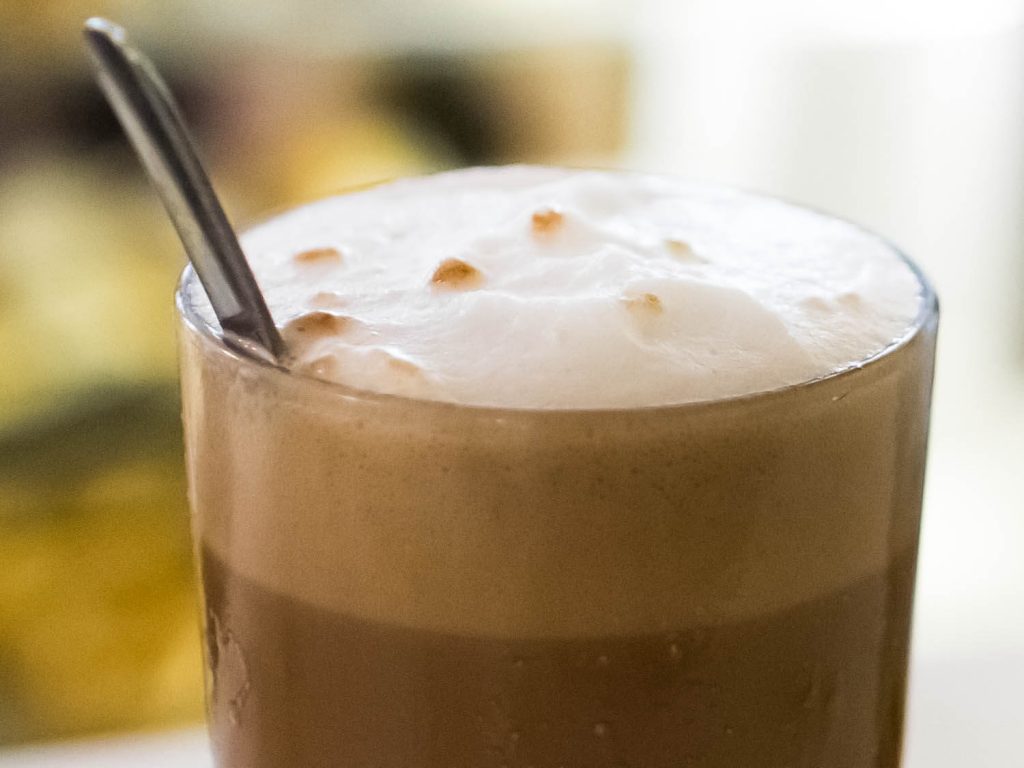 Take the glass in which you want to serve this drink. Add milk to it, followed by a seltzer. Keep adding the seltzer until froth appears on top of the glass. 
Now, pour the syrup into the center of the glass. Insert the back of the spoon in the center of the glass and stir the content using the back and forth motion.
Make sure to stir in the bottom of the glass so that the foam goes not get dissolved.
Your drink is ready to serve.
This drink is the easiest drink among the drinks that can be made in minutes. I would recommend you to serve it in a tall glass. This will make it more presentable and also help in making the drink in the glass itself.
Nutritional Breakdown of Brooklyn Egg Cream
| | |
| --- | --- |
| Calories | 349 |
| Protein | 7.35g |
| Carbohydrates | 12.25g |
| Fat | 0g |
| Cholesterol | 4.9mg |
| Sodium | 102.9mg |
How to Make Brooklyn Egg Cream at Home | Video
I have uploaded a video of the drink. This will help you know every detail of the drink. Do watch the video to ease the process. I also recommend you to check out other drinks in the Drinks section under the recipe tab. Try out other drinks well and share the reviews too. Cheers!
Making Brooklyn egg cream is an excellent idea for your guests' surprise visit. Do try this drink and share your experience with us. It will be a great experience reading your reviews about how you decided to make this drink and who all liked it.