How to Make Braised Sauerkraut at Home
Note- This post may contain affiliate links, we earn from qualifying purchases made on our website. If you make a purchase through links from this website, we may get a small share of the sale from Amazon and other similar affiliate programs.
Today I will share the recipe of making a German cuisine at home. The recipe is Braised Sauerkraut. You can make this cuisine within an hour.
I was on a visit to Poland with my family. There were various restaurants that served German cuisines. As we wanted to taste Poland's traditional cuisines, we visited one of the restaurants and they served us Braised Sauerkraut. We all loved this cuisine. After the trip, I missed this cuisine, so I surfed the internet for this recipe and found a good recipe that tastes similar to what we had.
For Braised Sauerkraut, all you need is to drain the Sauerkraut and keep aside. Cook onions in wine in a pan for few minutes to make them tender. Add the Sauerkraut and the remaining ingredients together with the onions. Cook them for 30 minutes on low flame. Uncover the pan till the liquid dries up and done.
The list of the remaining ingredients is given below. It is a simple one-pot recipe. No hassle to transfer one ingredient to another utensil. It involves slow cooking process; this is why it is cooked on low flame to extract out the flavours. But here are some other amazing recipes that you should definitely try.
1. Escargots a la Bourguignonne– Escargots is a French term used for snails. This is an amazing French recipe which is then liked by German people also. These snails are also known as burgundy snails or Roman snails.
2. Irish White Pudding– I fell in love with white pudding living in New York and eating numerous Sunday breakfasts at our local Irish pub, Fiona's. 
3. Turkey Brine– This Turkey Brine recipe has a huge difference in taste and texture when compared to the other Turkey dishes. It is due to the fact that this dish is made from a process called Brining.
4. Spelt Pasta– This recipe is an old one and is usually made in most European and western countries. These Spelt Pasta noodles are made up of the spelled flour and some other ingredients such as eggs and olive oil which adds to its healthy nature.
Ingredients for Braised Sauerkraut
2 pounds Sauerkraut
3 cups Onions (thinly sliced)
1 cup Dry White Wine
3 cups Chicken or Vegetable Broth
1/2 teaspoon caraway Seeds
1 teaspoon Fresh Thyme Leaves
2 Bay Leaves
Salt
Fresh Ground Pepper
Make a list of the ingredients before heading out to the supermarket. Do not forget to check your pantry first as you may find few or all of them there. Now take a look at the time this dish takes to be prepared.
How Much Time It Will Take To Prepare Braised Sauerkraut?
| Preparation Time | Cooking Time | Total Time |
| --- | --- | --- |
| 5 minutes | 40 minutes | 45 minutes |
Preparing a Polish cuisine in less than an hour is really great. We all like such recipes which are less time consuming and comes out delicious. Now, take a note of the steps to be followed.
Steps to Make Braised Sauerkraut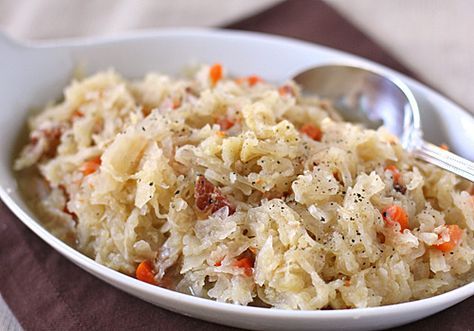 Take the sauerkraut and drain it. Remove the excess fluid by squeezing it with the help of your hands. Keep it aside.
Take a large saucepan. Add onions and wine to it. Cook them for 8-10 minutes or till the onions get tender on minimum flame.
Add sauerkraut, caraway seeds, thyme, bay leaves, salt, pepper and broth to it. Stir them well. Cover the pan and bring back the flame to a minimum for 30 minutes. Stir it occasionally. 
Remove the lid and bring it to boil till the liquid evaporates completely. 
Taste it and add some salt and pepper if needed. Remove the bay leaves and discard them.
Serve hot.
Note– If you prefer to have some liquid in this dish, then do not dry it out completely. Keep some liquid as per your desire.
Nutritional Breakdown of Braised Sauerkraut
Let's take a look at the nutritional level of this dish.
| | |
| --- | --- |
| Calories | 125 |
| Protein | 1g |
| Carbohydrates | 6g |
| Fat | 67g |
| Cholesterol | 300g |
| Sodium | 2300g |
If you have any question regarding this Polish dish, you can ask in the section below. If you like this recipe and want more such recipes, write some suggestions in the comment section. I will try to get back to you. I hope you will like it. So have fun making them. I would love to hear from you the reviews. Enjoy!