How To Make Bourbon Steak At Home
Planning to kickstart the party season with a bang? Grill bourbon steak and your homies will never get over it. The recipe is relatively simple. It presents you with the slight notes of Bourbon and tender sirloin steak. A pro tip would be to choose the Bourbon for marinating that you are comfortable drinking. A white oak barrel-aged bourbon will be perfect so the steak can absorb the vanillin from the wood. 
This recipe is made by grilling the steak over almond woods. The oxidized steak goes great along with the particular type of wood, offering you a remarkable dining experience. This sounds so complex, it might make you wonder if it is engineered in Dexter's Laboratory. However, once you go through the instructions, you'll be able to whip it up all by yourself for the next party.
Check out this recipe in order to get into the gratifying details. This article covers the whole shabang- a recipe card loaded with meticulous details, stepwise instructions to make bourbon steak, how the end results must look for the noob cooks to be sure, and much more. Read on in order to indulge right into the details.
What Equipment Will You Need For Bourbon Steak?
Here is a quick list of all the equipment that you will need in order to make this recipe.
A Charcoal Grill– It is one of the key equipment for the recipe in order to bring out the smoky flavor in the steak. 
Silicone Kitchen Tongs– Use silicone based tongs to keep your hands safe and sound while dealing with a hot grill.
Ziploc Bags– These bags are used to marinade the steak and are meant to be kept in the refrigerator. 
Measuring Cup– Make sure to use the right amount of ingredients with the help of the measuring cups. 
Paper Towels– No one likes a dry grill, use vegetable oil soaked paper towels to prepare the grill for this amazing recipe. 
Food Temperature Probe– Cooking steak can be tricky. You can use a temperature probe to keep track of the cooking temperature status.
Spatula– Stir the marinade thoroughly with the most basic kitchen essentials. 
Knife– Cut the steak in sleek pieces with a sharp knife. 
How Much Time Do You Need To Make Bourbon Steak?
| Preparation Time | Cooking Time | Resting Time | Total Time |
| --- | --- | --- | --- |
| 10 Minutes | 40 Minutes | 12 Hours | 12 Hours 50 Minutes |
What Ingredients Will You Need For Bourbon Steak?
Once you have taken an inventory of all the needed equipment, it is time to hit the grocery store and gather all of the ingredients. Take a peek in your kitchen cabinets to save you a trip to the store.
Bourbon– Bourbon is truly the star of this dish. It forms the base of the marinade. You will need a cup of it for this recipe.
Sirloin Steak– Make sure that the steak you choose is at least an inch in thickness. This will help you get a beautiful char. 
Worcestershire Sauce– A cup of Worcestershire sauce is added to bring the saline flavor to the marinade. 
Dijon Mustard– The much-needed hint of spice to complete this recipe is offered by a dollop of Dijon mustard. 
Vegetable Oil– Before grilling, a brush stroke of vegetable oil will help in the grilling process.
Kosher salt, Ground Black pepper and Salt– To bring more taste to the recipe.
Shallot
Garlic Cloves (finely chopped, minced)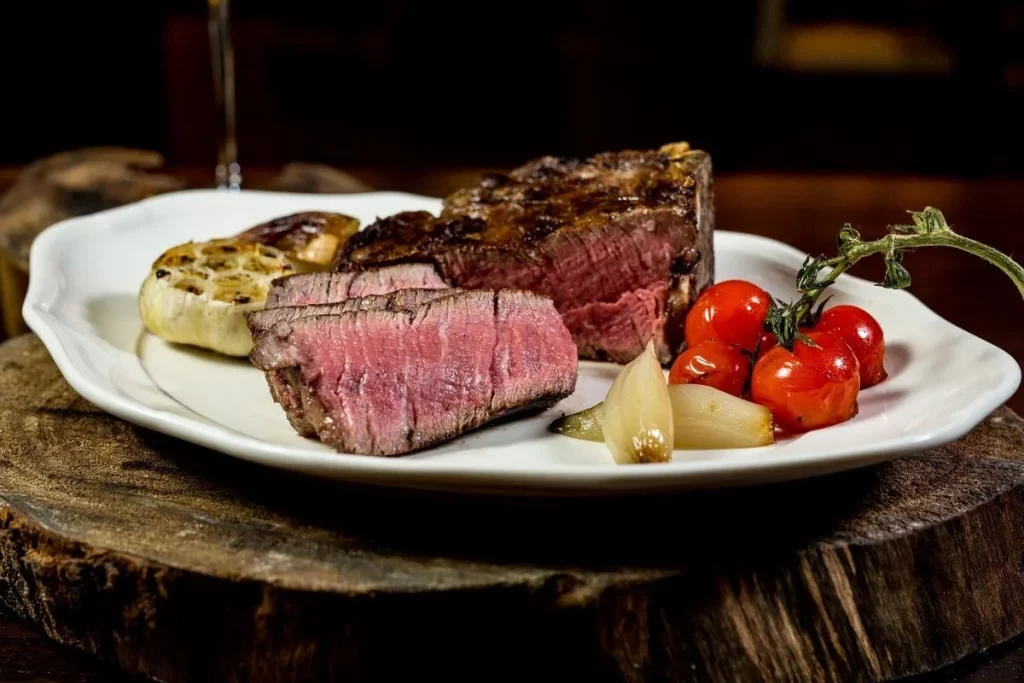 Steps To Make Bourbon Steak Recipe
1. Make the marinade
First of all, take a cup of Bourbon and mix it with a cup of Worcestershire sauce, once chopped shallot, two cloves of minced garlic, 2 teaspoons of Kosher salt, a pinch of ground black pepper. 
2. Seal the deal
Take two of the steaks and put them in a plastic ziplock bag. Pour half of the marinade onto the steaks. Close the bag and eliminate any air. Keep it in the refrigerator for 24 hours. The longer you marinate, the stronger flavors you'll get.
3. Grill the steak
Caramelize the juicy steak on a grill with almond woods for 12 minutes until it gets medium-rare. Stick in the temperature probe to check if it is cooked right.
4. Serve
Serve the steak by slicing it into generous pieces with a hearty glass of wine. 
Nutritional Information
| | |
| --- | --- |
| Calories | 370 |
| Fat | 12 g |
| Cholesterol | 30 mg |
| Sodium | 990 mg |
| Potassium | 0 mg |
| Carbohydrates | 40 g |
| Protein | 24 g |
How Will Your Recipe Look and Taste?
Once your dish is ready, you will be able to check out the beautiful char on the steaks that gives it a majestic look. Upon slicing the steak, you will find it to be rosy pink from the inside as it is medium-rare. Make sure you put the steaks on a rack after cooking so it is not over-cooked by its own juices.
Recipe Card
Bourbon Steak Recipe
The bourbon steak has a tangy yet smoky flavor that it derives from its key components. The marinade is quite easy to make and adds tremendous flavors to the dish.
Charcoal Grill

Silicone Kitchen Tongs

Ziploc Bags

Measuring Cup

Paper Towels

Food Temperature Probe

Spatula

Knife
1

cup

Bourbon

4

Sirloin Steak

(one-inch thick)

2

tablespoon

Dijon Mustard

Kosher salt, Ground Black pepper and salt

(to taste)

1

tablespoon

Worcestershire sauce

1

whole

Shallot

1

teaspoon

Vegetable oil

2

Garlic Cloves

(chopped and minced)
Firstly, we make the marinade using a cup of bourbon. To this we will add the Worcestershire sauce, a shallot, ground pepper, minced garlic and kosher salt. Mix it well with a whisk.

Place two steaks in each Ziploc bag and add half of the marinade. Let it rest in the refrigerator for 12 hours You can keep it for a whole day if you feel like but at least 4 hours is necessary.

After the steaks have been marinated, pat them dry to remove any of the shallots.

Brush the steaks with some vegetable oil. Run a vegetable oil drenched paper towel on the grill and then place the steaks on it with medium heat.

Cover the lid and let it cook for about 12 minutes. Use the probe to check if the temperature is 125F (ideal for medium-rare steak).

Take the steak out of the grill once cooked and cut into sleek slices. Serve hot.