How to Make Boiled Peanuts at Home
Note- This post may contain affiliate links, we earn from qualifying purchases made on our website. If you make a purchase through links from this website, we may get a small share of the sale from Amazon and other similar affiliate programs.
Eating good healthy food should be part of our habit. It is not only necessary to eat healthy food for our body. But it is also necessary for our mind so that we can think better. There are many superfoods provided by nature to us. These provide us with the best nutrients and to keep us away from various diseases. One such superfood is Peanut. Peanuts are high in nutrition values which makes it good for our health.
The recipe I am sharing today is of Boiled peanuts. Eating them raw is good. But if you eat them boiled, then it is more beneficial to you. Studies have shown that boiled peanuts have more antioxidants than the raw ones. They may also help in preventing heart diseases, cancer and some other chronic diseases. So, we should include peanuts in our diet.
Getting back to the recipe, boiled peanuts can be consumed shelled or unshelled. Shelled peanuts become more soft and rich when boiled. You can give them a different taste with some spices. This recipe will seem similar to the recipe named Edamame. Also, there are other recipes that you can have as starters, let's check them out.
1. Grilled Asparagus– The special thing about this recipe is that it's so simple. Fresh asparagus with a little oil, salt, and pepper is cooked quickly over high heat on the grill. Enjoy the natural flavor of your veggies.
2. Stewed Corn– Corns are a good source of nutrients that we should take into our diet. You must have tried steamed corns or fried corns. But have you ever tried a corn stew?
3. Roasted Plum Tomatoes– Plum Tomatoes are often treated as a healthy vegetable and offer benefit to a range of bodily systems. As u all know no Indian recipe is complete without tomatoes. Roasted Plum Tomatoes at home is perfect for your sudden evening cravings.
4. Mushroom Chips– These chips will satisfy even those that are quite picky. They are boosted with great flavour and still very low in carbs! Mushrooms are also a good source of potassium which is sometimes deficient in our diets.
Ingredients for Boiled Peanuts
| Ingredients | Amount |
| --- | --- |
| Raw Green Peanuts | 1 pound |
| Kosher Salt / Table salt | ¼ cup of kosher salt / 2 tablespoon of table salt |
| Water | 4 cups |
The ingredients of this recipe are readily available at any supermarket. Remember the Green peanuts here, does not mean peanuts of green colour. It means peanuts which are called Green peanuts. Let me tell you the time you will need to prepare this dish.
How Much Time It Will Take?
| Preparation Time | Cooking Time | Total Time |
| --- | --- | --- |
| 5 minutes | 3 hours  | 3 hours 5 minutes |
The timings may seem long hours of efforts to you. But trust me, this just means hours of patience. Because the time is for boiling the peanuts, so let's take a look at the steps to be more clear.
Boiled Peanuts Recipe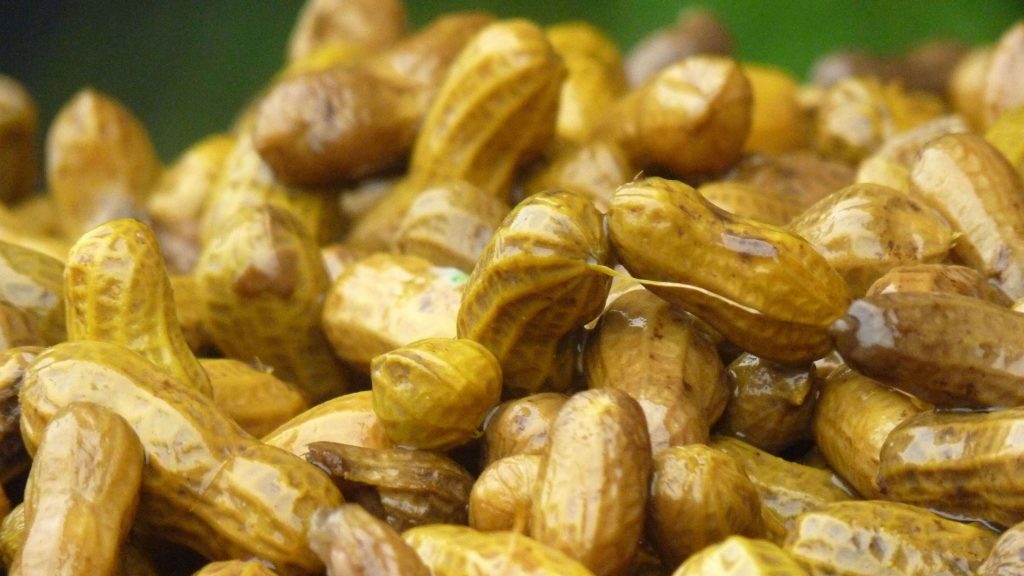 Wash all the shelled peanuts properly.
Take a large pot and put all the ingredients in it. Bring a boil to it. 
After a boil, cover it with a lid and maintain the low boil level. 
Boil it for 2-3 hours, until the shells turn soft.
Drain the water and serve. 
You can sprinkle some spices of your choice over the peanuts to spice them up. You can cook them as per the desired softness.
Nutritional Breakdown of Boiled Peanuts
| | |
| --- | --- |
| Calories | 572 |
| Protein | 24.3g |
| Carbohydrates | 38.27g |
| Fat | 39.62g |
| Cholesterol | 0mg |
| Sodium | 1352mg |
How to Make Boiled Peanuts at Home | Video
Do refer the video I have uploaded to help you in every step of the recipe. This recipe is a great snack. You can keep it on the menu for any drinks party you might plan to host. It tastes great with drinks.
Is there still any question in your mind regarding the recipe? If yes, then leave your question in the comment section below. I will try to make every detail clear with my best knowledge. You can check other recipes like this which are easy to make, in our Starters section. I hope you like them as much as we like them sharing with you. Have a good day!