How To Make Bohemian Kolaches At Home
Note- This post may contain affiliate links, we earn from qualifying purchases made on our website. If you make a purchase through links from this website, we may get a small share of the sale from Amazon and other similar affiliate programs.
Baking something sweet at home makes the kitchen bloom with a sweet fragrance. The recipe that I am sharing today will definitely prove this to be true. Let's bake Bohemian Kolaches. 
Kolaches are sweet pastries famous in Czech, which are made of yeast dough with a filling of fruit or cheese. Though it is a sweet dish, yet it is healthier than a donut. So, when you are craving something sweet, why opt for a donut. Opt for Kolaches to consume a fewer number of calories with this sweet, delightful treat.
To make Bohemian Kolaches, activate the yeast in a small bowl. Take a large bowl to prepare a mixture of flour, sugar, egg yolks, salt, butter and yeast mixture. Place the dough in a greased bowl, after resting for a while, roll it. Place them on baking sheets and let them rise for 45 minutes. Press the centre of the dough, add filling to it, brush with egg white and bake. Serve. 
You might feel this information is enough to prepare the Bohemian Kolaches. Let me tell you, and there are other minute details that are needed to be known for this recipe. Let's move on to the recipe. But before we jump onto the recipe, let's check out some other desserts that you might like.
1. Tropica Pudding– This is a very special pie made of a very special ingredient- Tropica. Tapioca looks like small pearls; however, it varies in different sizes. It is a gluten-free food but high in carbohydrates, so do not consider it a low-calorie food. Tapioca can be used in dessert and pudding made from it is very beautiful. 
2. Banana Crumb Muffins– Banana Crumb Muffins are moist with a little cinnamon and nutmeg and topped with tons and tons of crumb topping. This is the best homemade banana muffins recipe perfect for a healthy breakfast.
3. Microwave Vegan Fruit Dessert– This microwave vegan fruit dessert is super healthy, gluten-free and best for the autumn season. Vegan fruit dessert is super delicious and an easy-to-make recipe. The delicious Rhubarb balances an old-fashioned dessert that might otherwise seem sickly sweet. 
4. Donauwelle– Donauwelle is a traditional sheet cake with layers of chocolate and plain pound cake with a wavy border between the two. This cake has sour cherries in it and is topped with buttercream and chocolate glaze. It is famous in Germany and Austria.
Ingredients For Bohemian Kolaches
2 packages (1/4 ounce each) active dry yeast
1/2 cup sugar (divided)
2 cups warm 2% milk (110° to 115°)
5-3/4 to 6-1/2 cups all-purpose flour
4 large egg yolks, room temperature
1 teaspoon salt
1/4 cup butter (softened)
2 cups canned prune, poppy seed, cherry or lemon pie filling
1 large egg white (beaten)
I am pretty sure you will get most of the ingredients in your pantry. So take a look and make a list of the missing ones. Go to the nearest supermarket and you will find them all there. Also, take a look at the preparation time for this recipe. 
How Much Time Will It Take To Make Bohemian Kolaches?
| Preparation Time | Cooking time | Total time |
| --- | --- | --- |
| 1 Hour 50 Minutes | 10 Minutes | 2 Hours |
Do not stress yourself looking at the preparation time. It includes the preparation of dough and its rising time too. Now, take a deep breathe and start preparing for this recipe. Follow the steps below. 
Steps To Make Bohemian Kolaches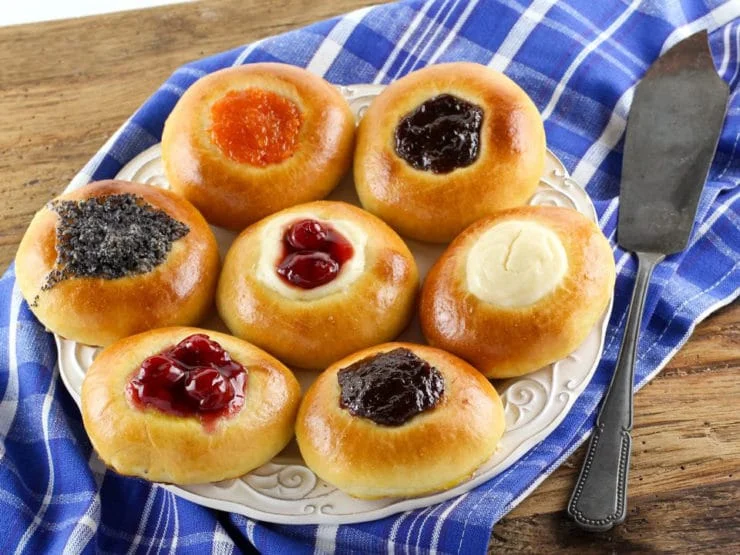 Take a small bowl and dissolve yeast with 1 tablespoon sugar in warm milk. To activate the yeast, let this rest for 10 minutes.
Take a large bowl and combine 2 cups flour, sugar, egg yolks, salt, butter and yeast mixture. Mix them well to make it smooth. Add enough flour to make dough out of this mixture.
Place this dough on a floured surface and knead it until it becomes smooth and elastic. This might take 5-6 minutes of kneading. You can add more flour if needed. Transfer this dough to a greased bowl, turn the dough to grease it from the top too. Now, let the dough rise by covering it and placing it in a warm place for 1 hour until it gets doubled.
Punch the dough and let it rise again. On a floured surface, roll the dough to the thickness of ½ inches. Using a large glass or 2 ½ inch cutter, cut the dough. Place the dough cutouts on greased baking sheets and rest them to rise until they double. This may take 45 minutes.
Press the center of the dough firmly and fill each with a spoonful of filling. Brush them with egg white. Bake in the oven at 350 degrees for 10-15 minutes or till the time they turn light golden brown.
Serve warm.
Nutritional Breakdown of Bohemian Kolaches
Take a look at the nutrition of this recipe.
| | |
| --- | --- |
| Calories | 164 |
| Protein | 4 g |
| Carbohydrates | 29 g |
| Fat | 3 g |
| Cholesterol | 37 mg |
| Sodium | 116 mg |
How To Make Bohemian Kolaches At Home | Video
Surely try this recipe, you will see how much it is liked by everyone at your place. Also watch the video I have uploaded of the recipe to know more details.
In case you have any query, do not hesitate to ask me in the comment section below. I will try to help you with my best knowledge. You can also suggest some recipes to share with you. This will be a great idea to help you with what you want. Bon Appetit!