How to Make Bloody Mary Shrimp Cocktail at Home
A great appetizer that has the best flavor and taste is always what we want. A cool and soothing cocktail can do the magic. A cocktail that has bright colors and looks so fascinating that everyone gets attracted to it. A cocktail that contains some rare ingredients, which makes it taste like heaven. This cocktail is perfect for one's health as it has all the necessary nutrients that a person should consume daily.
A new cocktail that has made its way into our list is the bloody mary shrimp recipe. This is a rare cocktail with some exceptional and irresistible taste. As the name suggests, this recipe or as I must say cocktail contains shrimps that are the key ingredients for this recipe. These shrimps add up to the taste as well as the nutritional quotient of this recipe. So are you ready to witness the taste of this bloody mary shrimp cocktail in your kitchen?
To make it at your place, a complete list of ingredients is provided in the table below. Grab them from the market and let's start brewing this cocktail at home. This recipe is easy to make, but it takes a lot of time to ferment. But there are many other drinks that we've covered in our blog. You should definitely check them as well.
1. Tequila Sunset– It is an energizing and pleasant drink that is quite easy to make. Three ingredients: tequila, fruit juice and grenadine combine to give a perfect and amazing Tequila Sunset Cocktail.
2. Hot Mulled Cider– This beverage has its own taste and is very popular in the American subcontinent. The ground spices and other citrus ingredients help our body to make its immune system strong and prevent any type of bacterial and viral infections.
3. Spanish Sangria– Making a drink like Spanish sangria to beat the scorching heat of the sun can be fun. The recipe I am sharing with you today is of a popular wine drink. Yes, you guessed I right. I will be talking about Spanish Sangria.
4. Dark and Stormy Cocktail– This drink is from Bermuda and is quite famous in the cocktail world. The flavor and taste it has is unique and tickles your taste buds to have a great pleasure.
Ingredients for Bloody Mary Shrimp Cocktail
| Ingredients | Amount |
| --- | --- |
| Cooked and Peeled Shrimps  | 1 ½ pound |
| Tomato Juice  | ½ cup |
| Vodka  | ¼ cup |
| Red Pepper Sauce  | ½ tsp |
| Celery Salt  | ½ tsp |
| Chopped Fresh Parsley  | 2 tsp |
| Cocktail Sauce  | 1 cup |
| Chopped Green Olives  | ¼ cup |
Note: The Vodka listed above in the ingredients list is optional. You can skip the Vodka and can make it like a mocktail or a meal.
So the list is ready and now let's move towards the next important step that indicates how long you have to wait to get this bloody mary shrimp cocktail recipe done in your kitchen.
How Much Time Will It Take?
| Preparation Time | Cooking Time | Total Time |
| --- | --- | --- |
| 30 minutes  | 2 hours 8 minutes  | 2 hours 38 minutes |
Well, you have to be patient while this Bloody mary Shrimp recipe gets ready. The time taken by this recipe is quite long but it is all with it. The taste and flavor of this recipe will make you forget the wait you did.
Here is the procedure that you will follow to make this bloody mary shrimp recipe at home. Let's get started.
Bloody Mary Shrimp Cocktail Recipe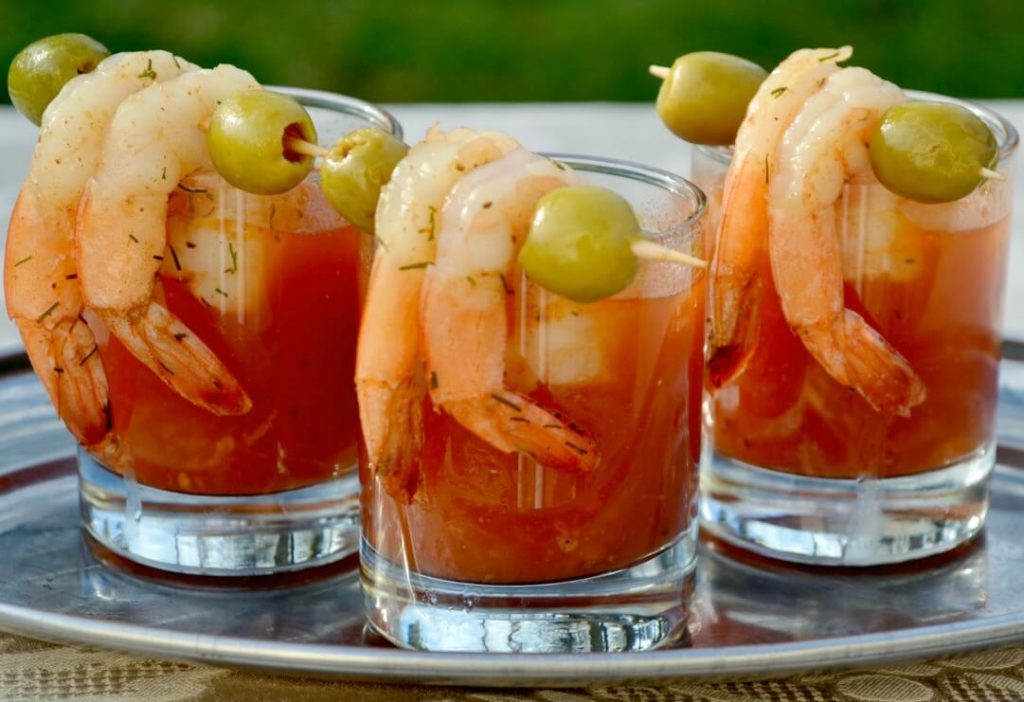 Align the shrimps in a single layer in any rectangular-shaped glass or plastic dish.
In a medium-sized saucepan, add the tomato juice, vodka, and pepper and bring to a boil. Keep the pan over medium heat.
Add sugar and stir the mixture for about 5 minutes over low heat. Also, add celery, salt, and parsley and put it over the shrimps you prepared earlier. 
Let it refrigerate for about 2-3 hours so that flavor gets embedded in between them.
Now in a serving bowl, add cocktail sauce and olives, mix it well.
Place those refrigerated shrimps to the serving plate and add the above-made sauce and keep the toothpicks along with it.
And your Bloody Mary Shrimp Cocktail is ready. Include this dish at your parties or gatherings and make an impact on your guests and family friends.
Nutritional Breakdown of Bloody Mary Shrimp
The nutritional breakdown of this recipe is given below.
| | |
| --- | --- |
| Calories  | 200 |
| Protein  | 25.7 gm |
| Sugar  | 5 gm |
| Carbohydrates  | 13.3 gm |
| Fats  | 5 gm |
| Cholesterol  | 221.3 mg |
How to Make Bloody Mary Shrimp at Home | Video
Watch the video of this recipe and make it easier to understand the little details and tricks implemented for making this recipe quickly. It will also clear your doubts or confusion if you have any.
I hope you will introduce this recipe to your friends and family and get their reviews as well. I request you to give your valuable feedback in the comments section below and tell us about it. Send us your queries and questions and we will revert. Cheers!