How to Make Blackberry Juice at Home
Have you ever seen something which is pure natural, fresh, soothing and makes you feel refreshed at the same time? I am talking about a fruit which is very common around the world and is widely being used as a good source of Vitamin C.
Today we are making juice out of that fruit and that fruit is called blackberry. Yes, those blackberries that you see hanging on those tall branches. We will make Blackberry juice out of it.
This Blackberry Juice is very healthy and tasty too. You will love this juice as it is- sweet and sour in taste. Being a good source of Vitamin C and fiber, this juice is good for everyone at your home. So let's start making this amazing Blackberry Juice. 
For this recipe, you will only need fresh Blackberries and some water. Yes, you've read it right, only 2 ingredients. No other ingredients are required. We will keep it natural and simple. Still, I will make a table for ingredients so that you can get it easily. But there are many other drinks that we've covered in our blog. You should definitely check them as well.
1. Healthy Tomato Juice Spiced– Homemade Spiced Tomato Juice has phenomenal flavors with fresh garden ripened tomatoes and a hint of green bell peppers and onion. 
2. Sparkling Strawberry Lemonade– This refreshing drink is the best way to make yourself full of energy and gives you a blast of sweet and tart flavor combined with a fruity touch. The combination of various ingredients, including strawberries and lemon juice makes it just phenomenal.
3. Black and White Shake– The most basic and best flavour of the black and white shake is chocolate and vanilla. That was my favorite drink in the summers and I'm very excited to share this recipe with you all so that you can also enjoy your summers with healthy drinks.
4. Melonade– Melonade, or Watermelon Lemonade is  bursting with summertime flavors! A simple and refreshing drink and a delicious way to use up leftover watermelon. 
Ingredients For Blackberry Juice
| | |
| --- | --- |
| Ingredients | Quantity |
| Fresh Blackberries | 2 quarts |
| Water | ½ cup |
This is the only recipe in which you will find this less ingredient but it is the best for your health as it contains no added preservatives or any unnatural stuff.
This recipe will take no time to get prepared. But still, let's see the exact timing required to make this Blackberry Juice at home.
How Much Time It Will Take?
| | | |
| --- | --- | --- |
| Preparation time | Cooking time | Total time |
| 10 minutes | 8 minutes | 18 minutes |
This recipe is very easy to make. You have to do nothing but just wait for those 8 minutes. Well, I guess you should know each and every step. So let's start making.
Blackberry Juice Recipe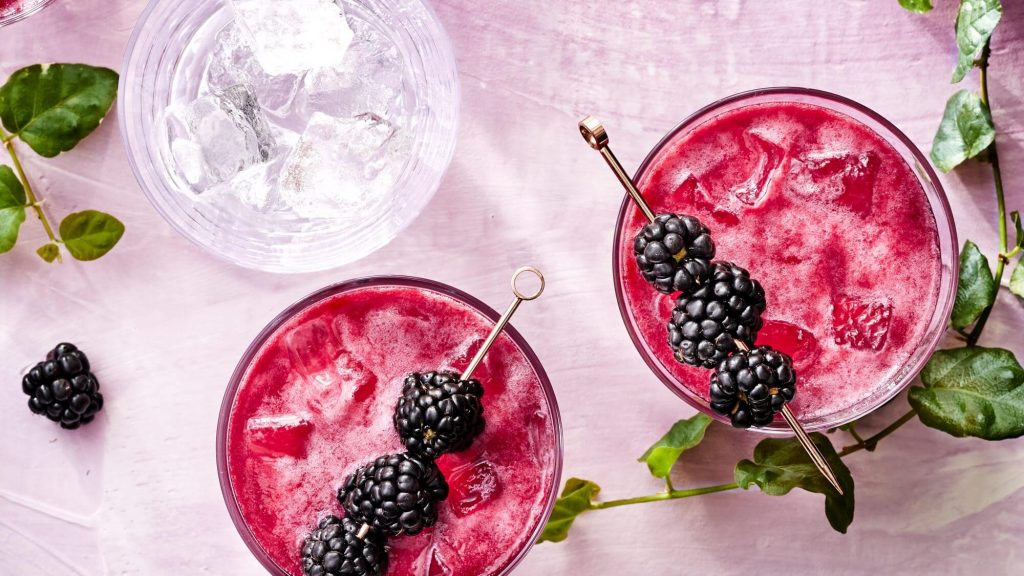 Take a pan and add water and blackberries into it.
Let them boil for about 3 minutes and simmer the gas and let them cook for 5 minutes more until they soften.
Now after they are soft, mash them with any blender or potato masher then strain it out and squeeze the pulp and take all the juice out of it.
Remove the seeds and the remaining pulp and enjoy the juice.
So is this difficult? I don't think so. Anyone can make this juice at his home in few minutes and can keep himself/ herself healthy.
Nutritional Facts Of Blackberry Juice
The nutritional value of this juice is that it is very much healthy, as I told you earlier. But still, I have listed down its nutritional values in detail for your reference.
| | |
| --- | --- |
| Calories | 150 |
| Fat | 1 gm |
| Cholesterol | 0 mg |
| Sodium | 0 mg |
| Carbohydrates | 30 gm |
| Protein | 2 gm |
| Dietary fiber | 12 gm |
How To Make Blackberry Juice at Home | Video
Making Blackberry Juice is very easy. But still, I would recommend this video if you are new to cooking or making it for the first time.
This is an instant recipe and you can make it every day and have it with your breakfast. And if you want to check out some cool recipes for breakfast or dinner, you can search over our website.
hope you like this video and will try this Blackberry Juice recipe at home. Please let us know your valuable reviews and thoughts about this recipe. We will be waiting for your valuable responses. Till then stay safe and happy cooking